What is a Positive Displacement Pump?
A Positive Displacement Pump uses a simple operating principle whereby a set amount of fluid is trapped within the pumps chamber using closed valves or seals for it to then be pushed through and moved to the discharge side pipe. A constant flow is maintained during the pump operation and at a fixed speed, regardless of changes in pressure.
They are one of the most common types of process pump systems on the market and a lot of popular pump ranges fall within the positive displacement pump category.
Types of Positive Displacement Pumps
It's important to note that there are two main types of positive displacement pumps, reciprocating and rotary. A reciprocating positive displacement pump works by making repetitive alternating strokes creating a vacuum inside the pump enabling fluid to push through to the discharge side.
A Rotary Positive Displacement Pump uses a rotating gear system to create a vacuum that enables a fixed amount of fluid to pass through the pump cavity and through to the discharge side. There are four different types of rotary positive displacement pumps known as Internal Gear, External Gear, Vane and Rotary Lobe. Take a look below at the common positive displacement pump types to find out which one falls into which category.
Diaphragm pumps – Reciprocating
Rotary lobe pumps – Rotary
Screw pumps – Rotary
Flexible Impeller – Reciprocating
Peristaltic Pumps – Reciprocating
Gear Pumps – Rotary
Vane Pumps – Rotary
Non Positive Displacement Pump Types
Centrifugal pumps
Multi-Stage hydraulic pumps
Magnetic Drive Pumps
Centrifugal pumps are a popular pump range but they are not classified as positive displacement pumps. This is due to them featuring one or more impellers to move fluid through the pump, thus creating a centrifugal force that draws fluid out to the discharge side.
To find out more about centrifugal pumps, take a look at our helpful Centrifugal Pump guide.
When should I use a Positive Displacement Pump?
There is often a debate as to whether you should use a Positive Displacement Pump or a Centrifugal Pump, however, both have their strengths and weaknesses depending on your application.
Take a look below at some applications where a positive displacement pump would be recommended and where a centrifugal pump would be recommended.
Common positive displacement pump applications
High Viscosity fluids such as cooking oils, mineral oils, molasses, sauces, dairy, chocolate,
High-pressure requirements
Low flow rate requirements
Common centrifugal pump applications
Low Viscosity Fluids such as water, Juice, Alcohol, mild chemicals, solvents, diesel, petrol
Typically for tank to tank transfer applications
High Flow applications
If you're unsure whether a Centrifugal Pump or a Positive Displacement Pump would suit your application better, then get in touch with the Sales Team today, we'd be happy to talk you through your options.
What does a Rotary Positive Displacement Pump Offer?

Accurate & pulseless flow at high differential pressures
Fluids too viscous for centrifugal pumps
Higher differential pressures than centrifugal pumps
High mechanical efficiency across different pressures and varying flow
Efficient suction lift applications
Operating at different points on their curves
Ideal for viscous fluids with or without partial solids
Comparing Technical Ability of different Rotary Positive Displacement Pumps
E = Excellent, G = Good, A = Average, P = Poor
| | | | | | | |
| --- | --- | --- | --- | --- | --- | --- |
| Abrasives | Thin Liquids | Viscous | Solids | Dry Prime | Different Pressure | |
| Internal Gear | G | G | E | P | A | G |
| External Gear | P | G | G | P | A | E |
| Lobe | G | A | E | E | A | G |
| Vane | P | E | A | P | G | A |
Positive Displacement Pump Range Tapflo Supply
Tapflo UK are proud to supply a wide range of positive displacement pumps for a variety of pump executions including Diaphragm Pumps, Lobe Pumps, Screw Pumps, Flexible Impeller Pumps and many more! Take a look at some of our range below and what they have to offer!
Diaphragm Pumps
What are the benefits of using a Diaphragm Pump?
Our Diaphragm Pumps are air operated, they have 2 diaphragms inside, 1 diaphragm creates a vacuum to draw fluid into the pump whilst the other forces fluid out of the discharge port.
Can run dry without damage to the pump
Self-priming up to 5m from dry suction
Fewer components than Standard Diaphragm Pumps on the market
Air operated, no electricity needed!
Can be fitted with LEAP technology in the centre block to save air consumption and save on running costs
ATEX rated available
Swap to Tapflo Diaphragm Pumps today! Not so sure? Here are 7 signs you should swap to a Tapflo Diaphragm Pump!
Lobe Pumps
Lobe Pumps are versatile pumps designed for sanitary applications. The pump is operated by two rotating lobes that create a suction to draw more fluid into the pump, creating a pressure that causes a predetermined amount to flow out of the pump's discharge port.
For additional information visit our Quick Guide to Pomac's Sanitary Lobe Pump.
Benefits of the Pomac Pumps Lobe Pump
Sanitary Pump, fully EHEDG compliant
ATEX rated
CIP/SIP friendly (Clean In Place/Sterilisation In Place)
Discharge pressure up to 15 Bar
Handling temperatures up to 140ºC
Twin Screw Pump
The Twin Screw Pump has been designed to combine all the benefits of a Lobe, Peristaltic, Centrifugal and Circumferential Piston pumps. We supply Screw Pumps with double screws, which rotate to move fluid forward through the pump casing.
Benefits of the Pomac Pumps Twin Screw Pump
Self-Priming up to 8m
Fully EHEDG compliant for sanitary applications
Can dry run for brief periods
Pulsation free pumping
Discharge pressure up to 16 Bar
Flexible Impeller Pump
Also known as a Flexible Impeller Pump, these pumps push liquid forwards within the pump by trapping fluid between each vane of the impeller.
What are the benefits of using a Flexible Impeller Pump?
Reversible operation
Pulse-free pumping action
Customisable with a range of executions and Impeller materials
Discharge pressure up to 4 Bar
Handle fluid temperatures up to 120ºC
Click here for more information on the benefits of using a Flexible Impeller Pump
Peristaltic Pump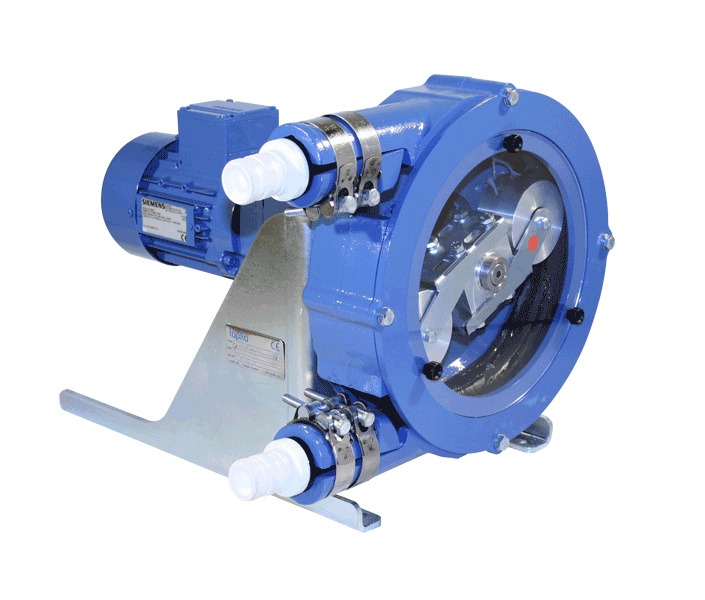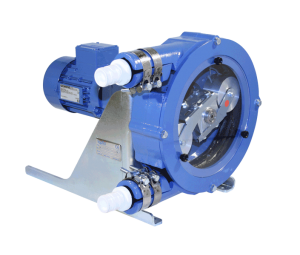 A Peristaltic Pump is a versatile pump that is easily maintained due to the main wear in the pump only affecting the hose. The pump creates a pulsating flow created by shoes or rollers on the wall of the hose to push fluid along the hose.
Benefits of a Peristaltic Pump
Self-Priming up to 9.8 meters
Only the hose comes into contact with the product being pumped
Limitless dry running
Supplied in low-pressure and high-pressure ranges
Simple and robust design
Gear Pump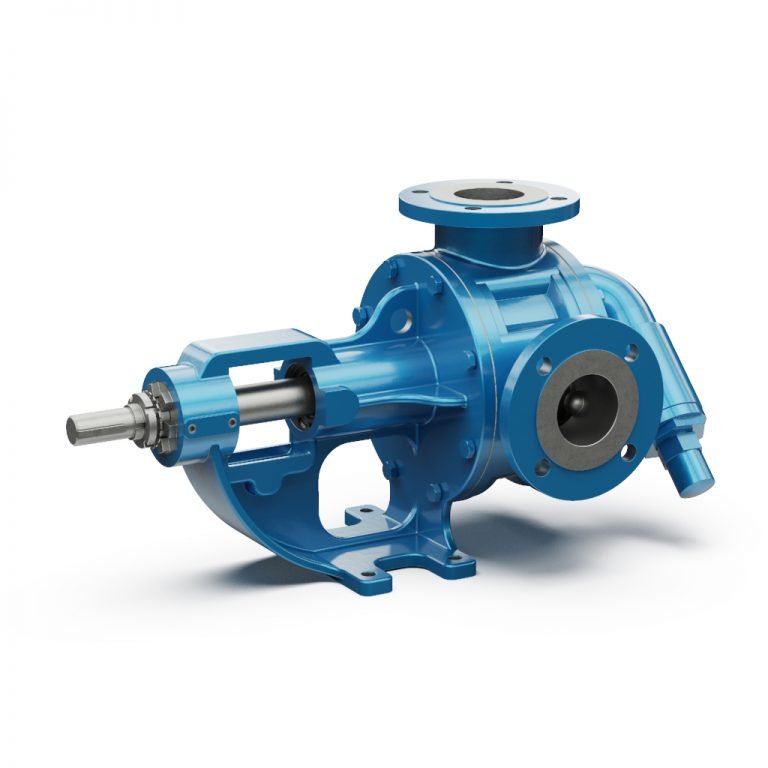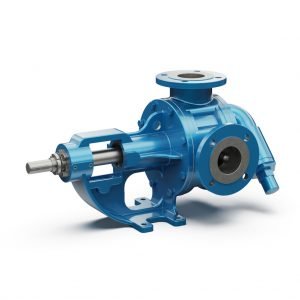 A Gear Pump is a Rotary Positive Displacement Pump which means their design features rotating cogs/gears that transfer fluid using a forward motion. Both internal and external ranges of Gear Pumps are classified as Positive Displacement Pumps. Tapflo supply a range of Gear Pumps on behalf of Yildiz Pompa for industrial applications.
Benefits
Benefits of the Yildiz Range include:
Accurate and pulseless flow
Handle viscous fluids
Can operate at high differential pressures
Efficient suction lift
Bi-directional
ATEX rated
Guide Summary
Positive Displacement pumps are a great option for high viscosity, low flow applications where a steady flow is maintained throughout every pump operation.
There are two different types of positive displacement pumps known as reciprocating and rotary.
Centrifugal Pumps are non-positive displacement pumps due to having a different operating principle featuring impellers
Tapflo have a wide range of positive displacement pump systems that can be custom-built to suit customers applications and flow requirements
If you're not sure what type of Positive Displacement Pump you require for your application, contact our team of experts who can help create the ideal pump solution for your business.