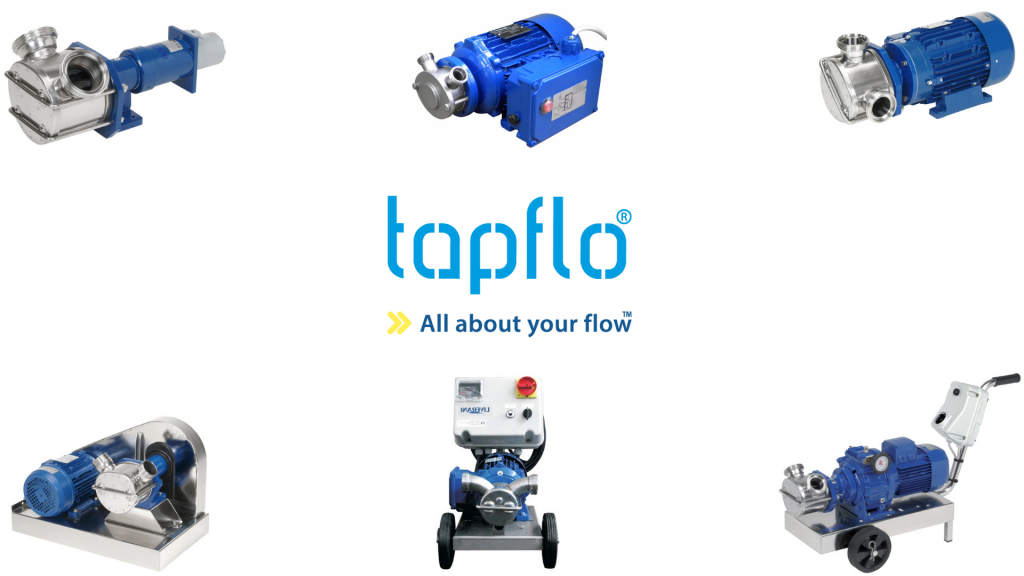 Here at Tapflo, we feel that a Flexible Impeller Pump might not always get the credit it deserves, so we're here to give you a list of benefits, highlighting why we think you should consider using them for your application.
What is a Flexible Impeller Pump?
A Flexible Impeller Pump is a Positive Displacement Pump that is sometimes also known as a Flexible Vane Pump.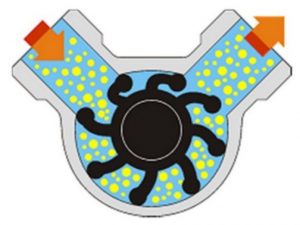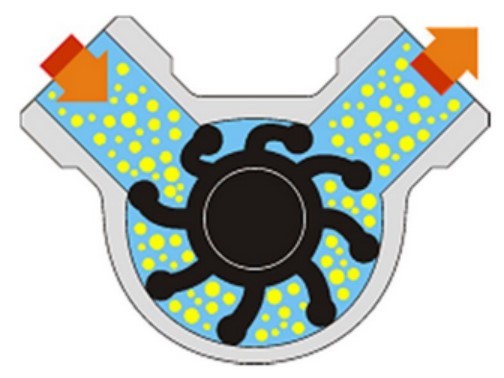 How does a Flexible Impeller Pump work?
Inside the pump, the impeller rotates whilst the flexible vanes of the impeller bend to fit the pump casing. As the impeller rotates, fluid is trapped between the vanes and pushed forwards towards the outlet port.
These pumps are an excellent cost-effective and versatile solution for many applications, they can also be fitted to trolley and skid systems for a bespoke solution. Let's dive into more of the benefits of a Flexible Impeller Pump.
What are the benefits of using a Flexible Impeller Pump?
Flexible Impeller Pumps are customisable
Each Flexible Vane Pump can be customised to your businesses particular operational requirement. This includes the execution style of the pump, as well as the material that the impeller can be manufactured from. One of the main advantages of a Flexible Impeller is that it can be fitted to a number of executions including with Geared Motors, Trolley Mounted with various controls, or Hydraulically Driven. For a full list of pump executions, head over to our Flexible Impeller Pump product page. Impeller materials can be chosen based on the application of your pump. For example, a customer pumping a hot acid might require an EPDM Impeller, whereas a customer pumping oil might require an NBR Impeller. See below for a full list of materials and applications.
Flexible Impeller Pumps are extremely versatile.
| | |
| --- | --- |
| Impeller Material | Application |
| NBR |  FDA approved with excellent resistance to oils and fats |
| CR |  The best option for customers requiring chemical AND mechanical resistance |
| EPDM |  FDA-approved ideal for hot fluids and CIP. Excellent with acids and alkalis |
| NR |  Has the highest mechanical resistance and is ideal for water-based fluids at room temperature |
| VMQ |  Ideal for high temperatures and low mechanical resistance |
The customisation of a Flexible Impeller means that it is extremely versatile.
Flexible Impeller Pumps are ideal for the following applications:
Transferring
Filling
Emptying
Recycling & Mixing
Filtering & Separation
Metering & Dosing
Flexible Impeller Pumps are typically used in the following industries: 
Oenological
Food
Chemical
Cosmetic and Pharmaceutical
Flexible Impeller Pumps are ideal for handling shear-sensitive viscous products, as well as those with solids in suspension. The pumps can handle up to 50'000 cPs and the solids passage capability is up to 25mm, but please check this on our product pages for the specific maximum solid sizes.
Flexible Impeller Pumps have a reversible operation
An added benefit that highlights the versatility of a Flexible Impeller is the pump head's ability to operate bi-bidirectionally. The head can be reversed simply by flicking a switch on the terminal box of the motor, making the pump ideal for cleaning purposes and refilling upon completion.
Rotation of the Pump Head
Not only can the operating direction of the pump be altered but also the rotation of the pump head itself can be changed into 5 different positions. The motor for the pump can be mounted below or above the pump head which, paired with the pump head's possible 5 positions, enables a Flexible Impeller to be installed into a variety of pipework configurations.
Flexible Impeller Pumps are Self-Priming
These pumps can self-prime up to 6m from dry which allows Impeller Pumps to be used for emptying of sumps, tanks, drums, and IBCs.
Flexible Impellers provide pulse-free pumping
The pump produces a steady flow which is ideal for applications such as filling, dosing, and filtration.
Have more questions? Head over to our Flexible Impeller Pump FAQ.