What is a centrifugal pump?
A Centrifugal Pump is an automatic system made up of two main parts; a pump and an electrical motor. The key component at the heart of a centrifugal pump is the impeller which rotates rapidly on an axis during operation imparting centrifugal force onto the fluid enabling it to move through the pump casing and to the suction outlet. The impeller is made of highly corrosion-resistant cast iron featuring curved vanes and shroud plates. Typically, a centrifugal impeller will always require being fully submerged in water to enable priming during operation unless the pump system already has self-priming capabilities. 
As a centrifugal pump uses a rotary impeller system and works at low/medium pressure head, it differs from many other pumps operating principles which usually fall into the positive displacement pump category. These pump types commonly move fluid with a diaphragm pump system or reciprocating design. 
Centrifugal Pumps are a highly versatile pump system widely used in many industries for both domestic and commercial applications as they are able to move more fluid than any other pump type on the market. They also come in many different shapes, colours, sizes and materials including sanitary, industrial and ATEX executions. 
How does a centrifugal pump work?
The basic operating principle of any centrifugal pump begins with fluid entering the pump inlet, travelling towards an impeller shaft and rotating exponentially along the impeller vanes within the pump casing, before forcing the fluid out to the discharge side. This operation is then repeated with more fluid being directed through the pump inlet, for a precise, controlled and repeatable operation.   
Different centrifugal Impeller types
There are typically three different impeller types available for different applications which are open, semi-open and enclosed impeller pump types. 
An open impeller is usually chosen for abrasive applications or those with suspended solids so that the fluid can move through the impeller shaft easily. However, they are a slightly less efficient option as the fluid is almost instantly mixed with the liquid that has already travelled through to the pump casing.
A semi-open impeller type uses a shroud wall to add robustness to the vanes while still having one side open. Similarly to the open impeller type, the semi-open version can be used for fluids with partial solids in them.
A closed impeller type has a shroud wall around the back and front of the impeller vanes which makes for a highly robust impeller type. These are typically used for large industrial pumps and applications with a low viscosity without any solids in suspension due to the increased chance of the fluid becoming clogged during operation.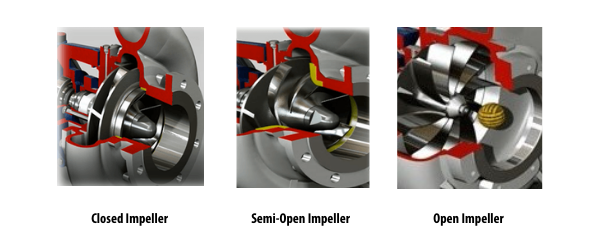 Centrifugal Casing Types
When it comes to a centrifugal pump casing that surrounds the impeller, there are two main options available including a diffuser and volute design.
In Volute centrifugal pumps the flow steadily increases and the curved design creates a chamber for the fluid to be directed towards the discharge pipe.
Whereas a diffuser casing features guide vanes on the outside of the impeller that increases the pressure and diffuses the liquid making for a much more controlled operation.
Key features of a centrifugal pump
Centrifugal Pumps are highly versatile. They are available in many different shapes and sizes to handle a wide variety of installations and requirements, whether you need your pump to be driven electrically or magnetically, to self-prime, to be able to handle sanitary fluids or to be big enough for large industrial applications, there is a centrifugal pump solution available. 
Centrifugal pumps are ideal for high flow applications with the added benefit of being very efficient to run when compared to pneumatically driven pumps.
An additional key feature of a centrifugal pump is that it can be easily modified to suit different requirements for the end-user. For example, accessories can be used such as heating jackets, self-priming chambers and hygienic shrouds to achieve the perfect pump solution.
Centrifugal pump application
As mentioned, Centrifugal Pumps can be used in a wide range of sectors for a variety of applications, some of the most common applications we supply for include (but are not limited to):
Wastewater Treatment

Surface Conditioning

Food & Beverage

Pharmaceutical

Cosmetics

Heavy-duty industrial applications

Advantages of using a Centrifugal Pump
Avoiding Centrifugal Pump Cavitation
One of the main concerns when it comes to a centrifugal pump is the risk of cavitation occurring within the pump. Cavitation happens when there isn't a sufficient amount of pressure at the suction outlet to discharge the fluid out of the piping causing small gas bubbles to form inside the pump. One of the best ways to prevent this is to maintain a constant "Net positive suction head" at the pumps suction port. NPSHR is the required pressure from the pump at its suction port to prevent cavitation at its required duty point and are typically published on pump performance curves.
Most pumps, when working near or at their Best Efficiency Point (BEP), can work satisfactorily with a minimum margin between NPSHA & NPSHR, however, when operating too far to the right or left of their BEP the margin can become much higher. A common rule of thumb is that systems should be designed to facilitate at least a 25% margin for all expected flow rates.
Best Efficiency Point is crucial at the time of selection; ensuring the pump is matched to the application will assist with long operating life. When a pump operates at BEP, it is at its most efficient, meaning the pump is using input power as efficiently as possible and reducing energy costs. When a pump operates at BEP it also produces the lowest vibration readings, meaning that pump longevity is increased and maintenance costs are decreased. Achieving maximum efficiency from your centrifugal pump should be an important factor when selecting a pump system to help reduce costs in the long run and reduce cavitation issues.
Safety Recommendations
Just like any other pump system, Centrifugal pumps require precautions that follow health and safety recommendations. For example, centrifugal pumps can overheat if not operated correctly and for long periods of time. Not only will this likely cause damage to your pump system but potentially to people in the workplace. Therefore, as an operator, it is important to be aware of the risks involved and not assume that every pump system will require the same maintenance.
Tapflo Centrifugal Pump Range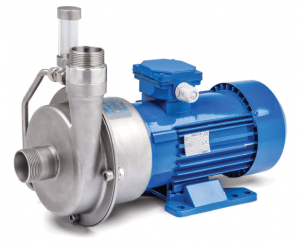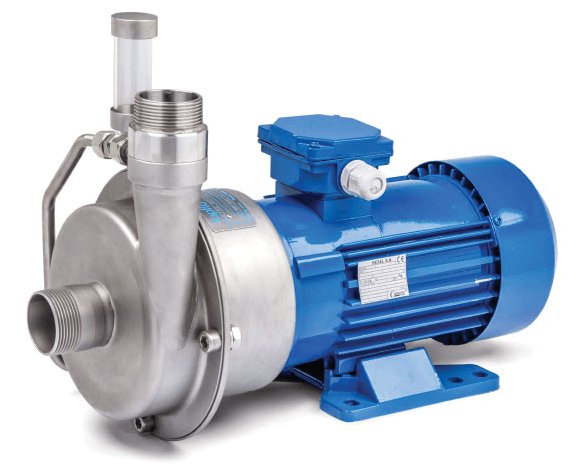 Industrial & Hygienic
Our industrial and hygienic ranges are Semi-Open Single-Stage Pumps manufactured in Stainless Steel AISI 316L. Our Hygienic Series (CTH) is manufactured with electro-polished pump casing and internals, specifically designed for hygienic and sanitary industries where cleanability is an important factor, particularly in food, beverage and pharmaceutical applications. Our Industrial Series (CTI) is manufactured with a glass-blasted pump casing, with a range of mechanical seal options and special executions available. This would be suited to a number of industrial applications such as water treatment, surface conditioning, chemicals, tank transfer duties and many more.
Most pumps, when working near or at their Best Efficiency Point (BEP), can work satisfactorily with a minimum margin between NPSHA & NPSHR, however, when operating too far to the right or left of their BEP the margin can become much higher. A common rule of thumb is that systems should be designed to facilitate at least a 25% margin for all expected flow rates.
Magnetically Driven
Magnetic Drive Pumps have so many advantages to offer including a sealess design, ideal for hazardous applications as this feature significantly reduces the likelihood of leakage from the pump. Tapflo manufactures the CTM Pump which is a close-coupled, single-stage Magnetically Driven Centrifugal Pump, featuring either a Semi-Open or Closed Impeller.
There is also the CTM-IBC which has been designed as an all in one portable solution with carrying handles to easily move the pump system around your factory. The pumps are manufactured from either glass fibre reinforced polypropylene or PVDF, offering a high mechanical and corrosion resistance. Standard Close Coupled Centrifugal Pumps operate with the impeller connected to the motor shaft directly, whereas, in our Mag Drive Pumps, the torque from the motor shaft is transmitted to the impeller by means of a magnetic coupling.
As of 2020, Tapflo has been working with Gemme Cotti, an Italian manufacturer of Magnetically Driven Pumps. We can offer their Mag Drive Centrifugal Pump as a medium to a heavy-duty alternative to Tapflo's CTM Pump which is ideal for low to medium-duty applications.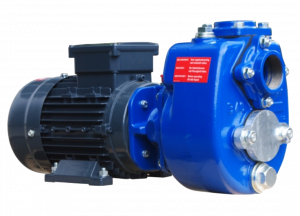 BBA Pumps
The BBA Pumps B Series is an Industrial, Electrically Driven Self-Priming Centrifugal Pump. The range is fitted with an open impeller, changeable wear plate and non-return valve in the suction port. These pumps are easily maintained and have minimal spare part costs, and offer 2-Pole and 4-Pole options, reaching max flows up to 21 m3/hour for use in industries such as construction, wastewater management, irrigation and agriculture.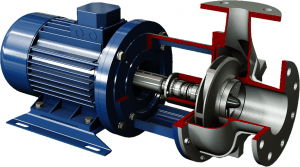 Salvatore Robuschi
Robuschi's range of Industrial Centrifugal Pumps provides so many benefits for users with industrial applications such as wastewater, distillation and purification. Within their centrifugal range, we also supply Vertical Immersion Centrifugal Pumps, specifically designed for the transfer and circulation of various fluids from containers, tanks and sumps. The CTV range can, in many cases, replace a Self-Priming Pump due to the Immersion Pump being installed vertically with the motor above the liquid surface. Our Centrifugal Immersion Pumps are suited to a variety of applications, most commonly used for surface treatment, water treatment, heat exchangers and waste disposal.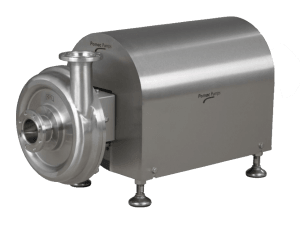 Pomac Sanitary Range
Pomac's Sanitary Centrifugal Pump range is EHEDG compliant and manufactured from stainless steel AISI 316, as are all of Tapflo's sanitary pumps. Pomac's pumps are ideal for the food and pharmaceutical industries or CIP processes that need bacteria to be kept to a minimum. Available standard or self-priming, the range offers a high-pressure casing, a balanced stub shaft design and an optional heating jacket.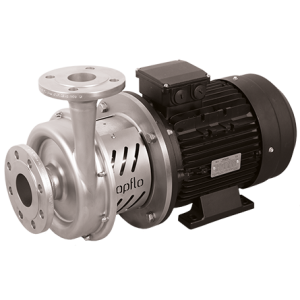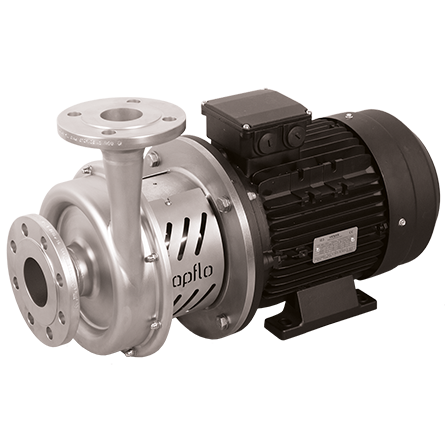 High-Performance Centrifugal Pump
Tapflo has developed the CTX High-Performance Centrifugal Pump which incorporates the hygienic and industrial ranges with more robust construction for high-performance applications. Through continuous development and the goal to create better solutions for our customers, Tapflo has been widening its portfolio with this latest instalment. To find out more about the High-Performance Centrifugal Pump, take a look at our case study where a CTX was used as the perfect solution for a client looking to pump liquid fertiliser. Or take a look at our video below of Tapflo's Pump expert Luke explaining their vast amount of benefits featuring our hygienic CTX pump!
Bespoke Centrifugal Pump Case Study
Here at Tapflo, we have worked with many customers requiring our range of centrifugal pumps in addition to custom made centrifugal pump systems for unusual applications. Do you have an application requiring a centrifugal pump? Tapflo sales team would love to help assist you with selecting the right pump system for your business, so don't hesitate to get in touch below!
Email: [email protected]
Number: 02380 252 325