What is a Diaphragm Pump?
A Diaphragm Pump is a type of Positive Displacement Pump that uses a set of two internal diaphragms, either made from PTFE or rubber, that work simultaneously to create pressure to push fluid through the pump. The Diaphragms operate the internal valves on the side of the pump which help to control flow direction and fluid quantity being transferred to the discharge outlet. Tapflo's Diaphragm Pumps are able to self-prime up to 5m from a dry suction pipe or 8m from a wetted pipe.
Diaphragm Pumps are one of the most common and effective pumps on the market today, offering the ability to pump high volumes at low pressures, and robustness to withstand a plethora of applications.
How Does a Diaphragm Pump Work?
As there are so many variations on the market for Diaphragm Pumps, their working principles will all differ slightly. For example, there are Diaphragm Pumps that can move about a gallon of material per minute – and then there are those that can move hundreds of gallons in a minute. It all depends on the size of the pump and how fast it works and the application you will be pumping.
The standard operating principle of a Diaphragm Pump sees one of the diaphragms creating a suction to draw a set amount of fluid into one side of the pump. The other diaphragm will then drive the same volume of liquid through the outlet port from the other side of the pump. Tapflo's core Diaphragm Pump range is air operated, meaning it is powered by a compressed airline.
What applications are Diaphragm Pumps used for?
Tapflo's Air Operated Diaphragm Pumps can be used for an array of applications and industries. Within our range, we cater for both the industrial and hygienic sectors, offering our Sanitary Diaphragm Pumps, ATEX Rated AODDs, Powder Transfer Pumps, and our very own Low Energy Air Pump, well suited to businesses looking to reduce their energy costs and reduce their carbon footprint.
The versatility of a Diaphragm Pump means our Sanitary range is perfectly suited to the food and beverage industry. This range is specifically designed for applications intended for human consumption and can be used in the production of many applications such as dairy and beer. It is crucial for pumps being used in this industry to offer a sterile and hygienic environment for the product, which is why Tapflo's Sanitary Diaphragm Pumps offer full FDA Approval and are manufactured to a high-quality sanitary finish of Stainless Steel AISI 316L.
For an even higher grade of hygiene, we can offer our EHEDG Aseptic Pump or our USP VI Approved Pump, more commonly used in the Pharmaceutical and Cosmetics industries to meet the most demanding cleanliness standards.
Believe it or not, Diaphragm Pumps can transport glue, adhesives, sodium silicate, resin solutions, and many other applications in the Pulp & Paper Industry. An example of this is in the production of cigarette paper, where a pump is used in the process of applying resin to the paper.
AOD Pumps are also excellent at transporting chemicals, including those used for Surface Coating, from storage tanks, containers, and baths. An example of our pumps being used in the Surface Coating industry can be found in our case study on providing LEAP Pumps to a company who were coating urinals. As LEAP is a Low Energy Diaphragm Pump with reduced pulsations, it was the perfect pump for this application as the coating needed to be sprayed evenly.
Diaphragm Pumps are perfect for handling a range of Waste Water Treatment applications, including the transfer of flocculent fluids, sludges, and water, as well as dosing acidic and alkali chemicals for pH control and treating water.
Tapflo Diaphragm Pumps can also be used for the transfer, recirculation, and blending of ink, solvent-based liquids, resins, and pigments. Some advantages of using an AOD Pump within this industry include competitive pricing, the ability to handle high viscosities, and variable speeds. We have lots of options for this industry, including Mobile Decanting Trollies for large drums. You can check out the full range and a list of benefits in Tapflo's Guide to Paint Pumps.
Diaphragm Pumps can be used for offshore oil drilling in order to carry oil to the surface and lubricate the drill. Diaphragm Pumps have further application uses in the petrochemical industries, such as in offshore mud drilling when rocks are brought to the surface for testing purposes.
Electric Diaphragm Pumps
Tapflo also offers Electric Diaphragm Pumps, which are a great alternative if you want the benefits of a standard Diaphragm Pump but don't have access to compressed air.
Tapflo released the Electrically Operated Diaphragm Pump back in 2019, which uses the same design effective design principle as the air operated range but is modified to create a reciprocating force (left to right) to drive the diaphragms as opposed to rotational.
This is achieved by an eccentric shaft, with a cam and piston which are used to convert the momentum from rotary to reciprocating. This force then drives the diaphragms, as usual, using one diaphragm in one of the chambers to create a suction action when being pulled back from the housing. Simultaneously, the diaphragm in the other chamber transmits the pressure to the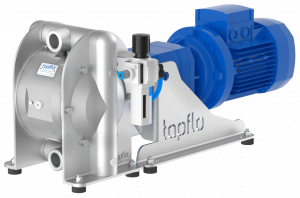 liquid in the second chamber, pushing it towards the discharge port.
Our EODD Pumps are available in hygienic, metal, and HD
PE/PTFE executions to suit a range of industries. Find out more about Tapflo EODD Pump.
Why Choose Tapflo's Air-Operated Diaphragm Pumps?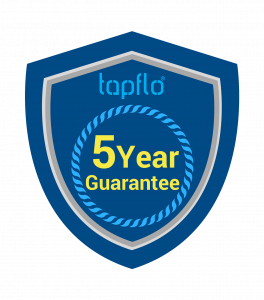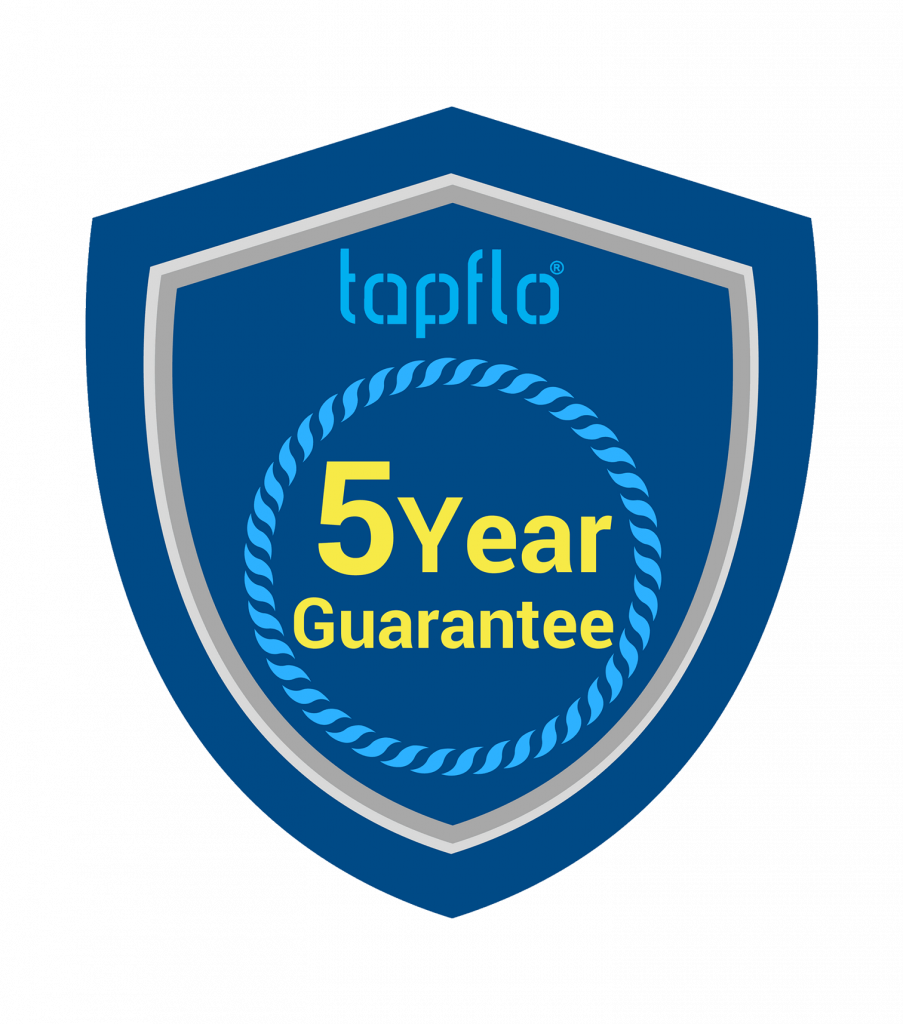 Tapflo's Air Operated Diaphragm Pumps have a compact design and have a simple operating principle whilst still meeting the demands of our customers with both heavy industrial and high-grade sanitary applications. Below are some of the main benefits of a Tapflo Diaphragm Pump:
Can be run dry without damage
Machined from Solid Block HDPE & PTFE
FDA/EHEDG Approved
70% fewer parts than other Diaphragm Pumps on the market
No nut, clean face Diaphragms
Easy to use, simple design for the operator to take apart if needed
No need for a guarding device
Infinitely variable flow control
Fastest Delivery
Flexible and easy to adjust
Customisable with various diaphragm accessories 
Few components
Low downtime and maintenance costs
5-year guarantee across the whole range of Tapflo manufactured pump products! 
Considerations When Purchasing an Air Operated Pump
Compressed air is an expensive way to power a pump, which means that these pumps can be costly to run.
Solution: Low Energy Air Pump and compressed air
Air Operated Pumps can be noisy when running at high pressures.
Solution: As LEAP technology can run at a lower flow, using less compressed air reduces noise pollution.
The flow of air from air pumps can be uneven.
Solution: If your application requires a steady flow of air then ask the team about our Active Pulsation Dampener
Can a Diaphragm Pump Run Dry?
Diaphragm Pumps do have the added benefit of being able to run dry without damage to the pump! However, as a general rule, dry running is not usually recommended for long periods of time as it could cause higher wear to internal parts, due to there being no fluid within the pump to prime the internals.
To avoid dry running your pump unnecessarily, we recommend using a Guardian System. This accessory is effective at monitoring the fluid discharge pressure of the pump, which stops if the pressure falls below a set point. They are a great alternative to having an operator manually shut off the pump when it's finished running every time and can also be used for deadhead, stop/restart, and barrier protection.
Another way to avoid dry running your pump is to use a level control, which can also be purchased from Tapflo UK and will work with any Diaphragm Pump. The level system monitors the level of media on the suction or discharge and can be set to either a high or low level, which will switch the pump off when the levels reach a set point, meaning an all-around easier solution for you!
Material Options
We have a few material options to choose from for your application including Metal, PTFE, or HDPE. There are usually a couple of different materials in a Diaphragm Pump: one used to make the ball and seat, and one to make the body of the pump.
For example, you may see balls and seats made of Stainless Steel and diaphragms made from PTFE. The material you should choose depends on your needs; Stainless Steel costs more but resists wear for longer and is heat-resistant, whereas PTFE materials cost less but don't stand up as well to abrasion.
For Sanitary applications, such as Food, Beverage, Pharmaceutical, or Cosmetic industries, a high grade of Stainless Steel is required; all of Tapflo's Sanitary Diaphragm Pump range is manufactured from high-grade Stainless Steel to ensure optimal hygiene.

What's the difference between a solid block and a moulded Diaphragm Pump?
Moulded side housings are generally the industry standard within the Diaphragm Pump sector, which means that the plastic is melted down and poured into a moulding. This can cause stress to the plastic and can destroy some of its original compounds.
All of Tapflo's Plastic Diaphragm Pumps are machined from either solid block HDPE or PTFE, meaning the original compounds are still intact resulting in much higher resistance to harsh substances like chemicals, making them perfect for use as a Chemical Pump. Tapflo's AOD design also reduces the risk of leakages compared with a standard Diaphragm Pump.
What Types of Diaphragm Pumps are available?
Want to find out more about Tapflo's Diaphragm Pump Range? Take a look at the video below with our Sales Executive, Steve, explaining the benefits and uses of a Tapflo Diaphragm Pump!