What is a Magnetic Drive Pump?
A Magnetic Drive Pump, also commonly known as mag drive pumps for short features a set of magnets, one being the drive magnet on the outside of the pump chamber and the other being the internal magnet.
They are used widely in the chemical industry due to their robust design making them ideal for handling highly corrosive fluids. A magnetic drive pump features a hermetically sealed chamber and sealless design, instead of a pump shaft running through the outer casing making it airtight and reducing the risk of leaked fluid or vapour.
This is highly advantageous for companies pumping expensive chemical products that they can't afford to risk leaking into the factory environment. There are also many different variations of mag drive pumps including Centrifugal, Regenerative Turbine, Vane, and OEM that combine these pumps working principles with the advantages of a mag drive pump.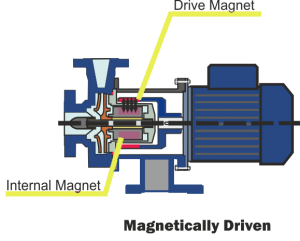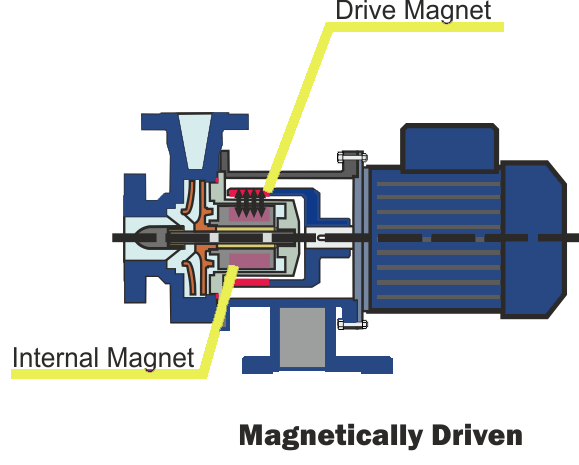 How do Magnetic Drive Pumps work?
Magnetic drive pumps work using two magnets working in tandem to push the liquid through the pump; the first magnet ('external'
or 'drive' magnet) is attached to the motor shaft through the use of specialist adhesive or secured in place via grub screws.
The second magnet is encapsulated in either high-grade thermoplastic or metal and is located within the pump. The two magnets are kept separated by a casing that also keeps the pumped medium contained. As power is supplied to the motor, the motor shaft rotation causes the attached external magnet to turn.
The different polarities in the magnets result in the internal magnet rotating in unison with the external driving magnet. This internal magnet is coupled to the impeller inside the pump, which then pumps the liquid.
Advantages & Disadvantages
Advantages of a magnetic drive pump
1. Leak-proof design, meaning there are never any hazardous chemical spills or expensive product waste with correct operation.
2. Reliable and very low maintenance thanks to their simple design.
3. The coupling is magnetic, so no need for motor/pump alignment procedures.
4. The design adheres to many strict environmental and safety objectives typically required by many regulations.
5. Less working parts for longer working life and easier stripping of the pump.
Here at Tapflo UK, we supply a wide range of magnetic drive pumps from manufacturers Gemme Cotti and Yildiz Pompa
Disadvantages of a magnetic drive pump
Best suited to clean fluids – wouldn't be recommended for fluids with any size solids
Can use a lot of power when compared with a standard centrifugal pump
Mag Drive Pump Applications
Here a Tapflo UK, our range of mag drive pumps can be used in almost any industry including both sanitary and industrial applications. Take a look at just how versatile these pumps can be below!
Chemicals – Transfer of all kinds of acids, alkalis, alcohol, solvents & other liquids free of solid
Surface Conditioning – Transfer from tanks and containers as well as circulation and treatment baths
Food and beverage – Pumping CIP detergents used for cleaning pipes and other food process equipment
Photo Processing – Transfer of photo development chemicals and inclusion in processing machines.
Mechanical – Handling of oil, fats, lubricants, cooling liquids, solvents and solid-free products
Water Treatment – Pumping samples, dosing acids and alkalis for pH control.
Hazardous and corrosive liquids – Processing and transferring fuels and other volatile liquids
Cryogenics – Pumping liquids for equipment cooling, medical cooling, air conditioning, LNG
Tank cleaning
Tank to tank transfer
Dispensing
Pressure boosting
Loading
Offloading
Metering
Batching
Magnetic Drive Pump Comparison
As there is no physical connection between the motor shaft and impeller assembly, the process fluid is retained within the pump head, therefore guaranteeing leak-free operation.
Our Industrial Centrifugal Pump, on the other hand, has its impeller directly coupled to the motor shaft which has a mechanical seal attached to it to protect the motor from ingress of the process fluid, like a traditional Centrifugal Pump. Although the pumps are quite similar in many aspects of their design and applications, there are some key differences to note when choosing your Tapflo Centrifugal Pump.
The main difference between Tapflo's Magnetically Driven Centrifugal Pump and Industrial Centrifugal Pump is how the power and speed from their motors are transmitted to the impeller.The CTM is magnetically driven, meaning that the motor shaft is connected to a magnetic coupling that has the impeller attached to it. The magnets installed on the drive magnet and impeller/magnet assemblies have different polarities which means when the motor shaft turns, it then forces the impeller magnet assembly to rotate within the pump volute.
Differences in Design
Tapflo's Mag Drive Pump and CTI Pump are both Close-Coupled Centrifugal Pumps that can be supplied with either semi-open or closed impellers, whilst the Industrial Centrifugal Pump is also available with an open impeller for solids handling up to 6mm.
Both of these compact pumps are ideal for applications requiring high mechanical and corrosion resistance, as the CTM is manufactured from Glass Fibre reinforced Polypropylene or PVDF, and the CTI is manufactured from Glass blasted Stainless Steel AISI 316L.
The Magnetically Driven Centrifugal also has the added benefit of all wetted components being manufactured from non-metallic injection moulded thermoplastics, which strengthens the excellent corrosion resistance of the pump. Designed with reliable Tapflo technology, the CTI and CTM (and other Tapflo Centrifugal Pumps) have fewer parts which ensure shorter downtimes and less maintenance.
Another feature of Tapflo's Mag Drive is that it also has the added bonus of being a sealless pump, unlike the CTI that can be supplied with a variety of mechanical seals. Options include (but are not limited to) flushed seals which are recommended for applications involving sticky or abrasive fluids, or lubricated seals which are ideal for applications where there is a risk of dry running or the fluids solidifying within the pump.
The benefit of the CTM being sealless means that it can be used within industries that need to reduce the risk of hazardous fluids leaking out of the pump, such as nuclear and chemical industries. This also means that there is no need for resins or glues to be used within the pump's design, so the Mag Drive Pump can perform better and be safer at higher temperatures.
The Industrial Centrifugal Pump 
Although Tapflo's CTI Industrial Centrifugal Pump does not use magnets to operate, it can be used for similar applications and be ATEX rated to pump diesel, petrol and kerosene. Here are some of the most common applications where an industrial centrifugal pump is likely to be used:
Mild chemicals and solvents
Oils
Lubricants
Coolants
Detergents
Partially solid laden fluids
Water transfer
Which Magnetic Drive Pump to Opt for:
CTM Mag Drive Pump (Tapflo) Benefits:
Ideal for low & normal viscosities
No leakage due to the sealless design
Efficient Operation
Reliable & compact design, manufactured with fewer parts
Manufactured from non-metallic injection moulded thermoplastic
Ideal for OEM applications
Available as a portable unit that is safe for chemical transfer – find out more by visiting our CTM-IBC
Highly customizable, with many different executions available.
Mag Drive Centrifugal Pump (Gemme Cotti) Benefits:
Ideal for medium to heavy-duty applications
High flowrate capacity
Simplistic Centrifugal design that is greatly enhanced by the simplistic mag drive design
Wide range of materials available
Competitive Pricing
Compact & lightweight
Features all the benefits of a Magnetically Driven Pump including sealless design
Mag Drive Regenerative Turbine Pump (Gemme Cotti) Benefits:
Ideal for medium to heavy-duty applications
Low/medium flowrate to medium/high head capacity
Wide range of materials available
Competitive Pricing
Features all the additional benefits of a Mag Drive Pump
Used in various applications such as transfer or recirculation through heat exchangers, control valves etc
Mag Drive Rotary Vane Pump (Gemme Cotti) Benefits:
Ideal for medium to heavy-duty applications
Low flowrate to high head capacity
Wide range of materials available
Competitive Pricing
Features all the benefits of a Magnetically Driven Pump
This type of Mag Drive Pump is a more forgiving pump technology type and is typically used in high-pressure applications in industries such as the automotive, air conditioning and chemical industries to name a few.
The Magnetic drive pump range mentioned above are all available at Tapflo UK including our supply of European pump manufacturer Gemme Cotti.