What pump type is the best used for pumping cosmetics?
Depending on a number of factors within a process Tapflo has a number of pumps suitable for cosmetics. All of the pumps in the range would be Sanitary with FDA certificated or have EHEDG approval.
We would either recommend one of our Sanitary or EHEDG Diaphragm Pumps which happens to be one of the most versatile sanitary pumps on the market today or an option of two Hygienic Centrifugal Pumps depending on which grade you would like or a Lobe or Twin Screw Pump for the extra viscous products!
Sanitary Cosmetic Pump requirements
Any product being pumped that is used on people or consumed will require fully FDA approved sanitary machinery throughout the whole process. This is to ensure there is no possibility of contamination – of course, we expect anyone in this industry already knows that! However, maybe you didn't know that a standard pump shouldn't be used during this process.
Luckily, Tapflo UK supplies a whole range of Sanitary Pumps, with either a full FDA certification or EHEDG approval, for almost any fluid solution. It is important to note that the certifications for Tapflo's pumps mean the whole pump is sanitary including the material the pump is manufactured from and is finished to the highest standards. A pump with FDA Approved seals only is not fully sanitary and should not be used in any industry requiring a sanitary pump.
Tapflo's Cosmetic Applications Examples:
Toothpaste
Shampoo & conditioners
Moisturisers and lotions
Perfume
Face scrubs
Medicines
Bath bombs
Mouthwash
Makeup
…and that's not even the full list of products!
Tapflo's Sanitary Pump Range
The type of pump your application requires will depend heavily on what the product is, the conditions it needs to be transferred in, the viscosity of the product being pumped etc. Our recommended Sanitary Pump range for cosmetics include: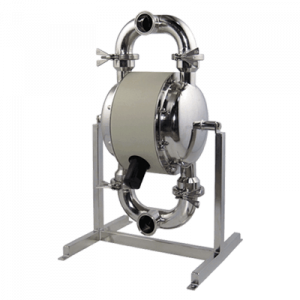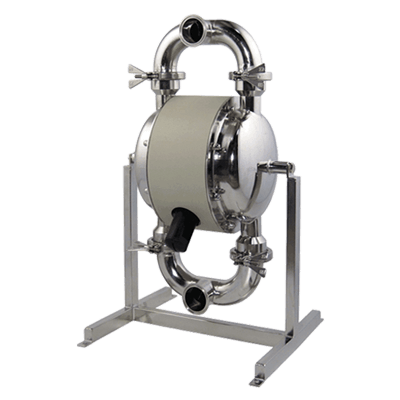 Sanitary Diaphragm Pump
Tapflo's Sanitary AOD Pump complies with FDA guidelines, manufactured from Stainless Steel AISI 316L and finished to Ra 0.8 or 0.5 upon request. All Tapflo Diaphragm Pumps use clean, no-nut face diaphragms, which removes a potential leakage point, as opposed to standard diaphragms which have a nut that goes through the centre of it to hold the layers together. The face of Tapflo diaphragms is smooth which eliminates areas for bacteria to grow and are made from food-grade materials (PTFE or white EPDM) to ensure that all elements of the pump that come into contact with the product are sanitary. This is the same in our Powder Pump which can be supplied to meet hygienic standards for applications involving the transfer of powders, for example, pigments in make-up or elements of a bath bomb.
Click here to find out more about Tapflo's Sanitary Diaphragm Pump.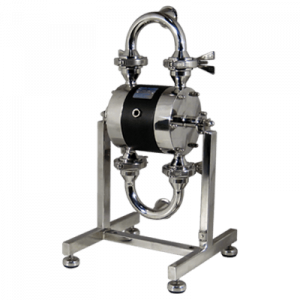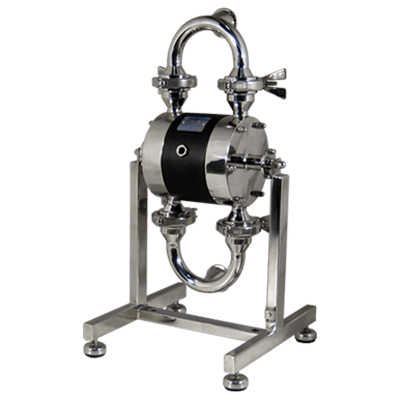 Aseptic Diaphragm Pump
Tapflo's Aseptic Diaphragm Pump is EHEDG certified. EHEDG stands for European Hygienic Engineering and Design Group and guarantees that the pump has been designed according to hygienic guidelines. Additionally, the pump has been clean ability tested to ensure that bacteria doesn't grow in the pump after cleaning and draining. These pumps have been designed so that bacteria cannot grow inside the pump, as well as supporting CIP and SIP (Clean In Place and Sterilisation In Place) which makes them ideal for handling sanitary applications such as pharmaceutical and cosmetic applications like cream, paste and filtration gel.
Visit Tapflo's Aseptic Diaphragm Pump product page for additional technical details.
Sanitary Lobe Pump
Tapflo UK's Sanitary Lobe Pump is manufactured by Pomac Pumps whose portfolio focuses on Hygienic Process Pumps for the Food, Pharmaceutical and Cosmetic Industries. The Lobe Pump is EHEDG certified across all 11 sizes of the pump, manufactured from AISI 316L with a surface roughness of 0.8 as standard. Lobe Pumps can transfer solids to a maximum size of 60mm as well as being able to handle viscous fluids such as creams and shampoos.
Click here for additional technical information on Pomac Pumps' Sanitary Lobe Pump.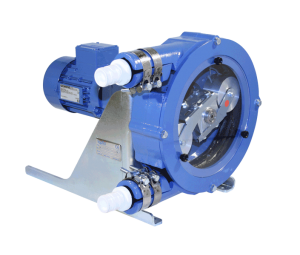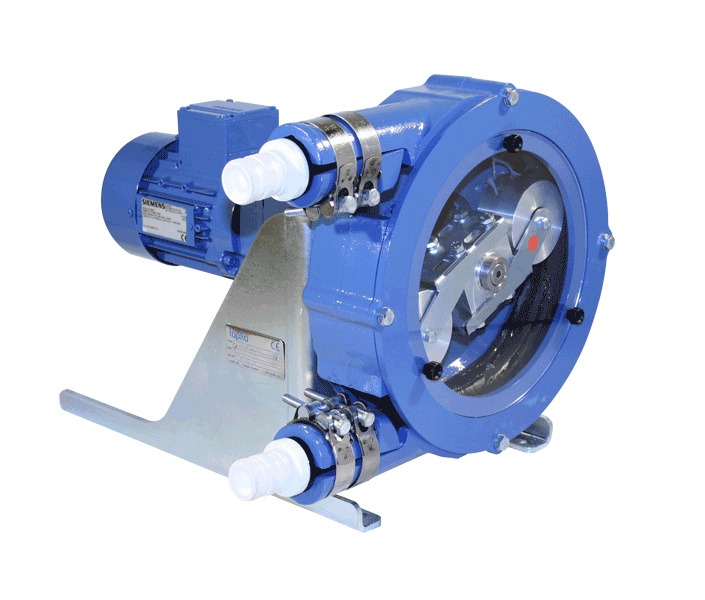 Peristaltic Pumps
Peristaltic Pumps are perfect sanitary pumps as only the hose comes into contact with the product being pumped. The hose material can be supplied per application, and we can supply sanitary hoses that are FDA approved.
Check out our range of Peristaltic Pumps we offer!
Buying a Tapflo Pump that is guaranteed to be manufactured to the highest hygienic standard is the easiest way to ensure that industry and hygiene standards are being met when producing cosmetic products.
Sles Mixing & Dilution Unit
SLES, or Sodium Laurel Ether Sulfate, is an organic chemical compound with excellent cleansing and foaming properties typically delivered to customers at a 70% concentration. The product is highly viscous and needs to be diluted to roughly 27% concentration before it can be used on a process line.
Buying SLES at a 27% concentration can be a huge financial investment for companies, however, with Tapflo's SLES Mixing and Dilution Unit, customers can purchase SLES at a 70% concentration and dilute it themselves. Our system allows continuous dilution with maximum efficiency, safety and reduces the cost to the company in the long run. Once diluted to 27%, SLES is typically used by manufacturers of products such as soap, shampoo and detergents as it has good foaming properties.
An ideal system for companies pumping shampoo products, face washes, soaps that contain sodium laurel ether sulfate and want to save money by diluting SLES themselves. 
Take a look at our SLES unit in more detail! 
Cosmetic Pump Case Study
Tapflo were recently approached by a start-up Cosmetics Company manufacturing face scrubs. They needed a pump to empty a 1000l stainless steel tank containing the face scrub and depositing into a filling line.
Application details
Fluid: Peppermint face scrub
Viscosity: 1000cps
Flow Rate: 100lpm
Temperature: Ambient
Solids: Some 1mm chunks
Pipe Work: 1 1/2"
Length of discharge: 6m Flexi hose
Suction Condition: 1.5M vertical 2M across
Pump solution offered
Pump Type: T125 STT Diaphragm with remote stop-start
Materials: Stainless Steel and PTFE
Accessories: Tapflo remote start stop
Connection Size: 1 ½"
The pump was installed along with the remote start-stop. This means they can start the pump from the filling line and stop the pump when they are happy with the amount of product in the depositing tank. The customer was so happy with the product they have purchased 3 more since to support their growth!
If you require a similar pump or any assistance on fluid handling within your factory then please get in touch on 023 8025 2325 or email us at [email protected]