Here at Tapflo, we know that Chemical Pumps need to be versatile and robust enough to handle a range of chemicals depending on the industry they are being used in. This is why Tapflo UK manufacture and distribute such a vast range of Chemical Pumps; we want to make sure we have something that is suited to almost any application. Using our expert pump knowledge, we are able to provide the Chemical Industry with trusted and safe pumping equipment.
Pumping Chemical Products? Read This!
Do you use chemicals in your industry? Have you heard of the ChemUK exhibition taking place on 1st and 2nd of May in Harrogate? If you haven't, tickets are free and we'll be there showcasing our range of premium pumps, perfect for the transferring and dosing of chemicals. You've probably seen our all-star cast over on LinkedIn, (you might even call it natural talent) but now you get to meet your Hollywood heroes on our stand at ChemUK. Luke B, Luke S and Edward will be available to talk you through all your Chemical Pump options.
Click here to find out more about Tapflo at ChemUK
Tapflo Pumps UK's Chemical Pump Range
Tapflo Pumps UK has a large array of premium pumps within our range that are perfect for handling various products in the Chemical Industry.
PTFE Diaphragm Pump
The PTFE Diaphragm Pump is an ideal Chemical Pump as it is machined from solid block PTFE, which gives the pump a higher chemical resistance and is, therefore, able to pump aggressive acids. Our PTFE Diaphragm Pumps can be supplied on its own or as a Drum Pump with Stainless Steel handles to move the pump easily between drums, or can be fitted to one of our Mobile Decanting Units (MDU).
Our Mobile Decanting Units can hold either 20L, 25L or 205L chemical containers, for safe and easy handling of chemicals. Tapflo Diaphragm Pumps can also be cast in metal which ensures that there are no weak spots for chemicals to leak out into the environment surrounding the pump. Click here to view our range of Metal Diaphragm Pumps. If you are worried about chemical leakages damaging your Chemical Pump or the surrounding environment, we have a range of Diaphragm Pump Accessories that can help, such as the Guardian System, which has been designed and manufactured by Tapflo UK's Technical Director. Additionally, Tapflo supply a Barrier Diaphragm Pump (available in HDPE and Metal) that protects the pump from chemical leaking into the pump housing. For a quick introduction to Barrier Pumps, check out this product focus with Edward! Tapflo Diaphragm Pumps are perfect for handling the following Chemical Pump applications:
Acids
Alkalis
Alcohol
Solvents
Latex
Emulsions
Peristaltic Pumps
Peristaltic Pumps are an excellent option when in the market for a Chemical Pump due to the design of the pump, meaning only the hose within the pump comes into contact with the product. All hoses are manufactured from high-quality rubber that has been compressed together to ensure a long life, especially for products such as aggressive chemicals. The hose can be supplied in a range of materials to suit the product being pumped and the Peristaltic Pump supplied will depend on the variables of your installation. For example, the ALP is a Low-Pressure Peristaltic Pump, whilst ALH is a High-Pressure Peristaltic Pump. Click here to view the Peristaltic Pump Hose Assemblies and Fittings. Tapflo UK is the exclusive UK distributor for Albin Pump. Albin specialises in manufacturing Peristaltic Pumps, utilising reliable technology and providing short lead times with quick responses.
Centrifugal Pumps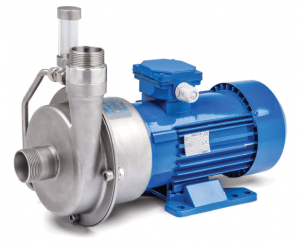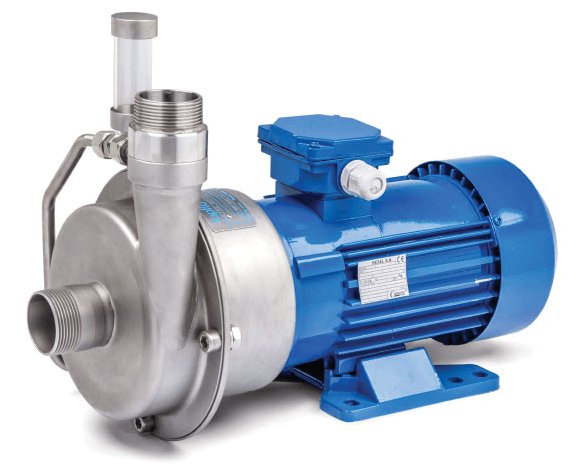 Tapflo manufacture and distribute a vast range of Centrifugal Pumps for a number of different applications and installations. We manufacture a range of Centrifugal Pumps that are ideal for transferring chemicals, this includes the CTI Industrial Centrifugal Pump and the CTM Magnetically Driven Centrifugal Pump. Both pumps are extremely robust, with the CTI being cast from glass blasted Stainless Steel AISI 316L and the CTM being manufactured from non-metallic injection moulded thermoplastics.
The Mag Drive Centrifugal Pump is ideal for pumping chemicals used in industrial detergent equipment. Tapflo also supplies the Industrial Self-Priming Centrifugal Pump (CTS-I) for installations where a suction lift is required. These pumps are ideal for applications such as transferring and offloading of mild chemicals and solvents. The CTI is much more versatile, able to handle acids, alkalis, alcohol, chemical waste products, solvents and emulsions.
For those applications that require it, Tapflo manufactures Vertical Immersion Centrifugal Pumps that are suited for handling highly corrosive chemicals at high temperatures. These pumps are available in both Stainless Steel and PVDF.
Tapflo UK also distributes Salvatore Robuschi Pumps which are heavy-duty pumps, ideal for handling chemical waste. The pumps isolate core components that are kept in stock and are then adapted for each customer and their application.
If you have any questions, check out our Chemical Pump FAQ.