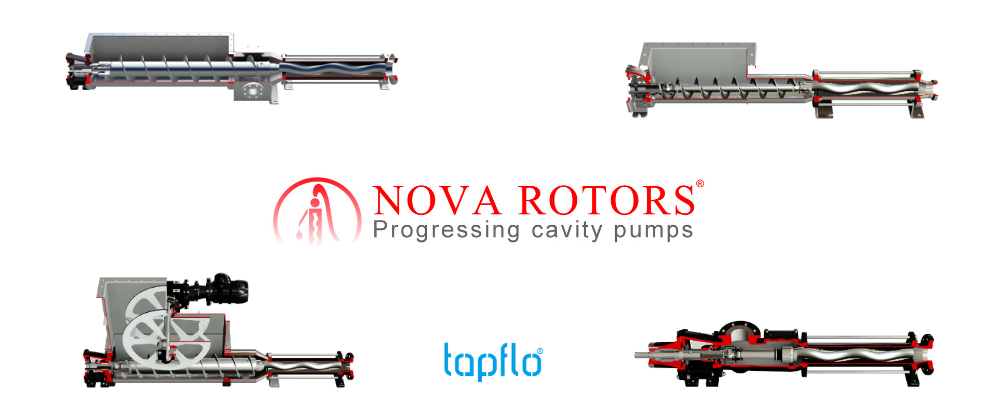 What is a Progressive Cavity Pump?
A Progressive Cavity Pump is a type of positive displacement pump, which consists of a rotor and stator. The metal rotor drives the stator through the chain and begins to fill the cavities with equal amounts of liquid which then get pushed through the pump outlet. They are a highly robust pumping system that ensure maximum performance and reliability.
How does a Progressive Cavity Pump work?
The rotor inside the pump rotates within the stator, as it turns, the cavities within the stator are filled with the process media and are carried towards the pump outlet under pressure. The pockets of fluid have a set volume that decides the volumetric flow rate of the pump, this is directly proportional to the rotational speed of the rotor and results in low levels of shearing and little to no pulse.
Take a look at Nova Rotas Diamond Series Progressive Cavity pump in action below:
Are Progressive Cavity Pumps Self Priming?
Progressive cavity pumps do have the added benefit of self-priming capabilities. They cannot however run dry for very long. This is due to the rubber stator needing to be lubricated prior to liquid entering the pump. The Nova Rotas progressive cavity pump version has a suction lift of up to 8m and low NPSHa preventing cavitation occurring inside the pump.
Who are Nova Rotors?


Tapflo UK is proud to have partnered with Nova Rotors SRL, a leading Italian manufacturer of Progressive Cavity Pumps. Founded in 1990 they are now a world-renowned and industry-leading force in the design, manufacture and production of Progressive Cavity Pumps & Wobble Pumps.
Benefits included with our Pump partner Nova Rotas:
Reliable manufacturer with an advanced control system for quality control
Highly qualified staff
Good delivery times
Competitive pricing & quick response times
Customisable & Modular design
European Origin & Quality
Quality management and production standards to meet industry requirements
Advantages of Nova Rotors' Progressive Cavity Pump
Feature a uniform flow which is proportional to the speed of rotation
Suitable for l

ow NPSHa & suction lift

(up to 8 m) applications, dependent on size, number of stages and speed
Able to handle shear sensitive and heterogeneous fluids containing gases, solids, abrasive particulates & fibrous materials
Can pump both low and high viscosity fluids
Can be used for low flow and dosing applications

Wide Temperature range from -40ºC to +150ºC
Low pulsation with minimal impact on the process media
High discharge pressures, up to 48 Bar (6 Bar / Stage). Units are available with 1 – 8 stages
Reversible Operation, effective up to 12 bar
Pumps can be manufactured to meet a wide variety of materials available meaning pumps can be specifically catered to individual applications
Modular design based around the Diamond Series which means accessories and design tweaks can be added to build up customised units whilst ensuring the main spare parts are kept standard.
Patented Pin Joint design which provides increased solids passage & protection as well as high reliability & operational life span of up to 8000 hrs before maintenance or failure.
Progressive Cavity Pump Options available at Tapflo UK
Tapflo UK supply Nova Rotor's Diamond Series which was developed as a modular design to cover numerous models and sizes to meet the requirement for capacities up to 420 m3/hr and discharge pressures up to 48 Bar. The series can be customised to each customer's requirement and can also be altered to meet changing applications within a business.
Below is a breakdown of the ranges within the Diamond Series we have available at Tapflo:
DN & JN Flanged Industrial Range
The DN and JN Flanged Industrial range is the basis for all ranges within the Diamond Series; DN covers all close-coupled pumps whilst JN covers all pumps in a long-coupled orientation through the use of a Plug-In Bearing Lantern Bracket. These ranges comply with API 676 requirements and are perfect for high-performance applications due to their reliable and robust design.
Hopper Pumps
Perfect for processing media with elevated viscosity and high solids content, where the DN/X, JN/X ranges might struggle. This range features 7 designs that utilise their own screw and hopper design combinations which provide the facility to process media with solids content up to 18, 28, 35 & 40% in concentration (design combination dependent). They are available in either close or long-coupled orientations with either standard rectangular or customised hoppers to meet individual customer demands.
DV Vertical Pumps
The DV series are Vertical Progressive Cavity Pumps that have been designed for immersion, with the motor outside of the process media, into wells, tanks, or sumps where the suction lift can be problematic or site restrictions mean it isn't feasible. To suit various installation requirements, the immersion length is customisable up to 7 m and can include customisable mounting plates or supports as well as a guide cone depending on the installation length. Designed with a protective jacket to prevent corrosion of the stator housing when immersed. Suitable for thin, viscous, and abrasive or aggressive media.
Wobble Pump Series
Wobble Pumps are miniature Progressive Cavity Pumps that are perfect for compact systems that require simple and economical maintenance. The Wobble Pump is a low-cost solution for applications such as fuel conditioning & water treatment in the marine, petrochemical, and cosmetic industries. They are characterised by their floating stator and are available in Cast Iron, Bronze, AISI 304 & 316 Casings with BSP Threaded Connections (Flanged  DIN 11851 Adaptors can be supplied on request). Max Flows are up to 14 m³/hr and Max Pressures are up to 4 Bar (6 Bar Intermittent).
Find out more about each range on our Progressive Cavity Pump page.
Progressive Cavity Pump Applications
Progressive Cavity Pumps are widely used in a plethora of applications across many industries, including but not limited to, wastewater treatment, oil, pharmaceutical, oenological and food. The entire range can also be ATEX certified upon request to suit hazardous pumping environments and applications.
Do Nova Rotors manufacture pumps suitable for hygienic applications?
The DX and JX ranges are the hygienic counterparts of the DN and JN ranges. They were specifically designed for use within the Food, Pharmaceutical & Cosmetics industries. Their sanitary design is in full compliance with EHEDG, 3A & FDA standards and they are also suitable for both CIP & SIP procedures. Special attention has been paid to ensuring there are no dead zones within the pump thus preventing bacterial build-up & ensuring optimal cleanability. An optional Closed Pin Joint Design is available to make sure that they are best suited for handling sticky, non-lubricating & abrasive fluids. All hygienic connection types are available & all surfaces are in stainless steel to ensure cleanability.
The Wobble and Hopper Pump series' are food grade with FDA approved parts.
View the Nova Rotors hygienic range.
Progressive Cavity Pump Industries
Below are some examples of industries where progressive cavity pumps are most commonly found and examples of applications.
Biogas/Anaerobic Digestion Industry
Pumping of liquid livestock to Collection Tanks or Animal Waste directly to Digesters
Injection of liquid manure from Liquid Sewage Collection Tanks to Digestate Feed pump
Digestate Feeding from Biomass Collection Tanks to Digesters
Pumping of partially fermented biomass from Main Digesters to Post-Digesters
Transfer of Digestate from the Post-Digesters to Final Storage & Processing.
Brewing, Distilling & Oenological Industries
Pumping of crushed & destemmed must
Transfer of must from fermenters to processing tanks
Transfer of processed fluids to barrels for ageing
Conveyance of filtered product to bottling lines
Papermaking
Transfer of pulps to dosing/metering system
Transfer of dyes, fillers & fixatives to the metering system
Transfer of wastewaters from forming stages (pressing, filtering, bleaching & coating) to purification/treatment system
Wastewater Treatment
Transfer or thickened sludge from storage tanks to dewatering systems
Transfer of treated sludge to storage silos, tanks or vats
Dosing & metering of polymers & additives
Filter-Press feeding
Can a Progressive Cavity Pump be dry run?
No, Progressive Cavity Pumps cannot be run dry, however, dry run protection devices, such as stator temperature probes, can be supplied on request and special sealing configurations are available to prevent damage from dry-running.
Pump Materials

Cast Iron GG25
Bronze
Stainless Steel (AISI 304 & 316)
F55 Super Duplex
ECTFE Fluoropolymer Coatings on request.

Rotors

AISI 420 & Induction Hardened AISI 420
Stainless Steel AISI 304 & 316
F51 Duplex & F55 Super Duplex
Special coatings are also available such as HCP (Hardened Chrome Plated), Ceramic & HVOF Tungsten Carbide

Stators

NBR, Food Grade NBR & Food Grade White NBR
HNBR & Food Grade HNBR
Buna-N (Select models)
EPDM, Food Grade EPDM & Food Grade White EPDM
FPM & Food Grade FPM
Silicone
Hypalon (Select models)
PTFE (Select models)
Nova Rotors Standards & Certification
Nova Rotors carry ISO 9001:2015 and OHSAS 18001:2007 Quality Management Certificates. Their full range of Progressive Cavity Pumps has been designed and manufactured according to the highest standards and are distributed globally to a variety of challenging applications within industries such as wastewater treatment, oil and gas, industrial, oenological, pharmaceutical, food and beverage. The entire range can also be ATEX certified and is API676 Compliant. The DX & JX series are also provided with EHEDG, 3A & FDA Certification.
If you think a progressive cavity pump could meet your application requirements, contact the team at Tapflo today by sending us a message on our live chat or giving us a call on 023 8025 2325 to discuss your options.