Find out about Tapflo UK's Low Energy Air Pump technology for Diaphragm Pumps to achieve savings on compressed air of up to 70%.
What is LEAP?
LEAP Technology stands for Low Energy Air Pump and is patented in the UK and USA. LEAP has been manufactured to be used in existing Diaphragm Pumps to reduce the operating air pressure by reducing internal losses and friction found in conventional Air-Operated Diaphragm Pumps. One way this has been achieved is with a new design of air valves that don't suffer from the same amount of friction as air valves in standard Diaphragm Pumps. LEAP technology was developed for an ultra-low flow, high-pressure application utilising an Air Operated Double Diaphragm Pump with an electric power pack.
Tapflo UK has been leading the way with its low energy range for many years now with its economic and energy-saving benefits, in a world where going green to save our planet is becoming ever more important. The range is now sold globally across the 75 countries Tapflo operate in and is becoming a popular choice for customers as an alternative to a standard Diaphragm Pump. Take a look below to find out more about the benefits LEAP has to offer!
Looking for a quick explanation of our Low Energy Air Pump technology? Check out the video below!
What are the main benefits of using LEAP technology in your Diaphragm Pump?
Low Energy Air Pump Technology provides the customer with all the standard benefits and duties of a Diaphragm Pump, as well as an extensive range of benefits not currently available on the market.
Reduced operating costs compared to standard Air-Operated Diaphragm Pumps
Reduce pulsation, no need for a pulsation dampener
Reduce noise
Full control and feedback
Longer operating life
24V control
Easy and fast maintenance – the main air valve can be changed in less than two minutes without the removal of the pump
Cannot stall the pump
Ultra low-pressure operation resulting in reduced energy consumption
Seal-less air valve technology for longer life expectancy
Batch Dispensing is achieved using the integral VFC output and an external predetermining counter which can automatically stop the pump after the required volume has been dispensed.
Deadheading – By monitoring the frequency of the output pulses from the pump you can determine if the pump has stalled due to decreased stroke rate.
LEAP Pumps can dry run, the pump monitors the frequency of the output pulses and can determine if the pump is running dry due to increased stroke rate.
Available in HDPE/PTFE, Sanitary & Metal.
LEAP Solution
During extensive testing, the process has revealed that the largest amount of energy required by a pump is used to overcome the resistance created by the pump itself. Another major issue is found in the mid-port scenario, wherein they attempt to save energy by turning down the air pressure, to a much lower level, which causes the pump to stall. The Low Energy Diaphragm Pump is able to start pumping at 0.2 bar without stalling.
During the tests, LEAP® was already achieving flow rates of 70% of its maximum open-end flow before other pumps had even started. At 0.3 (4.5 Psi) bar a standard Tapflo T50 pump fitted with LEAP® was already pumping at over 25 L/min, all other Diaphragm Pumps that were tested failed to even start. To achieve the same flows and control other pumps required 1.2 bar pressure. Tests undertaken to measure the performance of a standard pump against the new LEAP® pump have resulted in an energy saving of up to 70%.
LEAP Beats Leading American Diaphragm Pump!
Our Low Energy Air Pump Technology was independently measured against a leading American Diaphragm Pump manufacturer to test the air consumption and flow rate, and the results are truly astonishing!
When supplied with 2 Bars of air, our LEAP Pump consumed only 0,103 Nm3/min, whilst the American Diaphragm Pump consumed 0,167 Nm3/min, also supplied with 2 Bar of air. As well as this, the LEAP unit produced a much higher flow rate than the competitor's pump.
These astounding results have proven to the customer just how huge their savings could be if they were to use LEAP. The customer has now decided to swap out 40 of their current Diaphragm Pumps for LEAP over the next 2-3 years, which will be a huge saving of around 60% for them!
LEAP Technology is the future of pumps; LEAP can not only offer huge savings on compressed air but is also highly economical compared to any standard Diaphragm Pump.
Can I use a Low Energy Air Pump with any application?
LEAP Pumps can be used for any application where a standard Diaphragm Pump is already being used. The low energy pump technology ensures that the Diaphragm Pump can't stall, which means when being used in a process critical application, it offers increased reliability and reduced downtime.
Is Low Energy always better than a standard Diaphragm Pump?
Yes – any application using a standard Diaphragm Pump can gain additional benefits from the LEAP range, including lower operational costs or increased control. The benefits are specific to different installations and are dependent on what your business is looking for, as well as the application.
The graph below shows fluid flow against the air pressure required when comparing a standard Air-Operated Diaphragm Pump against Tapflo's Low Energy Air Pump (LEAP). As you can see, at 0.5 bar air pressure, the LEAP pump was able to produce approx. 27.5 l/min whereas the standard pump didn't even start operating until it was supplied with 1.1 bar air pressure, and only produced 5 l/min.
This demonstrates that standard Air-Operated Diaphragm Pumps require a lot of energy to simply overcome the resistance within the pump. The energy required to do this is a direct correlation to the pressure you have to put in. By reducing the air pressure required to operate you can significantly reduce the operating costs of the pump. To put this into monetary terms,  Tapflo customer required a 2" pump to run continuously for 5 days a week, 48 weeks/year, producing 150 l/min @ 1 Bar operating pressure. Based on the British Compressed Air Society figures of between £0.01 to £0.03 to produce 1000 Litres of compressed air, a standard pump would cost an average of £1843.20 / year. By converting to the LEAP technology, the customer would save £652.64 / year per pump!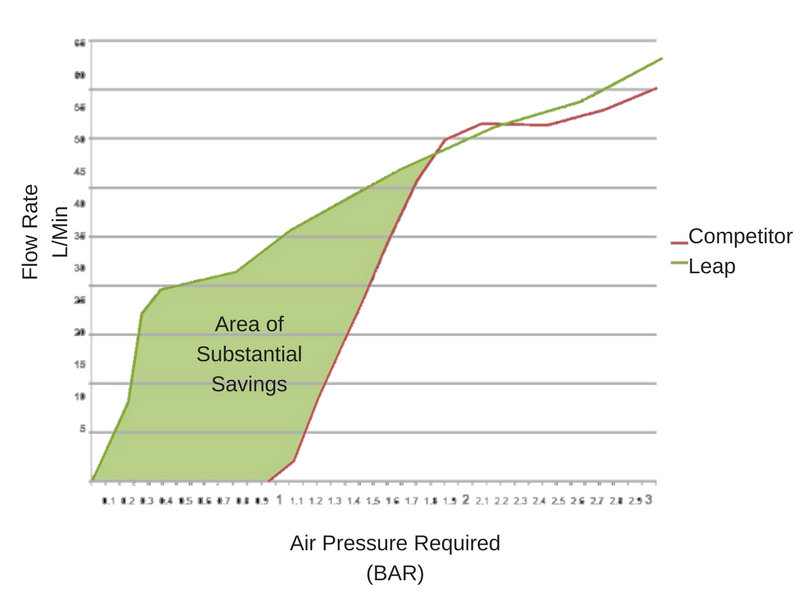 What pumps can low energy technology be fitted to? Can it be retrofitted, or do I need a new Pump?
Our low energy technology can be retrofitted to all Tapflo Diaphragm Pumps, plus a range of our competitors. You don't need to buy any special parts, just swap out the centre section of your current Diaphragm Pump for a new low energy centre section, so if you want to start saving money but don't currently have a Tapflo AOD Pump, let us know!
Leap Pump Range Availability
LEAP® technology is available in the Tapflo Pumps executions and sizes listed below:
| | | |
| --- | --- | --- |
| HDPE/PTFE Pumps | Metal Pumps | Sanitary Pumps |
| TC50 | TC70 | TC80 |
| TC100 | TC120 | TC125 |
| TC200 | TC220 | TC225 |
| TC400 | TC420 | TC425 |
Want to find out more about the LEAP technology range at Tapflo? Visit the LEAP product page or get in contact with our Pump Specialists!