Sanitary Diaphragm Pump with energy-saving technology
Tapflo's Sanitary Diaphragm Pump is available with our revolutionary Low Energy Air Pump (LEAP) technology which will reduce your operating costs and help your business to meet energy targets. LEAP could save your company up to 70% on energy as these pumps begin operating at a much lower starting pressure than standard AODs on the market (0.2 compared to 1.2).
Sanitary Diaphragm Pump Connections
The Sanitary Air Operated Double Diaphragm Pumps are supplied as standard with ISO Tri-Clamp connections. However, they may also be equipped with almost any type of connection used in the hygienic field – DIN clamps, SMS milk, RJT, DIN aseptic to mention a few.
Sanitary Air-Operated Diaphragm Pumps with Flap Valves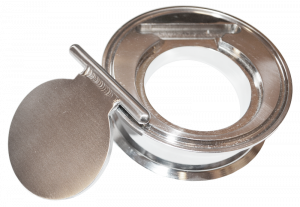 Available on 3 pump sizes: T225, T425 & T825 Provide solids passage from 50 – 100 mm, model dependent. Provide Dry Suction Lifts up to 4.5 m Flap valves are a great option when the product to be pumped has a high viscosity, contains big solids or solids that can be damaged by standard valve balls (e.g. fruits).
Mounted with clamps they provide easy maintenance and cleaning. Made in AISI 316, they are mounted in a special flap valve cup with clamps between housing and manifold. Pumps with flap valves differ from the standard pump by valve type, manifolds and pump housing.
NOTE: Flap Valves are not appropriate for pumping water-like products. If a liquid has low viscosity, the valve will open and close very fast with no shock absorption that is provided by viscous products. Also, dry running of the pump for longer periods will cause rapid valve wear and eventually pump stopping. Modify your existing pump to be fitted with flap valves with following additional parts:
T225 = Flap Valve Compete x 4 (P/N: 6-225-24H)
T425 = Flap Valve Compete x 4 (P/N: 6-425-24H)
T825 = Flap Valve Compete x 4 (P/N: 6-825-24H)
Sanitary Series of Air Operated Diaphragm Pumps with Ball Cup Valves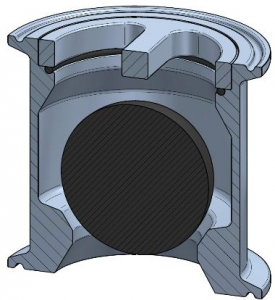 This option is a perfect solution when there is a risk of damage to the valve seats from the product. If such a situation is to occur there is no need to replace the whole manifolds or housings, just the valve cup what drastically reduces the spare parts cost. Just like the flap valve it is made of AISI 316 stainless steel and is mounted between the housing and manifold with clamps. In the same way, the manifolds, pump housing and pump stand have to be changed in comparison to a standard sanitary pump. The following additional parts are required to optimise your pump to be fitted with ball cup valves:
4 x Ball Valve Cups
2 x Manifold for Ball Cup Valves
2 x Pump Housing – Ball Cup Valves
8 x 3-Clamp Seal
4 x 3-Clamps
4 x Valve Ball Stops
4 x O-Rings
1 x Pump Stand
Sanitary Series of Air Operated Double Diaphragm Pumps with Heating Jacket Option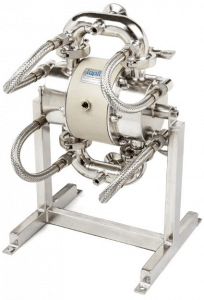 A heating jacket is a great option when the pumped product tends to solidify at lower temperatures e.g. Chocolate or paraffin. When the pump has finished its duty and is left for some time without operation the product can solidify inside.  This is when the heating jacket comes in. Before the next pump start-up, heating medium like water or steam is into the heating system for a defined period of time to melt the product inside the pump. Only then can the pump be started again with no risk of damage.
NOTES: When using steam as the heating agent the flow must be from top to bottom (due to steam condensation). In the case of hot water or other liquid, it is the other way around. Do NOT exceed 2 Bar pressure in the jacket.
Sanitary Series of Air Operated Diaphragm Pumps with Magnetic Ball Lifters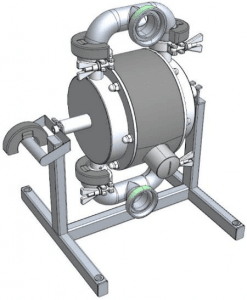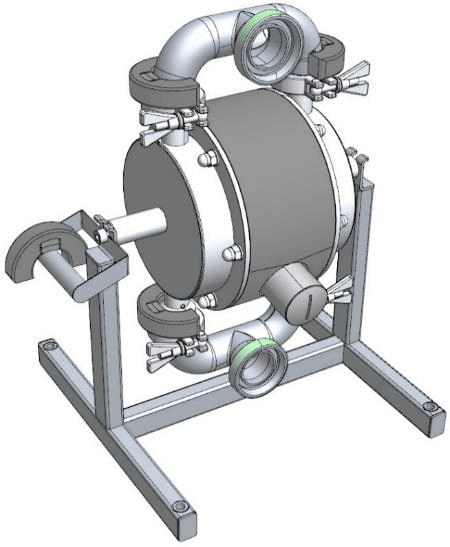 Magnetic ball lifters are implemented in Sanitary and Aseptic EHEDG series of AODD pumps, to enable pump emptying without removing it from the installation when no other draining option is available. Rotating the pump is also no longer needed. The balls are lifted by simply attaching the magnets to the pumps manifold. Valve balls are available in AISI 420 magnetic stainless steel or PTFE with steel cores.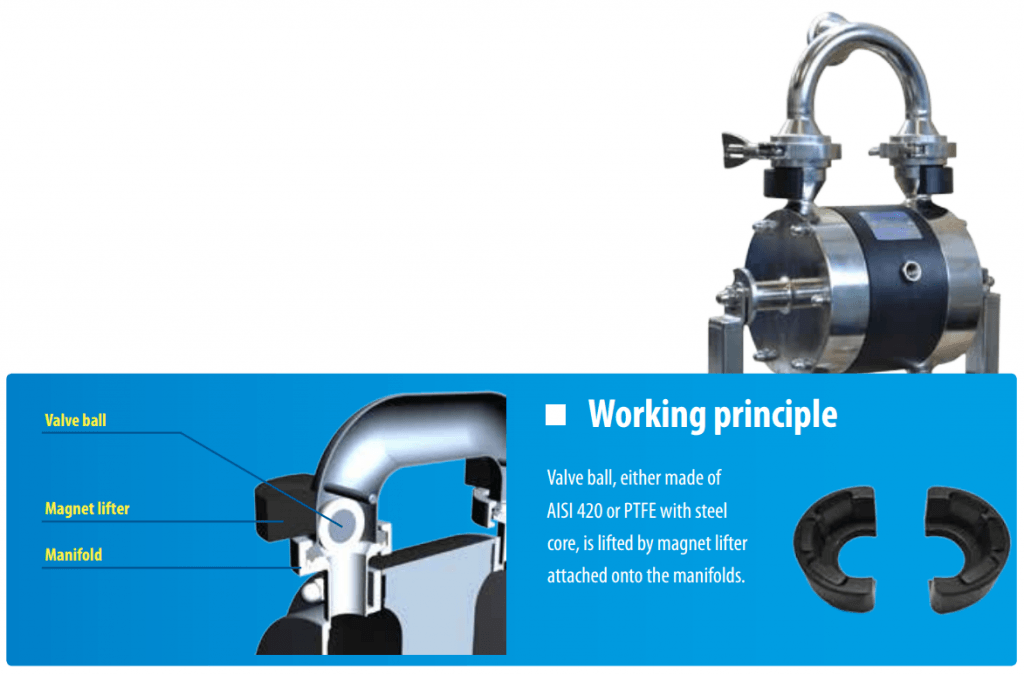 Pump Emptying Procedure:
Install the magnets onto the pump manifolds in the valve seat area
Run the pump slowly
After a few cycles, the pump will start to dry run
Turn off the pump
Take off the magnets & manifold
Modify your existing pump to be suitable for use with Magnetic Ball Lifters with the following additional parts:
4 x Valve Balls (PTFE Steel Core or AISI 420)
4 x Magnetic Ball Lifter
1 x Magnet Holder