What are the best ways to help maintain a Diaphragm pump?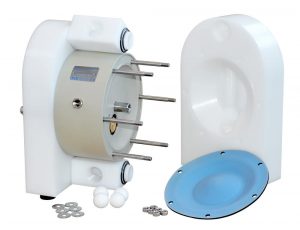 When it comes to diaphragm pump maintenance, making sure you regularly check for any issues or damage will be highly important in ensuring your pump has a long life. Our Pump experts have put together a list of eight of the most important steps to check to ensure your pump lives a long, healthy life and you don't run into costly issues later down the line.
Luckily, if you've purchased a Tapflo Diaphragm Pump, the simple design means easy maintenance that can be carried out on-site by you which means no expensive costs or long downtimes waiting for an engineer! If you aren't already the proud owner of a Tapflo Diaphragm Pump, you should take a look at the full Diaphragm Pump & Accessories range.
Remember: before disassembling or carrying out any maintenance on your pump you need to drain it of all liquid.
Check and tighten the pump's main nuts and bolts once a month. This will reduce the risk of your Diaphragm Pump leaking. Luckily, with a Tapflo Diaphragm Pump, there are considerably fewer bolts than the market standard Air Pump. Tightening torques are provided in the pump manual for reference.
Check the seals on the connections to and from your Diaphragm Pump on a regular basis for wear, and make sure that they are airtight to ensure efficient operation.
Checking your airline is essential for maintaining a Diaphragm Pump. The pump can only be run with dry & clean air; any contamination to your airline will cause the O-Rings on the air valve to fail and your pump to stall, causing damage to your Diaphragm Pump and potentially to its surrounding environment.
Whilst it is often advertised that Diaphragm Pumps can be dry run, it is not advisable for indefinite periods of time as this will cause unnecessary damage and wear to your pump, as well as excess air consumption costs. If you're worried that your Diaphragm Pump will be dry running for long periods of time, we can fit various accessories to automate your pump such as our:
TPUK-BP(I) Pneumatic Batch Controller
TPUK-LA / LM Pneumatic Level Controller
PDRN Pneumatic Dry Run Protection Device (fitted with our Guardian System)
EDRH Electronic Dry Run & Dead Head Protection System
 All of these systems either automate the operation of the pump to ensure that it only works when it needs to, or protect the pump in case it runs dry for undesirable periods of time.
Diaphragm Pumps stall when operated against a dead head/closed valve and start again when the line becomes clear, however, this can put excess strain on the air valve and there is a 1 in 10 chance that the air valve can stick, causing unnecessary downtime. In order to prevent this, you can opt to install one of our protection systems, listed below:
PDHR Pneumatic Dead Head Stop & Automatic Restart Protection System
PDHS Pneumatic Dead Head Stop & Remain Stopped Protection System
EDRH Electronic Dry Run & Dead Head Protection System
These devices will protect the pump and ensure efficient and trouble-free operation under the aforementioned conditions.
Check the diaphragms for wear. If you swap to a Tapflo Diaphragm Pump, you'll be supplied with diaphragms that have a completely smooth, no-nut face.
Unlike the standard design of diaphragms, Tapflo supply diaphragms that are manufactured from chemically bonded components with fabric reinforcement and a steel core, which attaches to the diaphragm shaft. The steel core does not go through the whole diaphragm, which ensures no liquid comes into contact with the metal nut and seal. This prevents leakage through the diaphragm into the air side of the pump, making it clearly a superior design of the diaphragm. Under specific test conditions, Tapflo Diaphragms have been tested to last up to 80 million cycles before failure and, according to customer testimonials, can last up to 2-3 times longer than our competition.
To facilitate a preventative maintenance schedule, you can install our Life Counter which registers the number of strokes the pump has made since its install or last diaphragm change. This means that your process isn't interrupted by undesirable downtimes, which can result in losses of production and expensive downtime. The counter can be re-set via a removable key once the diaphragms have been replaced.
For process-critical applications, you can also purchase or upgrade your pump to our Barrier design with our PDFM Pneumatic Diaphragm Failure Monitoring System. This provides back up diaphragms behind the primary working ones with a pressure monitoring system between them. This will automatically stop the pump in case of a breach of the primary diaphragms and can also send an alarm signal to a central control system or sound an alarm to indicate failure.