What is ATEX?
The abbreviation of ATEX refers to the term 'Explosive Atmospheres'. These hazardous environments usually contain a mixture of gas, vapour and dust which can ignite in certain conditions.
ATEX certification was introduced as a requirement by law to provide a high level of protection when using equipment to help reduce the chance of explosions and improve safety measures. This equipment is split under the ATEX Directive into electrical and mechanical products. Electrical products are required to undergo tests as part of their ATEX certification, whereas non-electrical products can be self-certified.
Both electrical and mechanical products require a risk assessment covering conditions of operations to determine the level of protection needed, which is then marked clearly on the product which, in our case, is an ATEX Pump. Take a look below to find out more important information about ATEX and the different pump options available we have at Tapflo with this certification.
ATEX Zones
The first part states the presence of an explosive atmosphere in the environment of the product; this gives the duration and frequency of the explosive atmosphere occurring.
ATEX Zone 0: When flammable material is present for long periods of time.
ATEX Zone 1: When flammable material is likely to be found during normal operation.
ATEX Zone 2: When flammable material is unlikely to be found in normal operation and if it does occur, it will only be for a short time.
The applicable zone number is followed by the letters G (Gas) and/or D (Dust) depending on the type of explosive material present.
Explosive Material
The second part defines the explosive material. The three groups; I (Firedamp), II (Gas), and III (Dust), are given a letter for the substance that makes up the atmosphere (e.g. Ethylene, IIB). A temperature class or maximum surface temperature is then assigned through the assessment process (e.g. T4 or T135°).
Equipment Protection Level (EPL)
Lastly is the equipment protection level (EPL) which in the industrial industry means the product is for use in the given atmosphere; a manufacturer assigns this to the product through an exhaustive risk assessment. EPL _c: This is the most basic requirement for products and states that they will be fine during normal operation. EPL _b: The product will be fine under normal operation and standard malfunctions are expected, such as a broken seal or static charge building up. EPL _a: This level is required for high-risk atmospheres. This covers normal, expected and rare malfunctions, and considers multiple failures including compounding issues.
What pumps do Tapflo supply with ATEX certification?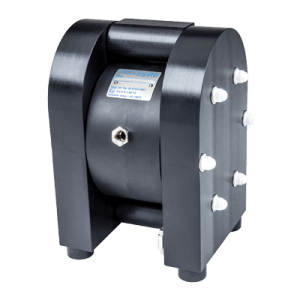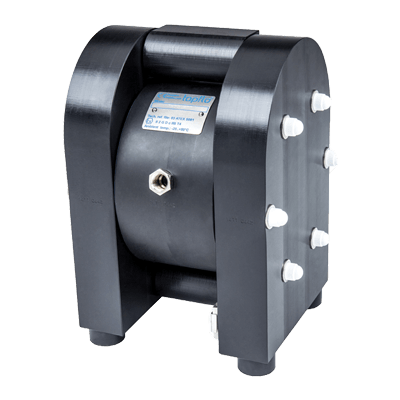 TX Diaphragm Pumps
The centre section of our ATEX rated Diaphragm Pump is fitted with carbon-filled Polypropylene, Aluminium or Cast Iron depending on the application/material required. The carbon-filled centre sections are a different colour due to conductive pigments inside the material, which reduces the surface resistance of the pump and ensures that electrostatic doesn't build up inside the pump.
Our TX range of Diaphragm Pumps and our Guardian System is both ATEX rated to Zone 2. It is crucial that all products within a system hold the same ATEX certification to ensure the environment can be classified as ATEX. Our Diaphragm Pumps are available in Metal, HDPE and PTFE materials and we also offer our Sanitary and Aseptic Diaphragm Pumps as ATEX rated.
Tapflo now also manufacture a Diaphragm Pump suitable for ATEX Zone 0. The TZ Pump is available across the full Tapflo Diaphragm Pump range, ask the team about this pump using our live chat or call Tapflo UK HQ.
View the full Tapflo ATEX Diaphragm Pump range.
ATEX Diaphragm Pump Solution
Tapflo UK worked closely with a large European Pharmaceutical Manufacturer to produce an atex pump solution for handling a range of process and service applications.

The finished pump systems included multiple ATEX Diaphragm Pumps fitted with dampeners, frames and integrated air treatment systems. To find out more about this ATEX pump project take a look at our case study.
Centrifugal Pumps
We have several ranges of Centrifugal Pumps that carry ATEX certification:
Tapflo also supplies Salvatore Robuschi Pumps and a Pomac Sanitary Self-Priming Centrifugal Pump which can also be provided with an ATEX rating.
Additional ATEX Pumps
How do I prove my Industrial Pump is ATEX rated?
Whether you're an end-user proving to the Health and Safety Officer that your pump is ATEX certified or a distributor proving the pump is ATEX to your customer, we've got you covered. Simply request your ATEX certificate from a member of the Sales Team and we'll be happy to organise this for you! Additionally, all products, including our ATEX Pumps and Guardian System, have to have the ATEX rating visible on the pump. This allows users to see the conditions and protection level applicable to the product.

This visible protection level will also include operating conditions such as the ambient temperature or the medium surface temperature. The protection level will also state the conditions of the atmosphere, for example, whether the flammable material is gas or dust.
Tapflo offer ATEX rated industrial pumps across almost our entire range and we have a solution for any application you task us with!
If you're looking for a reliable ATEX pump supplier, contact us today by messaging us on our live chat system or simply giving us a call on 02380 252 325