Industries that require a sanitary pump
Food
Beverage
Cosmetic
Pharmaceutical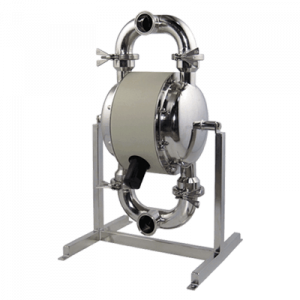 Any industry that is producing a product that will come into contact or be consumed by people needs to be handled by a hygienic pump to ensure that it maintains high-quality standards. Why is it important to use a Sanitary Pump rather than a standard industrial pump? Keep reading to find out.
Hygienic Certification
Our range of Sanitary Pumps come with hygienic certification which ensures that the pump has been manufactured to the highest standards. It is important for products being pumped to be handled by a Hygienic Pump if they are intended for consumption or close contact with the body. Our pumps come FDA approved or with EHEDG certification. FDA approved pumps ensure that a product has met certain safety and hygiene standards. EHEDG stands for European Hygienic Engineering and Design Group. EHEDG certification means that food is 'processed and packaged hygienically using hygienic equipment'.
Want to know more about FDA Pumps? Sales Manager Luke Simpson is here to tell us more!
High standards for sanitary pump
Our Sanitary Pump portfolio has been developed to meet the highest standards. Pumps are manufactured from Stainless Steel AISI 316L and have a surface finish of 0.8 as standard or 0.5 upon request. This ensures that the internals of the pumps is smooth with no areas for bacteria to grow.
One difference in our portfolio is a Peristaltic Pump. When the product is transferred by this type of pump, it only comes into contact with the hose. We supply hoses that are designed for sanitary and hygienic applications: The NR Food hose is manufactured from Natural Rubber with a CE 1935-2004 certificate and FDA approval. The NBR Food hose is manufactured from Nitrile Buna, again with a CE 1935-2004 certificate and FDA approval.
Maintaining Hygiene
Several of our pumps support CIP or SIP (Clean In Place or Sterilisation In Place). This ensures that the pump can be cleaned efficiently as the pump can be cleaned when the pipework is flushed through, without having to remove the pump from its installation.
Tapflo UK's Sanitary Pump Range
With such a variety of applications requiring a fully sanitary process, it's important that Tapflo have a large range of pumps that are up to the job. We have spent time building up our portfolio and creating lasting business relationships with several pump manufacturers. Pumps within our portfolio that are suitable for Sanitary applications include:
Find out more about each range by clicking the links above. Not sure which Sanitary Pump you need? Let our pump experts weigh up the options, call us to discuss your application. (02380 252 325)