Mechanical Seal
All mechanical seals are specifically designed for use with the CPC range according to DIN 24960 and are fitted with EHEDG / FDA compliant O-Rings. They feature a 2 pin construction so that they rotate with the impeller. They are available in the following material combinations:
Carbon to CrMo-steel
Carbon to silicon carbide
Carbon to ceramic
Hard metal to hard metal
Silicon carbide top silicon carbide
Tungsten carbide to tungsten carbide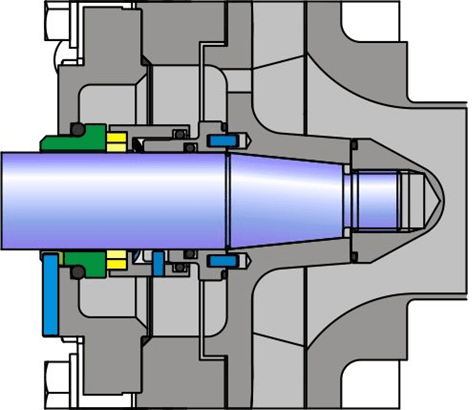 The mechanical seals are available with EPDM, Viton, Perbunan and Teflon "O"-rings.
Internal Mechanical Seal /Internal Mechanical Seal w. Quench
A quench is applied when a constant pressure-free flush to prevent fouling of the mechanical seal is required due to the product being pumped. External Mechanical Seal /External Mechanical Seal with Flush
A Flush is applied when a considerable under-pressure is present on the suction side or when a constant flushing of the seal is required. The pressure of the flushing fluid must always be higher than the discharge pressure.
Balanced Stub Shaft Design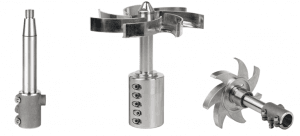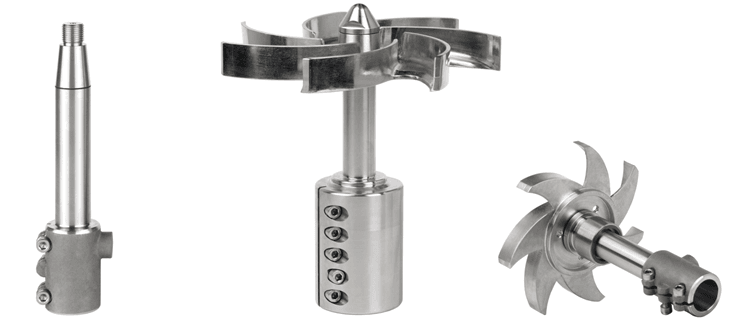 All CPC-ZA Sanitary Self Priming Centrifugal Pumps are fitted with a balanced stub shaft design with features a conical shaft end without keyway and dry mount EHEDG / FDA compliant O-Rings. Grub screw attachment to the motor shaft enables easy assembly and disassembly during maintenance procedures.
When mounted, the open impeller has pressure relief holes to ensure optimum efficiency and cleaning of the mechanical seal which is attached to the impeller via its 2 pin construction.
High-Pressure Casing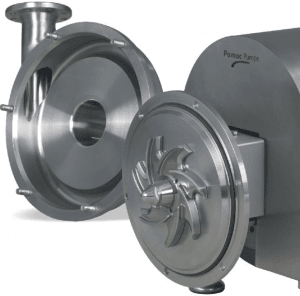 The cast stainless steel AISI 316L, machined from a solid block, the casing can withstand system pressures up to 25 bar as standard and 40 bar upon request (CPC-HD). It has also been machined to provide optimal cleanliness by eliminating any dead space areas for the bacterial build-up to be in line with EHEDG standards.
Optional Heating Jacket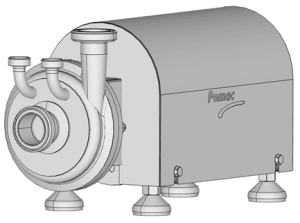 All models can be fitted with an optional heating jacket to maintain fluid temperature whilst being pumped and is generally used when transferring for higher viscosity edible oils.