Get your hands on a Peristaltic Pump! Find out why Tapflo think this Peristaltic Pump should be the next pump you purchase!
Peristaltic Pumps are fully self-priming.
Our Peristaltic Hose Pumps can self-prime up to 9.8 metres due to their design, but how does this work? The circular loop of the rubber tube is pinched between two wedges, rotating in opposite directions. The rotational movement within the pump causes the liquid within the tube to be pushed forward, past each wedge. When a wedge reaches the end of the loop, the hose gets released and the wedge rotates back to the start of the loop to begin a new cycle. When the reinforced tube is released, it is instantly restored to its original shape. This generates the self-priming characteristic of the pump.
The Pump is easily maintained.
No technical knowledge is needed in order to change the hose on a Peristaltic Pump, anyone can do it! The need to change the hose has been designed to keep downtime to a minimum, meaning you can replace the hose and get back to pumping in no time! The hoses supplied have been designed to have approximately a 30% longer life expectancy than other hoses on the market, meaning you'll very rarely have to change the hose anyway! This is down to the design characteristic of our hoses:
High-quality compound rubber
Reinforced rubber with 2 to 6 individual layers of braided polyamide
Better shimming strategy
To see our hose options, visit  Peristaltic Pump Options. 
A Peristaltic Pump is suitable for a number of aggressive or viscous fluids and has a huge range of other applications.
A diverse list of industries and applications includes (but is not limited to) the below:
Water Treatment – lime cream, ferrous chloride, activated carbon, reagent feed, coagulant, flocculate dispersion, alum, sludge and foams.
Mineral Processing – sludge with a viscosity up to 60000 cps, clay up to 800g/l, particle size: 30mm, Lead Sulfate, Pyrite, Sabx, Cyanide, various acids.
Ceramic – barbotine, mould filling, filter press feeding. Building fibrous mortar, plaster, light concrete, cement flooring.
Chemical industry – various acids, PVDF latex, alcohol, soap, non-aromatic solvents.
Food industry – tomato sauce, mash potatoes, gelatin, beer yeast, fish paste, olive oil, wine. Paint, water-based paint, acrylics, pigments, ink, wall coating.
Paper Mills – latex, kaolin, paper waste sludge, various chemical dosing.
Agriculture – manure, fertilizer sugar mills, molasse, liquid sugar and various chemicals.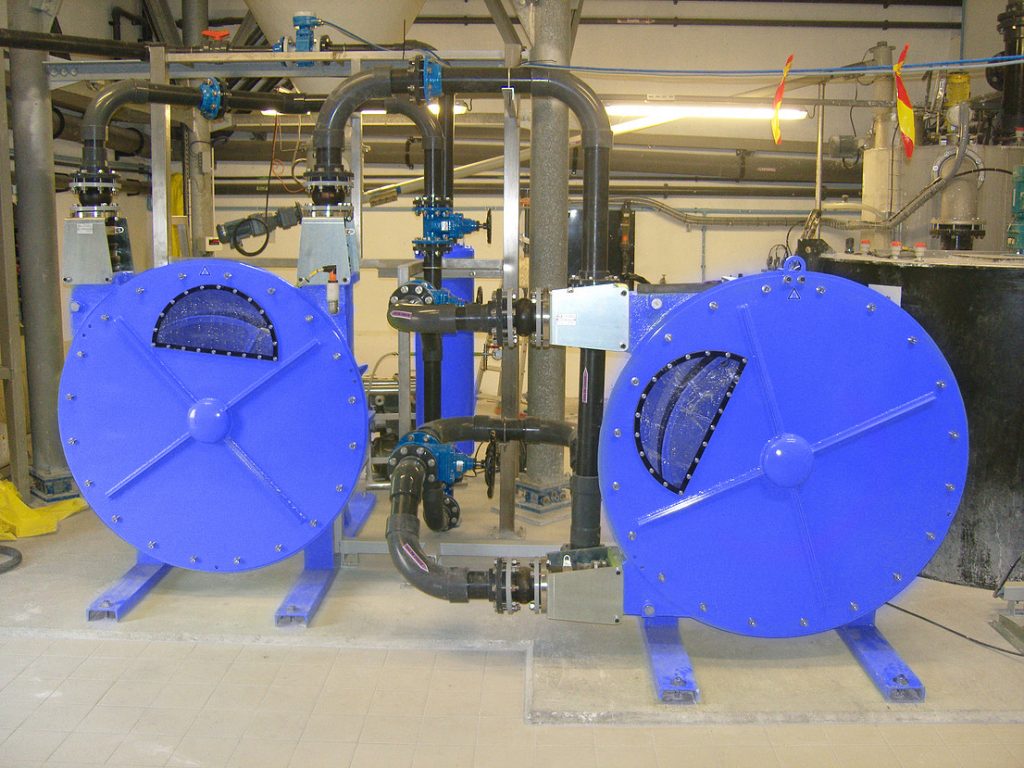 Can't see the application you're looking for? Visit our FAQ page, where we have a list of application-specific questions and what pump you should be using.
Heavy-duty bearings are greased for life!
The lubricant within the pump reduces friction and ensures that the pump performs at its maximum efficiency.
Superior design!
The Peristaltic Pump has a sealless design. This eliminates potential leakage points, contamination and wear problems that are associated with products that are difficult to seal. Your application won't touch any part of the Peristaltic Pump other than the inside of the hose!
Two-year warranty – not that we think you'll need it, but there's nothing wrong with being prepared for 'just in case'!!
Convinced? We thought so! Head to our Peristaltic Pump range to find out even more about our Peristaltic Pumps. If you need more information, visit our Peristaltic Pump FAQ
Make sure you're following Tapflo on LinkedIn to keep up to date with us over the next couple of weeks. We want to share our knowledge with you so that you can make an expert decision on which pump you need! Ready to get a quote for a Peristaltic Pump?