Using glucose syrup in your production line? Tapflo UK can help you transfer this within your installation.
What is glucose?
Glucose is a sugar syrup that is typically used as an ingredient in a huge number of recipes in both the food and drink industry and is also used in some pharmaceutical and cosmetic products. It plays a huge part in the saccharification (the breaking down of starch into sugar) process.
What form is glucose normally used in the food and drink industry?
Simple, 99% of the time glucose is in a syrup form which is funnily enough known as…Glucose Syrup – not sure how they came up with that!!
What needs to be considered when selecting a pump for glucose syrup?
There are several elements that need to be seriously considered when selecting a pump for glucose syrup.
Temperature and viscosity of the syrup
Glucose syrup is usually kept at a cold temperature, the colder the glucose syrup, the thicker they are which makes them harder to pump, especially if priming is required!
There are a few options for cold glucose syrup, the first being to raise the container above the pump so it is gravity fed, or you can use a heated jacket container which will heat the product up making it drastically thinner and therefore easier to pump.
Protect your pump!
You need to ensure that you are protecting your pump from the crystallisation of the glucose syrup, as this can cause serious damage to your pump internals.
For example, it is especially important when selecting pumps that contain a mechanical seal to understand that there is a likelihood of crystallisation happening. You, therefore, need to take the necessary precautions in advance as crystallisation within the pump, especially around the seals, can cause major damage to your pumps.
The best option for protecting your mechanical seals when pumping glucose syrup is to go for a double mechanical seal with flushing
What pump type is the best option for glucose syrup?
This depends on several factors on the application including temperature, viscosity and head pressure. As most glucose applications are within the food and drink industry, it's important to ensure that a Sanitary Food Grade pump (FDA) is being used.
Some great examples of glucose syrup pumps can be found below:
Diaphragm Pump– Simple design, Self Priming up to 5m and can dry run for long periods of time without causing damage to the pump.
Lobe Pump– CIP friendly, EHEDG compliant, the pump can be mounted vertically and horizontally.
Twin Screw Pump– The Twin Screw is a Self Priming Pump, has the ability to dry run and can support CIP
Peristaltic Pump– Sealless design which prevents leakage and contamination of product into the pump housing, quick maintenance and can be supplied with sanitary hoses. We also supply an FDA approved hose for food-grade applications.
Glucose Case Study:
Tapflo were recently approached by a large cosmetic manufacturer who was using an incorrect pump for glucose syrup which was causing very loud cavitation.
Application Details:
Fluid: Glucose syrup
Viscosity: Approx. 2000cps
Flow Rate: 24lp
Temperature: 30 degrees
Solids: None
Pipe Work: 1"
Discharge Pressure: 2Bar
Suction Condition: 2M
Pump Solution Offered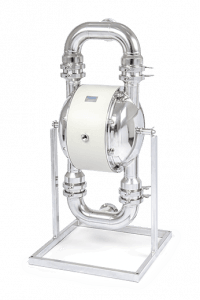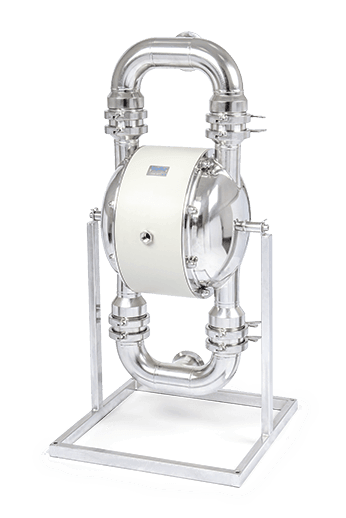 Pump Type: Tapflo T80 STS Hygienic AODD Pump with PTFE diaphragms and Stainless valve balls.
Connection Size: 1"
Tapflo UK supplied a Diaphragm Pump that was perfect for the flow rate, temperature and viscosity. It was supplied with Stainless Steel valve balls due to the thickness of the product, as the weight of the balls would sit better on the valve seats.
If you're looking for a Glucose Pump or require any assistance on fluid handling within your factory then please get in touch on 02380 252 325 or email us at [email protected]. The Sales Team aim to quote within 24 hours, so get in contact today!