Cream comes in a variety of different thicknesses, meaning you need to make sure you have the correct pump for each type of cream! Have a read of our FAQ's and relevant case study to clue yourself up on pumping the delicious dairy product!
What's the maximum centipoise of cream and can Tapflo pump it?
The thickest cream we have been asked to pump is Cream Cheese, this can hit upwards of 100,000 centipoise and wouldn't flow under its own weight. However, fear not as cream cheese can be pumped by a Screw Pump, which can pump all the way up to 1 million Centipoise! Screw Pump has priming capabilities even on products as thick as cream cheese. Regular double thick cream can be pumped through a Diaphragm Pump, but to keep the sheer low, a Lobe or Twin Screw would still be the best choice.
Can I pump hot cream and if so, will it stay hot?
Most FDA and EHEDG approved pumps are made primarily out of stainless steel which gives you a maximum temperature resistance of around 130 degrees, depending on seals. Keeping the cream at temperature is easy and can be done in a number of ways; the most simple is to supply the pump with a heating jacket. This is used to pump hot water around the casing of the pump to ensure no heat is lost during this stage of fluid moving. Secondly, you may want to consider installing trace heating throughout your discharge line if the temperature is crucial within your process.
What's the ideal install in reference to the suction side of the pump?
The thicker the cream, the harder it is to prime (get the product into the pump); we would always advise flooded suction where possible. This is where the weight of the cream itself will help with the flow into the pump's inlet. Mounted under or next to the bottom of a kettle or hopper is the most common flooded suction installation. If you do need to prime, firstly ensure your pump is capable of creating suction life if so as little as possible will help ensure optimum performance.
Is there a limit on the distance I can pump cream, if so what's the limit and why?
The simple answer is NO! The distance you can pump the product depends on a number of variables the most important being the size/power of your chosen pump! It's important when dealing with a pump company to ensure you're confident in their selection for different processes, as it doesn't matter what you do – if it's not man enough! Other factors affecting the distance you can pump include the size and amount of bends in the discharge pipework, as this affects the pressure in the pump. The higher the pressure in the discharge (head), the harder the pump has to work to overcome this.
Cream Pump Case Study
Tapflo Pumps UK has been providing the food industry for over 20 years now with all types of clean process pumps; we recently finished a job for a large food manufacturer in the south who specialises in creams. Tapflo were asked to quote on the job due to previous experience solving problems on-site.
Application Details
Fluid: Cream
Viscosity: 8,000CPS
Flow Rate: 12 m3/HR
Temperature: Room temp
Solids: No Head
Pressure: 2 Bar Roughly
Suction: 1 Metre Dry Lift
Pump solution offered
Pump Type: T425 STT AODD Pump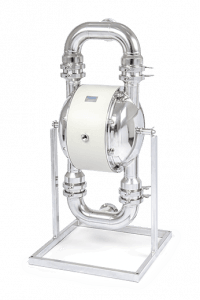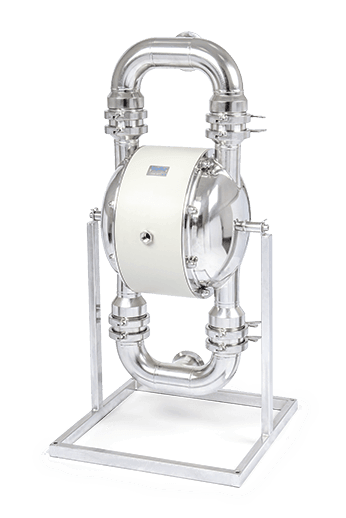 Materials: 316L Stainless 1.2 RA
Diaphragms: One Piece Bonded PTFE
Connection Size: 2 1/2" inch Tri Clamp
Air Pressure: 6 Bar Required
The pump was quoted and ordered after a site visit to confirm pipework sizes and selection; Tapflo UK supplied the pump fitted with a trolley and an air install kit. This pump is also used for CIP wash down and run through during the day and has currently had 18 months of operation without any issues. PPM will be performed after 24 months in the way of a liquid side repair kit.