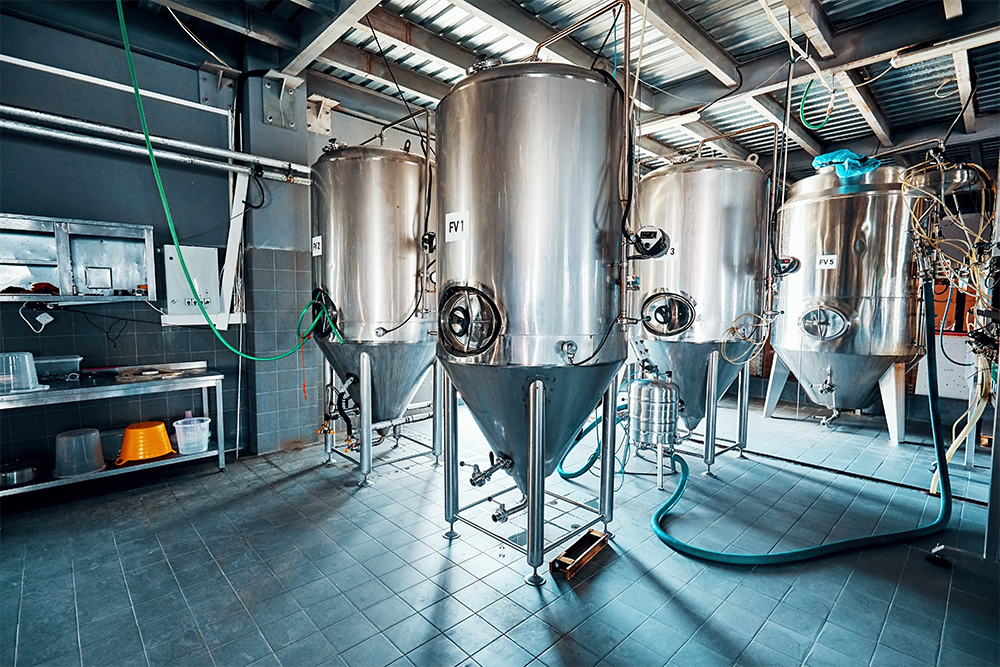 Are you in the market for a Brewing Pump? There are several things to consider including the hygiene of your machinery and therefore your product, as well as the impact your brewing equipment could have on the flavour of your end product, for example, the impact of frothing.
Top Brewing Pump Tips
Your pumps should be completely FDA approved, this includes ALL wetted parts, not just the mechanical seal!FDA stands for the Food and Drug Administration and means that your pump is suitable for food-grade applications. This ensures that the pump is safe for products where the end result is human consumption.
Your Beer Pump needs to include CIP ("clean in place") and SIP (sterilisation in place) for which are crucial for ensuring a healthy environment within your pump for yeast.
Your pump needs to be made from a high-quality polished Stainless Steel. A high-quality Stainless Steel is imperative when using a pump for consumable or hygienic products because the rough surface of lower grades leaves your pump at risk of bacteria growing within the small crevasses
Temperature must be considered when selecting your pump! If you're using it for more than one application, you will need to know the max temperature that the fluid being pumped will be. Getting this wrong could cause yeast to go dormant if too cold, or break down yeast if the temperature is too hot.
Why industry-standard Water Centrifugal pumps shouldn't be used on brewing applications:
The pumps are not FDA (Food and Drug Administration) approved. Just because a mechanical seal is FDA approved, doesn't mean that the pump should be used in food-grade applications, especially when the end destination for the product is human consumption.
Many of the standard Water Centrifugal Pumps are manufactured in 304 unpolished Stainless Steel, which is definitely not food grade. To put it simply, the lower the grade of the stainless steel and the lower quality of finish, ultimately means there is a higher risk of bacteria growth within the pump due to the rougher finish and small crevasses in the Steel.
Standard Centrifugal Pumps tend to have a short lifespan. If the majority of these pumps were pumping water for applications that they were built for, they would probably last a lifetime!
What Brewery Pumps do Tapflo typically recommend?
Here at Tapflo, when a customer is looking for a brewing pump, we typically recommend our CTH Hygienic Centrifugal Pump or a Flexible Impeller Pump.
Tapflo's Hygienic Centrifugal Pumps are FDA approved, manufactured from Stainless Steel AISI 316L and electropolished to Ra <0.8 as standard, ensuring that the whole pump is fully sanitary. The high-quality material and electropolished finish reduce the risk of crevasses on the steel's surface of the pump's internal which limits the risk of bacteria growth within these crevasses.
Tapflo UK supplies Flexible Impeller Pumps that are the perfect solution when searching for a Brewing Pump, in particular, they are suited to micro-breweries and small breweries as they are an excellent alternative to a CTH Pump.
These pumps are a cheaper investment initially than a CTH Pump and are easier to operate and maintain for smaller organisations. Flexible Impeller Pumps are ideal as Brewing Pumps because they can handle smaller flow rates at high pressure and feature FDA compliant parts, for a pump that meets high hygiene ratings, we recommend the Tapflo CTH.
Positive Displacement Pump
A Positive Displacement Pump such as a Rotary Lobe, Twin Screw, Flexible Impeller, Peristaltic or Diaphragm Pump. At Tapflo, we manufacture or supply all of these pumps in our hygienic range.
Why does using a Positive Displacement Pump make brewing easier?
These pumps produced accurate flow at low flow rates.
They can handle liquids containing a high number of solids. All of these pumps can handle liquids with solids without causing damage to the solids or themselves. Positive Displacement Pumps can handle solids up to 60mm but for the specific size of solids that each range can pump, head over to the product pages.
Positive Displacement Pumps can handle the following applications: mash in wort, liquid sugar transfer, syrup transfer, yeast slurry transfer, bottling, casking.
All of these pumps have been manufactured to the highest hygiene standards with either FDA or EHEDG certification. This includes not only the metal being finished to a high-grade polish to avoid bacteria growing inside the pump casing but also the seals, valves or hose being FDA approved.
Note: For pumping a consumable product such as beer, or an ingredient of a consumable product, you must ensure your pump is fully FDA approved.
Is a Centrifugal Pump or a Positive Displacement Pump better?
In the brewing industry, Sanitary Centrifugal Pumps are the most commonly used pump and are generally employed for the transfer of low viscosity fluids with minimal solids concentration at high volumes and relatively low pressures (less than 7 bar). Examples of applications would be:
Hot Wort Transfer
Hot Liquor Transfer
CIP pumping & scavenging
Tank to Tank Transfer
Tank cleaning
Positive Displacement Pumps that are used in the brewing industry can range from Rotary Lobe, Twin Screw, Flexible Impeller, Progressing Cavity, Air Operated Diaphragm & Peristaltic Pumps. These are generally employed to transfer thick fluids with high solids concentrations at elevated pressures with relatively low flow rates and where flow accuracy is required. Examples of applications would be:
Mash-in-Wort
Mash Recirculation
Liquid Sugar Transfer
Syrup Transfer
Yeast Slurry Transfer
Bottling, Casking & Canning
How do I reduce foaming and agitation when transferring beer to our fillers?
Centrifugal Pumps are a great option for pumping beer, however, due to the kinetic energy transferred into the fluid at high speed (1450-2900 rpm) beers tend to froth and foam as oxygen is introduced into them, which ultimately kills the flavour. When it comes to finally package the product the most important priority is the flavour and quality, therefore, pumps that operate at much lower operating speeds and which don't impart kinetic energy into the fluid are the most suitable for these types of applications. Examples of these types of pumps are:
Sanitary Air-Operated Diaphragm Pumps
Sanitary Lobe Pumps
Progressing Cavity Pumps
Flexible Impeller Pumps
As the above can be operated at much lower operating speeds and the flow rates can be adjusted whilst maintaining a relatively constant pressure the beer can be treated gently and the speed of the pump can be set to avoid agitation and foaming which enables the producer to guarantee the flavour of their product and also extend the shelf life.
How do I maintain the temperature of my syrup to ensure it doesn't thicken up too much causing damage to my pump and system?
Tapflo's Twin Screw Pump, Lobe Pump and Air-Operated Diaphragm Pumps are all capable of being delivered with Heating Jackets which are fed by hot water or steam to maintain fluid temperature to the desired point to ensure that the viscosity of the syrup never drops below a set point. The product within the heating jacket never comes into contact with the syrup, therefore maintaining its integrity, quality and consistency. Our Peristaltic Pumps can also be supplied with electrically driven heating jackets upon request.
If you require a similar pump or any assistance on fluid handling within your Brewery, then please get in touch on 02380 252 325 or email us at [email protected]