If pump protection is something you think your installation is lacking, Tapflo UK has a range of options to improve your system. So whether you're looking for a pump that runs efficiently to protect itself, an accessory to meet a specific goal or you need a bespoke pump solution designing that champions safety, we know our team will be able to help.
Pumps with Protection
Barrier Pump
Tapflo's Barrier Pump is part of our Air Operated Diaphragm Pump range. Unlike our standard Diaphragm Pumps, this series features an additional set of backup diaphragms which ensures if the first set of diaphragms rupture that the second set will prevent the process medium from leaking into the external environment which could cause potential hard to the location or to the operator. The second set of diaphragms also provides added protection for the air section of the pump, protecting it from potentially irreparable damage if the process fluid contaminated it.
This pump can be used in its PDFM configuration in conjunction with our Guardian System which can be programmed to automatically stop operation if a leak is detected, the system can also be programmed to alert operators to a problem by sounding an alarm or sending error signals to central control systems. We'll discuss the Guardian System in more detail a little further down.
The Barrier Pump is available in metal (Aluminium, Cast Iron, Stainless Steel AISI 316L) as well as HDPE or PTFE.
Accessories for added pump protection
Diaphragm Pump Accessories
Within our range, we have a variety of pneumatic accessories that are designed and manufactured by Tapflo UK and are now sold globally as part of Tapflo Group that provide additional protection for your pumps.
Guardian System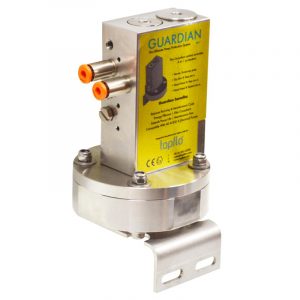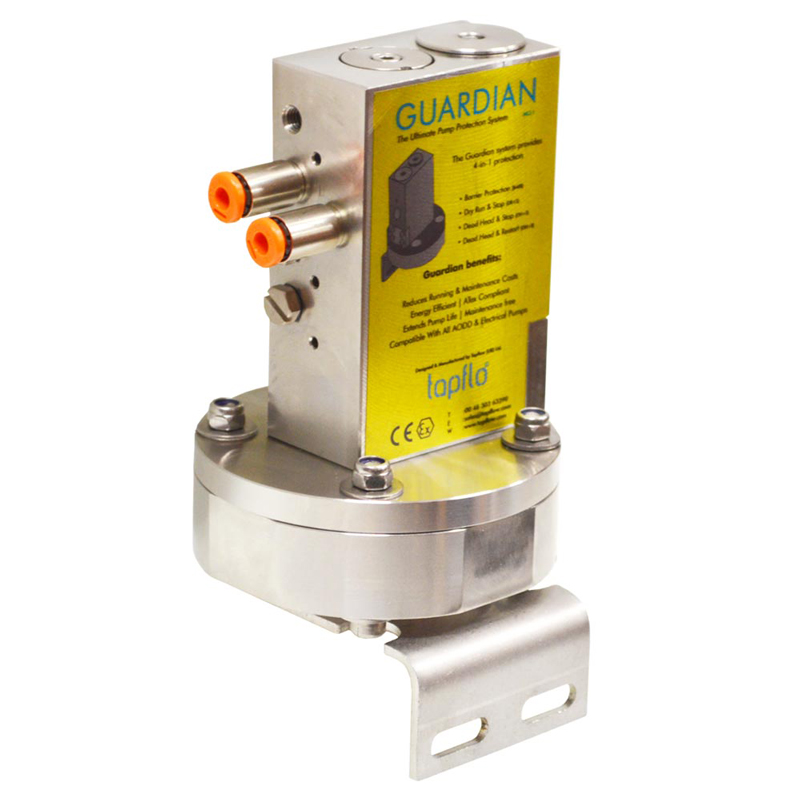 An effective and reliable pneumatic accessory is the Guardian System which is essentially a Pneumatic Pressure Switch with Floating Diaphragm to ensure your Diaphragm Pump is running efficiently by monitoring and controlling the pump's operation. By improving your pump's performance, the Guardian System not only reduces the risk of a breakdown but also increases the life of the pump's internals, improving maintenance costs and reducing downtime.
The Guardian is available in the following pre-assembled and calibrated configurations:
PDHR: Pneumatic Dead Head Stop & Automatic Restart
PDHS: Pneumatic Dead Head Stop & Remain Stopped
PDRN: Pneumatic Dry Run Protection
PDFM: Pneumatic Diaphragm Failure Monitoring (Only available on Barrier Pumps)
Audible Alarm
Other accessories include the TPUK-PA Audible Alarm is a fully pneumatic alarm which is used in conjunction with the PDFM system to create an alarm sound upon rupture of the working diaphragm(s). The TPUK-PA can also be combined with the PDHS & PDRN Systems to indicate whether there is a blockage/restriction in the process or the pump is running dry. The alarm can be muted and will also self-reset once the issue has been resolved.
Pressure Switch Monitoring
Also within our range is the EDRH System which is an electronic protection system for Air Operated Diaphragm Pumps which provides both Dry Run and Dead Head Protection in one. Pump switch-off thresholds can be as accurate as 0.05 bar. The system features an AISI 316 dual-action pressure switch with a digital display mounted to the discharge manifold of the pump and wired back to a control box with E-Stop and Green LED Pump Activation Button which controls a solenoid valve attached to the air inlet of the pump.
Check out our Pneumatical Diaphragm Pump Pressure Switch accessory here.
Life Counter
The TPUK-LC Life Counter for Diaphragm Pumps is an excellent device for companies wishing to develop a preventative maintenance routine to protect your pump and ensure it is running efficiently. It enables the operator to monitor the number of strokes the pump has made and schedule in a pump overhaul before catastrophic failure of the working parts on the pump and causing unnecessary down-time and affiliated costs.
All the above devices allow end users to monitor & improve your pump's efficiency and put procedures in place to add extra protection for your pump, process and operators. If you think your system requires additional protection or help developing preventative methods, open the live chat in the bottom right-hand corner of the page.
Additional AOD Protection
The diaphragms supplied in Tapflo AOD Pumps have a no-nut, clean face design which reduces the risk of the diaphragm leaking fluid into the pump housing. The standard design of diaphragms usually features a nut through the middle to hold the layers together, whereas the layers in our diaphragms are chemically bonded together. Not only does this reduced risk of leakages & reduce maintenance costs but it also increases protection for the pump house and the internals.
Similarly, Tapflo Diaphragm Pumps are manufactured with as few parts as possible to ensure increased resistance against aggressive fluids and process media with solids. For example, Tapflo's HDPE/PTFE Diaphragm Pump is manufactured from either solid block HDPE or PTFE and is machined from a solid block or rod of material. Standard Diaphragm Pumps on the market are usually manufactured from moulded plastic and are bolted together which increases the number of weak points in a pump design which could be prone to leaking.
Peristaltic Pump Accessories
Dual Action Pressure Switch
Available for Tapflo's Peristaltic Pumps is the Electronic Dual Action Pressure Switch which protects the pump and overall system from over pressurisation. This device feeds back information to the pump's local control panel or system and can be configured to turn the pump off at an adjustable set pressure and restart it at another. This is particularly useful as spring-loaded by-pass valves are not typically recommended for use with process fluids that are solids laden or particularly sticky.
Hose Rupture Detection
Hose Rupture Detection can also be installed in the form of either a capacitance probe or pressure switch mounted to the casing of the pump, monitoring the internal casing pressure. Once the hose ruptures the pressure within the casing will change and therefore signal an alarm and stop the pump automatically. These can be as accurate as 0.2 Bar and are available for both safe area and ATEX applications.
Flexible Impeller Pump Accessories
Tapflo UK supplies a range of pump protection accessories including dry-run protection and hygienic shrouds. The dry-run protection device works by monitoring the temperature inside your pump, once it registers a temperature higher than 50ºC, the pump will automatically stop and then kick the pump back in once the temperature within the casing is at an acceptable level. Sensors are available with a set temperature of 70ºCand 90ºC for fluids being pumped at a higher temperature than 50ºC.
Spring-Loaded and Manual By-Pass Valves are also available for our Flexible Impeller Pumps to enable them to be used with discharge nozzles and protect them against dead-head operation.
Dry Run Protection
Whilst we have pumps within our range that allow for continuous dry running, such as Diaphragm and Peristaltic Pumps, it is inefficient to run them under these conditions so recommend fitting dry run protection devices to stop the pump as it starts to run dry.
For those pumps within our range that cannot run dry under any circumstances, we can fit temperature sensors and probes amongst other devices and control gear, which immediately stop the pump under dry-run conditions and avoid irreparable damage. Examples of pump technologies that would require additional forms of dry-run protection include, but are not limited to Centrifugal, Lobe, Gear, Progressing Cavity and Flexible Impeller Pumps.
General protection for a range of pumps
Bypass Protection
Various Positive Displacement Pumps within our range such as Progressing Cavity, Gear, Screw and Vane pumps can be supplied with an optional spring-loaded bypass which provides both pump & pipework with protection against over pressurisation. These can be supplied either mounted to the pump in the form of an Integral Relief Valve or as a separate by-pass loop, shown in the diagram below.
Heating Jacket Protection
To prevent products from solidifying in the pump, clogging it and potentially causing costly damage, many of our pumps can be fitted with heating jackets to maintain the temperature of the product with the pump to ensure that it doesn't solidify. Pump types that can be fitted with this form of protection include Diaphragm, Gear, Lobe, Centrifugal, Twin Screw and Progressing Cavity Pumps.
Shrouds
Several of the pumps within our range come with shrouds as an added form of protection for the pump's motor. Shrouds are typically for Hygienic Pumps to protect the motor when pumps and the surrounding area are washed down during cleaning procedures. Shrouds are less common for Industrial Pumps but may be fitted to pumps that are installed outdoors where a shroud is required to protect the motor against the weather or environment.
__
As you can see from the information above, there is a large number of options at our disposal to suit almost any pump technology and application. On top of this, every pump quoted by Tapflo UK will be manufactured from a material that matches your application requirements, for example, aggressive chemicals will need to be handled by a pump manufactured from a material that has increased wear resistance.
If you're looking to increase the pump protection within your system or your pump isn't meeting your current requirements, our team would be happy to help discuss the options available to you.
You can view the full range of Pump Protection devices available within our Pump Accessories range.