What is a Powder Pump?
A Powder Pump is a type of pumping technology that is designed specifically for transferring powders rather than a fluid. There are a couple of types of Powder Pumps, however, the most effective is the Metal Diaphragm Powder Pump.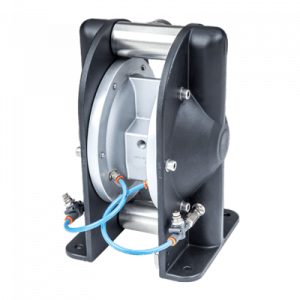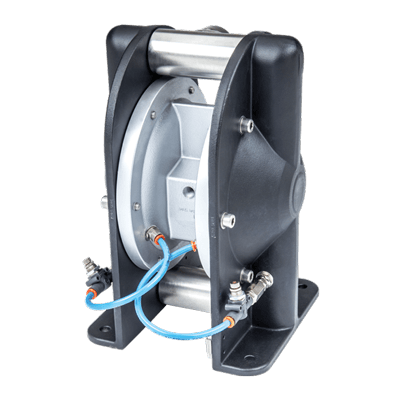 Many of the other powder pumping systems on the market are large and complicated, whereas our Diaphragm Powder Pump is a great alternative that is compact and simple to use. The pump uses the 'wasted air' from behind the diaphragms and recycles it to the bottom valve balls which fluidises the powder being pumped! See diagram below: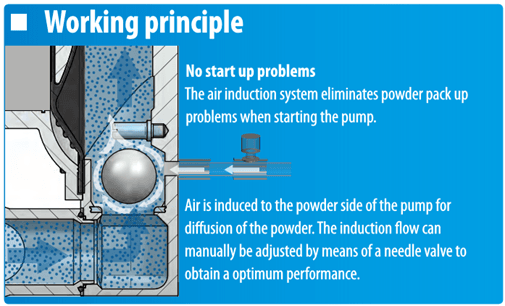 What types of powders can be pumped with a Diaphragm Powder Pump and what are the flow rates?
Now that's not an easy question to answer as there are many factors that need to be considered. The Tapflo Powder Pump will generally handle a variety of powders that vary from a specific weight of 80kg/m3 to 720kg/m3 dry weight. As a rule of thumb, if the powder doesn't clump together when squeezed in your hand then the chances are it can be pumped, however, when it comes to flow rates it's more complicated to specify.
The reason for this is because there are so many variables when it comes to powder that deciphering a specific flow rate is almost impossible! Some examples of what can be pumped are below:
Icing sugar
Ceramic powder
Carbon black
Resin powders
Charcoal
Silicones
Is the Powder Pump sanitary?
Tapflo has developed a Sanitary Powder Pump, it works in the same way as the industrial version with the same design as the usual Sanitary AOD Pumps. However, Tapflo's Sanitary series is available in sizes T80 – T825, from 1″ to 3″ for standard and ATEX applications. The pump can be manufactured with a range of accessories such as control systems and can have discharge ports pointing in various directions to assist in powder conveyance.
What is the best set up/installation configuration for a Tapflo Powder Pump?
There are a couple of options that we recommend when setting up your Powder Pump. The first would be a suction hose with a lance on the end which will allow you to use the pump as a vacuum, however, it will mean an operator is required most of the time. The second option is more reliable and what we typically recommend if the option is possible on site; having the pump hopped fed as per the below image is the most effective option.
What are the main issues when pumping powders?
The main issue when pumping powder is clumping within the pump. If the powder being pumped clumps together within the pump, it causes blockages which ultimately results in the pump failing; if this occurs, there is no way of reversing the effects and will require a new pump being purchased. Therefore, it is important to check the powder beforehand with the very simple test mentioned above – squeezing the powder in your hand to check if it clumps together.
Bespoke Powder Pump Case Study
Tapflo UK manufactured a custom built powder pump system for one of our customers. Take a look at our powder pump diaphragm featured in our product focus video with sales executive Stephen!
Get in touch with our sales team to find out if they can provide your business with a powder pump solution suited to your application.