We know how versatile Diaphragm Pumps are but occasionally they might need a little extra help. It's nothing to be ashamed of, we all have to ask friends or colleagues for help occasionally. That's where Tapflo Pumps UK's superhero team of Diaphragm Pump Accessories comes in; they're here to lend an extra helping hand to your Diaphragm Pump to save the day!
The Guardian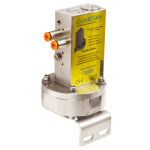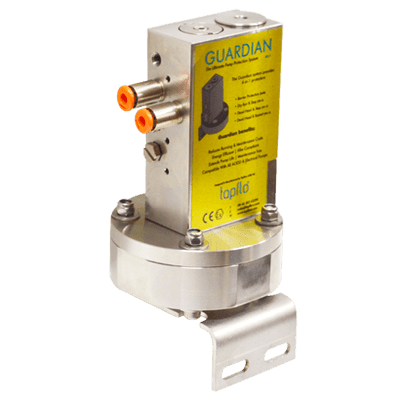 The majority of our superhero teamwork to protect your Diaphragm Pump. The team is led by The Guardian.
The Guardian is a powerful hero, whose alias is Diaphragm Pump Guardian System. His job is to monitor the pressure of the fluid within your pump installation, working hard to save energy. The Guardian System then changes the output from your Diaphragm Pump.
You can read up on The Guardian's hero work here: Diaphragm Pump Guardian System.
Pneumatic Control Twins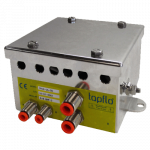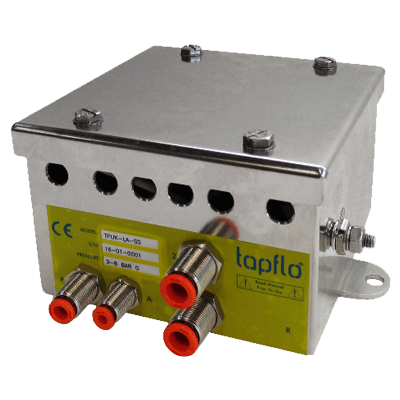 Next up for Team Tapflo's band of superhero Diaphragm Accessories are the Pneumatic Control Twins! Using their pneumatic superpower, these pair are ideal for increasing control over the situation. First up is the Pneumatic Level Controller, which is ideal for application in sumps, tanks or tubs. The Level Controller's role is to stop and start the pump based on predetermined liquid levels with the added benefit that this product can be used within environments hazardous to explosions as the controller doesn't use electricity to run.
To complete the Pneumatic Control Twins superhero duo, it's the Pneumatic Batch Controller which ensures accurate volumes of liquid are dispensed repeatedly. The volume of dispensed liquid is predetermined and programmed into the controller, easily creating batched dispensing for your business. To find out how the controller achieves the correct batch volume, head over to the product page linked above.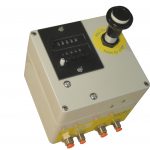 Captain Counter
Our fourth member of Team Tapflo is Captain Counter, known in his daily life as the Diaphragm Pump Life Counter. Captain Counter protects your pump and your business by monitoring the operation of your pump and how much it is working. The system records data by monitoring the exhaust of the Diaphragm Pump, which allows our customers to implement a maintenance routine to prevent breakdowns.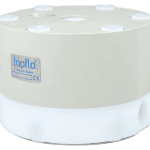 Super Pulse
Next to the table is SuperPulse, referred to by her friends in the Tapflo Pumps UK office as the Diaphragm Pump Active Pulsation Dampener. SuperPulse is a versatile hero, applicable to a whole range of applications when partnered with Metal, Sanitary or HDPE/PTFE Diaphragm Pumps. The Pulsation Dampener has a variety of superpowers, including, CIP and SIP (Clean and Sterilisation in Place) and can remove pressure variations from the discharge port of the pump. This will optimise the performance of your Diaphragm Pump and reduce overall maintenance costs.
To find out more about SuperPulse, head over to her Superhero account page here: DT Series Active Pulsation Dampener
HJ
Our final member of Team Tapflo is HJ, her job is to maintain the temperature of the fluid within your pump. This protects your pump from damage caused by fluids solidifying, as well as protecting those products that must be maintained at a constant temperature – hot or cold.
To find out more top secrets about HJ, head over to her Superhero alias account: Heating Jacket.
---
With this great team of Diaphragm Pump Accessories supporting your pump, you'll prevent villainous breakdowns causing trouble!
You can view the full range of Diaphragm Pump Accessories, including a Pressure Switch, Pneumatic Start Stop Units and Diaphragm Pump Life Counter, on our product pages.
If you have any questions, open up the chat in the bottom right-hand corner of our website to chat with a member of the team. Alternatively, you can call our Superhero hotline or send a coded message to our secure top-secret inbox.
Team Tapflo – Saving the world, one pump at a time!