The principle of our Customised Pump Process Unit is to provide a custom engineered solution which has all the required control, feedback and monitoring equipment included. This system was designed and built to function as a tank unloading and flushing system with automated changeover valves, air treatment system, pressure and flow control apparatus and mounted onto a common skid frame purposely built to be integrated into an allotted space on site.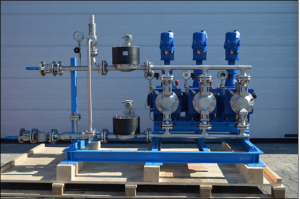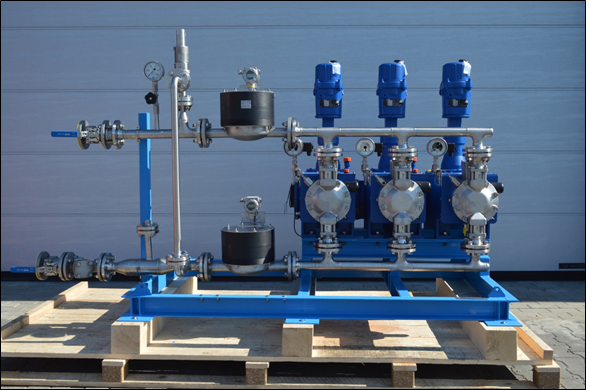 Customised Process Units: Examples
The below system utilised an SPX CombiChem ISO 2858 Centrifugal Pump mounted to a 74 kW Diesel Engine and is fitted with an exhaust silencer and control panel, mounted onto a bespoke baseplate and framework with anti-vibration mounts, made to be portable by forklift slots and lifting eyelets.
This Customised Process Unit solution was designed in house using CAD technology, fabricated, assembled and then finally tested using our automated in-house testing facility. The above system incorporated 3 x Brann & Luebbe Novados H3 Chemical Metering Pumps configured in a Duty/Standby/Assist arrangement and fitted to a common inlet and outlet manifold assembly and base frame. Tapflo DT Air Operated Pulsation Dampeners, By-Pass Valve, Pressure monitoring and 3 part ball valve isolation; a wafer check non-return valve on the discharge and y-type strainer on the suction were also included. A bespoke control panel was also designed, built and calibrated to provide the user with a complete process control unit.