What is a Vertical Immersion Centrifugal Pump?
Vertical Immersion Centrifugal Pumps are fitted with either an extended pump or motor shaft which is encased in a column, enabling the pumping element of the pump assembly to be inserted into a tank or sump whilst the motor is kept outside of the fluid.
Vertical Immersion Pumps differ from Cantilever Centrifugal Pumps as Immersion Pumps have a separate shaft to the motor so can be supplied in lengths up to 7m, whereas Cantilever Pumps use an extended motor shaft meaning that they are limited to a maximum of 1.5m immersion length. Bearing support is provided for the pumps with longer shafts to reduce shaft deflection and 'whipping' of the pump in the tank. Discharge pipes for a Vertical Immersion Pump can be supplied as standard or on-demand to enable an easy out of tank or sump connection to discharge pipework or hose assemblies.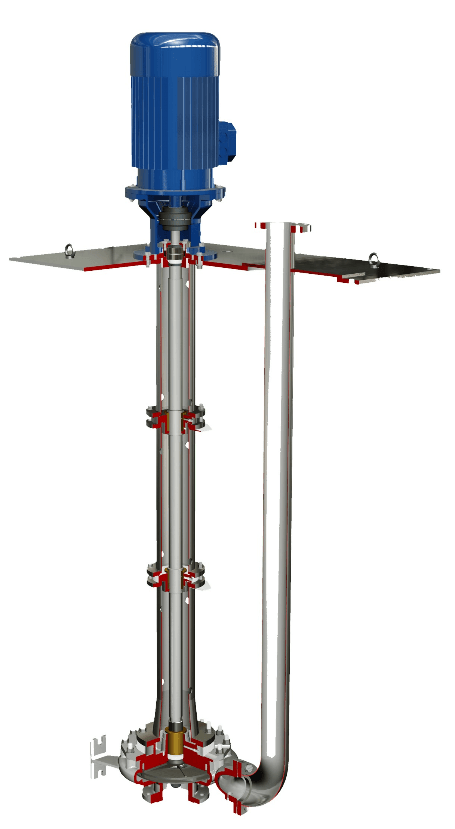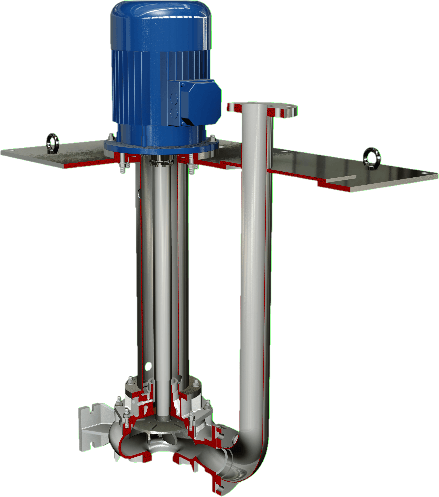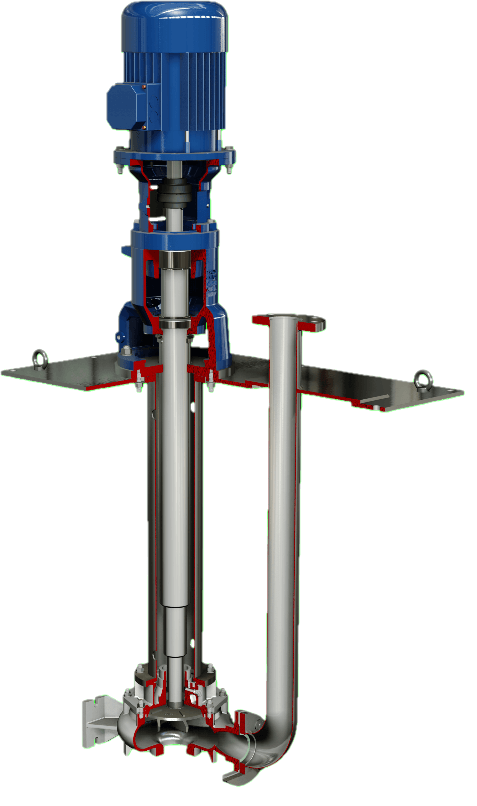 Salvatore Robuschi
Tapflo UK is the official UK distributor for Salvatore Robuschi, meaning we are able to supply any of their RB, RC, RD, RG or RN ISO 2858/5199 Process Centrifugal Pumps. These pumps are available as Vertical Immersion in a plethora of metallurgies (Cast Iron & AISI 316 as standard), as well as our CTV Cantilever pumps. 
What type of installations can Vertical Immersion Centrifugal Pumps be used for?
| | | |
| --- | --- | --- |
| | Traditional Installation in a Tank or Sump |  A Vertical Immersion Pump can run dry if the tank empties. When the fluid level in the tank rises again, the pump re-primes automatically and starts pumping again until the fluid level drops below the suction port. Maximum Immersion length is up to 6m. |
| | Installation with a suction extension pipe | The pump operates in the same way as a traditional installation, as explained above, but has a suction depth of up to 5m. |
| | Installed in Tapered Tanks with Solids | Installed in a tank or sump with a tapered shape or sides leaning towards the suction of the pump. The pump can operate without level controls and completely evacuate solids whether floating or not. |
|   |   |   |
| | Installed External to Tank / Sump's | Fitted with a by-pass for bearings lubricated by the process fluid.  |
What materials is the Vertical Immersion Pump available in?
Salvatore Robuschi Vertical Immersion Pumps are available in a range of materials which allow the range to cater to almost any application:
Cast Iron
AISI 304
AISI 316 / CF8M
AISI 904L
CA6N (400 HB Hardness)
Duplex SAF 2205
Super Duplex SAF 2507
A range of other materials are also available upon request, get in touch today to find out which material would be best for your application.
What performance range can Tapflo cater for?
Tapflo UK is able to supply Vertical Immersion Centrifugal Pumps which can cover the following standard performance details, others are available on request.
Max Flow: 2200 m³/hr
Max Head: 140 m
Solids Passage:150 mm
Max Temperature: 500ºC
Max Length: 6 m
Max Discharge ø: DN250
Max Motor Power: 400 kW
Case Study
Vertical Immersion Centrifugal Pump Case Study.
Tapflo were recently approached by a customer who wanted to evacuate a 3m deep sump based on level control. The sump was being fed by a waste pipe with high-temperature rinse water (98ºC) with 15% caustic. They had tried Submersible and Self-Priming Pumps in the past with little or no success.
Why were Submersible and Self-Priming Pumps not appropriate?
Submersible Pumps are generally only rated for between 40-60ºC and their electrical control cables are usually only made from H05-7RN rubber, which can be corroded and hardened by acidic and high-temperature fluids. Self-Priming Pumps drastically lose their self-priming ability with temperatures over 60ºC and when close to boiling, the fluid flashes off in the suction pipe resulting in the pump running dry.
Our Solution
Tapflo offered a Salvatore Robuschi SS316 Seal less Immersion Pump built to the exacting sizes of the sump which was controlled via an ultrasonic level sensor positioned in a custom mounting port on the support plate of the pump. The pump, sensor and control panel with mounting stand was supplied as a complete solution package which the customer was extremely happy with due to the confidence and simplicity of the purchase.
Application Details
Fluid: Hot Waste Rinse Water w/ 15% Caustic
Temperature: up to 98 ºC
Required Capacity: 30 m³/hr @ 35 m
Sump Dimensions (D x W x L): 3 x 3 x 3 m
Discharge Pipework Size: DN65 (PN16)
Motor Supply: 230-400-690V / 3 Ph / 50 Hz
Area Classification: ATEX II 2 GD IIB c T4
Pump Supplied


Model:RDV 50-16A 4B22 A 300 3
Description: Vertical Immersion, Sealless, Centrifugal Pump with Closed Impeller in A Execution (ISO 2858 / 5199 Compliant)
Fluid: Hot Rinse Water w/ 15% Caustic
Viscosity: 1.0 mm²/s
S.G: 1.0 kg/dm³
Temperature: 98ºC
Impeller ø (Rated / Min / Max): 165 / 130 / 169 mm
Rated Capacity: 30m³/hr @ 35.2 m
Absorbed power: 5.2 kW
NPSHr: 1.4 m
Column Length: 2989.5 mm (+/- 25 mm), >120 mm clearance must be ensured between the bottom of the pit & pump suction port
Support Plate: 740 x 500 x 10 mm
Execution: A – Lubricated by the pumped fluid
Discharge Connection: DN65 (PN16 – EN1092) FF
Pump Casing: Stainless Steel AISI 316
Casing Cover: Stainless Steel AISI 316
Impeller: Stainless Steel AISI 316
Wear Ring: Stainless Steel AISI 316L
Shaft: Stainless Steel AISI 316L
Shaft Sleeve: Stainless Steel AISI 316L
Bearings: Rulon J on SS Supports
Column: Stainless Steel AISI 316L
Bearing Housing: Stainless Steel AISI 316L
Bearing Housing Sealing: Viton
Support Plate: Carbon Steel
Casing Gasket: SIL C-4400
Coupling Guard: Stainless Steel AISI 304
Motor: FELM 2.2 kW / 4 Pole / 230-400V / 3 Ph / 50 Hz / IP55 / Class F / IE3 Premium Efficiency Class
Frame Size: 100L
Paint: Polyacrylic, RAL 5010
Support Plate: 740 x 500 x 10 mm