Find out about Tapflo UK's Low Energy Air Pump technology for Diaphragm Pumps to achieve savings on compressed air of up to 70%.
What is LEAP?
LEAP Technology stands for Low Energy Air Pump technology is patented in the UK and USA; our low energy pump technology is now sold globally through the Tapflo network, built into the centre section of the TC Diaphragm Pump range. LEAP leads the way as the lowest energy technology for Diaphragm Pumps, designed to drive the Diaphragm Pump market forward by saving companies money on their energy, plus a range of other benefits.
Looking for a quick explanation of our Low Energy Air Pump technology? Check out the video below!
What are the main benefits of using LEAP technology in your Diaphragm Pump?
Low Energy Air Pump Technology provides the customer with all the standard benefits and duties of a Diaphragm Pump, as well as an extensive range of benefits not currently available on the market.
Reduced operating costs compared to standard Air Operated Diaphragm Pumps
Reduce pulsation
Reduce noise
Full control and feedback
Longer operating life
24V control
Easy and fast maintenance
Cannot stall the pump
Available in HDPE/PTFE, Sanitary & Metal.
All LEAP Pumps also feature the standard list of benefits associated with Tapflo Diaphragm Pumps.
Can I use a LEAP Pump with any application?
LEAP Pumps can be used for any application where a standard Diaphragm Pump is already being used. The low energy pump technology ensures that the Diaphragm Pump can't stall, which means when being used in a process critical application, it offers increased reliability and reduced downtime.
Is low energy pump always better than a standard Diaphragm Pump technology?
Yes – any application using a standard Diaphragm Pump can gain additional benefits from the LEAP range, including lower operational costs or increased control. The benefits are specific to different installations and are dependent on what your business is looking for, as well as the application.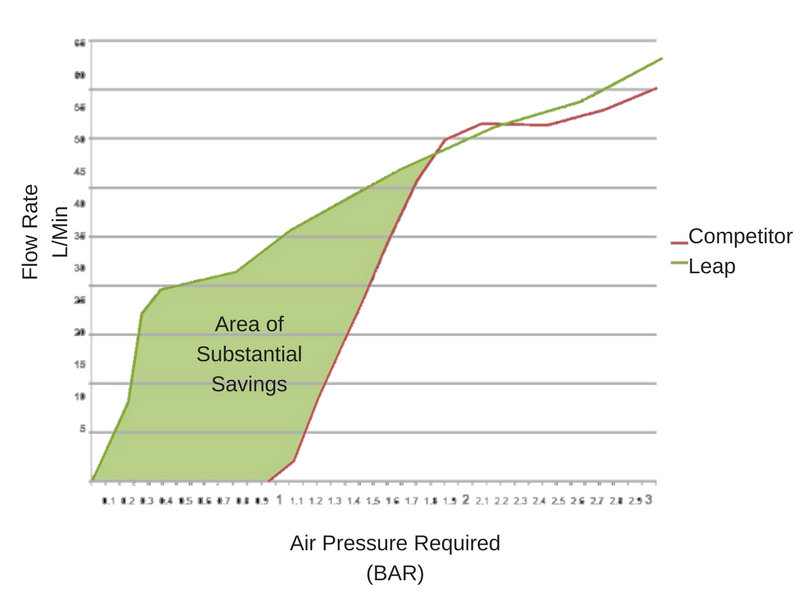 Want to know more about the lower operational costs associated with the LEAP Series? Check out our article, 'Are your Diaphragm Pumps costing you too much?'
What pumps can low energy technology be fitted to? Can it be retrofitted, or do I need a new Pump?
Our low energy technology can be retrofitted to all Tapflo Diaphragm Pumps, plus a range of our competitors. You don't need to buy any special parts, just swap out the centre section of your current Diaphragm Pump for a new low energy centre section, so if you want to start saving money but don't currently have a Tapflo AOD Pump, let us know!
Interested in what a TC Diaphragm Pump with LEAP technology could achieve for you? Get in touch with the Sales Team today!