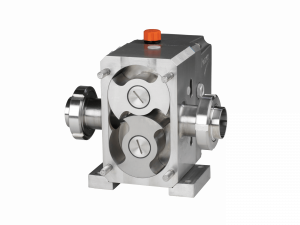 Welcome to Tapflo's Lobe Pump Maintenance Guide, containing some of the most important information you'll need when purchasing a Lobe Pump! If you're looking for product information, head over to our Lobe Pump product page.
When using a Lobe Pump, you need to ensure you're looking after it correctly to avoid any issues later down the line. Although they are low maintenance pumps, it's still important to undertake regular checks to ensure everything is how it should be.
Luckily, the team here at Tapflo want you to get the best out of your pumps, so we're telling you exactly how to care for your Lobe Pump and get the longest life possible from your pump.
Regular Maintenance of a Lobe Pump
To keep your Lobe Pump running smoothly, there are a few things you need to check regularly:
Excessive noise: If there is excessive noise emitting from your Lobe Pump, this could indicate problems, including (but not limited to):
Worn-out bearings
Gear trouble
Dragging of the rotors
Cavitation/air entering the suction line
Insufficient NPSHa
The product temperature is too high
Product viscosity is too high
Foreign bodies in the system
The operating speed is too high
If you do hear excessive noise, ensure you check all parts of your Lobe Pump whilst it isn't in operation. If you're unsure, give Team Tapflo a call and we'll talk you through it!
Pressure and flow of the Flushing/Quench System (if present):
Whilst your Lobe Pump is in operation, you need to be regularly checking the pressure and flow of the Flushing/Quench system of your pump. For pressure-less shaft seal types M2, M5, O2 or O4, the Quench System requires a pressure of 0.5 mwc and a capacity of 0.25 l/min. For pressurised shaft seal types M2 or M5, the Flushing System requires a pressure of 2 bar higher than the system pressure.
NOTE: If the pump is mounted vertically then the quench/flush supply line needs to be connected to the lower side of the pump!
Temperature of the Heating System (if present)
It's important to check that the heating system temperature of your Lobe Pump is correct. The heating system is there to maintain the temperature, therefore the viscosity of the product you are processing and the pump has been sized around a set viscosity point. If the viscosity of the product rises above this value then the capacity of the pump will likely drop due to the increased pressure requirement placed on the pump.
Oil level
You should be checking the oil level of your Lobe Pump. If the oil level has reduced, check your pump for oil leakage. We recommend checking the oil level on a fairly regular basis to avoid unnecessary damage to the bearings.
Pressure
Check the pressure of your Lobe Pump at suction and delivery side to ensure that they are within the anticipated and specified system levels. Changes to these can have a detrimental effect on the pump's performance and health. Insufficient suction pressure can result in cavitation and irreparable damage to the rotors, seals and possibly pump casing. A drop in pump pressure could be an indication of air entering the system, insufficient static head, an obstruction in the discharge pipework, worn out bearings or gears, pump operating in by-pass, pump operating speed being too low or the product temperature being too high.
Changing the oil in a Lobe Pump
It is important to ensure you are changing the oil in the gearbox of your Lobe Pump. If being used consistently we would recommend changing the oil after 300 operating hours, following initial commissioning/every 3000 operating hours or at least every 3 months. If not being used regularly, we would recommend every 2000 operating hours or at least every 3 months.
Remember – Your Lobe Pump will not operate if the gearbox is not fitted with oil.
To change the oil in your Pomac Lobe Pump:
Unscrew the oil fill plug
Fill the gearbox with oil until it shows at the centre of the oil sight glass
Check the oil level after a couple of minutes
Top up if necessary
Screw the oil plug back on
The two recommended oil types for your Pomac Lobe Pump are: 
Shell – Cassida Fluid GL 220
BP – Energol GR-FG 220
Depending on what size of Lobe Pump you have, different quantities of oil are required:
| | | |
| --- | --- | --- |
| Lobe Pump Size | Horizontally | Vertically |
| PLP 1 | 0.4 lite | 0.4 litre |
| PLP 15 | 0.6 litre | 0.65 litre |
| PLP 2 | 1.1 litre | 0.9 litre |
| PLP 3 | 3.1 litre | 3.3 litre |
| PLP 4 | 9.5 litre | 11.3 litre |
Important Safety Measures
When carrying out maintenance on your Lobe Pump, there are a number of safety measures and precautions you need to carry out for your own safety and to protect the pump from damage.
Never allow your Lobe Pump to run without the front cover or without being connected to the piping.
Ensure the drive is shut down when performing maintenance work and ensure you take measures to prevent the drive from being switched on again unintentionally.
Ensure your Lobe Pump has been depressurised before disassembling for maintenance.
Always allow the pump to cool down when a heating jacket is fitted or when it conveys hot liquids.
There we have it – the key points for looking after your Lobe Pump! Following the processes we have outlined in this guide should ensure a longer, healthier life for your pump, but do be sure to check your pump manual for more in-depth technical information. If you're having issues with your Lobe Pump, head to our Lobe Pump Troubleshooting Guide.
For any questions or further information on looking after your Lobe Pump, get in touch with the team on 02380 252 325 or send an email to [email protected]