Cost-Effective Pump Solutions for Startups
Tapflo received this enquiry after the customer was recommended our services by a consultant who we had worked with previously at another company. The customer was a start-up business, creating non-alcoholic botanical drinks so they needed a quick solution within their budget.
Application Details
Our customer infuses botanical ingredients with water to produce non-alcoholic drinks and was looking for a pump that could fill a 200L (approx.) tank with water and another pump that could empty the tank of the infused mixture.
The customer was looking to fill and empty the tank in about 30 minutes each, they needed a solution to be delivered quickly and had a limited budget due to being a start-up company.
Pump Solution
One of Tapflo UK's pump experts quickly realised that both pumps would not be filling and emptying at the same time so offered the customer a mobile single pump solution with quick connections which allowed us to provide a cost-effective solution as the customer had a limited budget.
Pump Supplied: EP Mini Flexible Impeller Pump (316 Stainless Steel) on a trolley with hygienic connections and FDA approved internals.
Tapflo UK received this customer's enquiry on 16th October 2020, they sent a quote on the same day and received their order on 21st October, within 3 working days.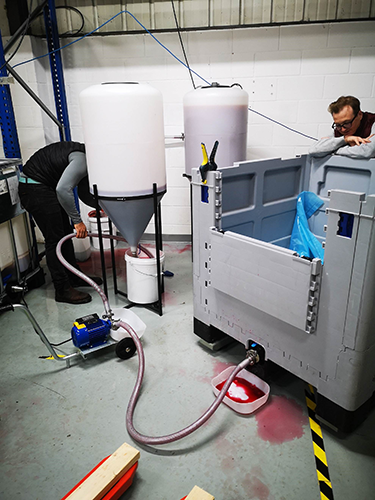 Features and Benefits
Why was a Flexible Impeller Pump trolley the ideal solution for our customer?
Within budget – This was the perfect solution for our customer because it was a cost-effective solution that met their budget.
Lead time – The pump was delivered within 3 working days, meeting the customer's requirements for a fast lead time, this was particularly important as sanitary internals typically provide a longer lead time.
Easy to use – Additional benefits include easy maintenance, the ability to self-prime and run dry, as well as being robust, making this solution easy to operate for end-users who have limited experience working with process pumps.
Find out more about our EP Mini Flexible Impeller Pump