Chemical Manufacturing Plant Pump Solutions
Customer: Tapflo Distributor
End-User: Chemical Manufacturing Plant
Location: UK
Enquiry Details
At Tapflo UK, we only work with the most reliable equipment and partners. We were contacted by one of our distributors who was looking for a well-made Diaphragm Pump solution which provided the end-user with feedback and precise control functionality. The distributor's customer, a Chemical Manufacturing Plant had contacted them to assess the problems they were having with their existing pump systems and see whether there was a way of improving the reliability of the equipment, reduce downtime, spares costs and simplify the operation whilst retaining flexibility due to varying changes in demand from their production lines.
Their current system was a complex, electrically-driven, multi-headed diaphragm pump dosing system which was costing them approx. £10'000/year per pump system on maintenance contracts as well as over £800.00 per diaphragm on their main product feed heads. Due to the complexity of the pump system downtime was also lengthy, costing the chemical manufacturing plant thousands of pounds every time they needed to do any maintenance on the pumps. The pumped, problematic, fluid was a low-temperature monomer which acts as a coagulant which proved to be an issue for both mechanically sealed and mag drive pumping technologies therefore a diaphragm pump was the obvious solution. However, standard diaphragm pumps, at the capacities that the customer was wanting to pump at, require a lot of compressed air to operate and would also require fairly complex control gear to integrate into their central control system to modulate the pumps to maintain an accurate feed to their production lines.
Equipment Supplied
LEAP-420STT Low Energy Air-Operated Double Diaphragm Pump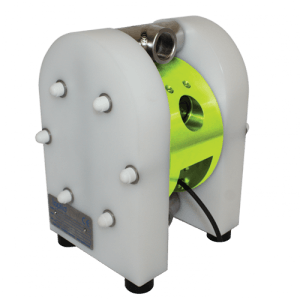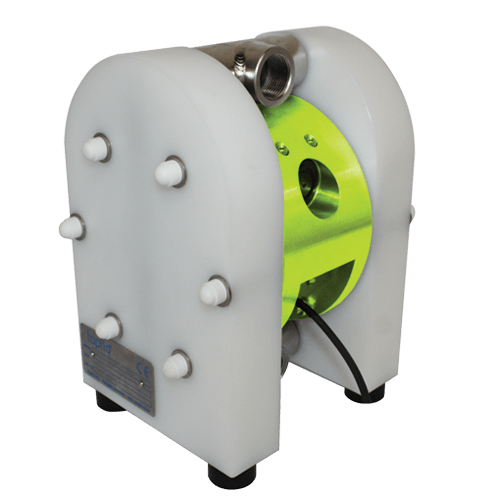 Fluid: Low-Temperature Monomer (-5ºC)
Pump Body: Cast Stainless Steel 316
Pump Centre Block: Aluminium
Connections: 2" Female BSP (swivel through 180 degrees)
Diaphragms: PTFE no nut clean face
Valves: PTFE Flow Rate: 570 litres per minute (-15% for PTFE diaphragms)
Volume per Stroke: 2300ml
Max discharge pressure: 8 bar
Max Air Pressure: 8 bar
DT420ST Tapflo Pulsation Dampener
Body Wet Side: Cast Stainless Steel 316L
Body Air Side: Polypropylene
Connections: 1 1/2" BSP Female
Diaphragm: PTFE no nut clean face
Max discharge pressure: 8 bar G
Max Air Pressure: 8 bar G
The LEAP and Pulsation Dampener were also supplied with metal works ETOP Digital Proportional Control Valve w/ Digital Display & 4-20 mA Signalling
Solution & Support Offered
Further to our distributor's comprehensive initial site visit and report on the existing installation, the end-user was recommended to replace the existing pump with a LEAP Pump, Pulsation Dampener and Digital Proportional Control Valve. These types of pumps have several unique and patented features which were perfect in resolving the end-users issues with their existing unit.
LEAP Pumps allow full control and feedback of the pump digitally, enabling the end-user to monitor the pump's operation and control the performance accurately via a 4-20 mA signal, whilst retaining all the intrinsic benefits of a standard air operated diaphragm pump. An electrical feedback signal is provided from the LEAP control module, triggered at the end of each stroke of the diaphragms, thus allowing for external monitoring of the pump performance within the main process control system. When being used in conjunction with the digital proportional control valve, the pump is able to be controlled as if it was fitted with an electric motor and inverter system, providing seamless performance control via a 4-20 mA signal.
Additional benefits of the electrical feedback are:
Batch dispensing: Simply counting the strokes of the diaphragms and stopping the pump after the required volume has been dispensed.
Dry Running: By analysing the frequency of the pulses you can monitor whether the pump is dry-running or not. When the pump starts to dry run the frequency of the pulses will increase.
Dead Heading: When the frequency of the pulses slows down or stops this means that the pump has deadheaded, indicating closed valve operation or a blockage in the pipework.
Flow Monitoring: Counting the frequency of the pulses can also be used to monitor the flow rate of the media in the process. The diaphragms displace a set amount per stroke therefore by multiplying the strokes by the volume displaced per stroke provides an accurate indication of flow. Or indeed, in the case of this specific end-user, wiring in a coreolis flow meter with pulse feedback into their system to provide real-time monitoring of flow to within an even greater degree of accuracy. Coriolis Flow Meters are NEVER used with diaphragm pumps as they are susceptible to pulsing flow. This is testament to the ability of the LEAP Pump to reduce the pulsing effect usually associated with traditional diaphragm pumps.
As mentioned above, LEAP Pumps produce significantly fewer pulses than standard diaphragm pumps. With the positioning of the sensing system on the central shaft, during operation the diaphragms do not come into contact with their end of a stroke, this creates an effective floating diaphragm system. The result is a vastly reduced pulsing effect associated with traditional diaphragm pumps. This is normally counteracted by utilising a pulsation dampener after the pump on the discharge pipework, causing additional costs for the installation. In this specific instance, the end-user required as accurate a flow as possible so they opted to install a pulsation dampener as well to create an almost pulseless flow, unseen on any diaphragm pump previously.
The LEAP Pump was originally designed to vastly reduced air consumption and provide ultra-low start-up pressure. The proportion of energy used to produce compressed air varies between business sectors but can be as much as 30%. However, in some cases, as little as 8% of the total energy supplied to a compressor is actually converted into compressed air at the point of use.
There are a variety of simple actions that can be taken to improve on this, such as reducing air leaks & regular maintenance of the air compressor, for example, however, once these have been exhausted than an assessment of the application and efficiency of the specific equipment in use. One of the most expensive pieces of air-operated equipment to use is an air operated diaphragm pump. Many of these will be working 24/7 and can cost approx £2000.00 / year for a 2" pump. When running numerous pumps on-site, any cost savings that can be made offer a significant effect on the end-users energy costs. To operate a standard 2" AODD running at 150 l/min @ 1 bar discharge pressure over a complete 5-day working period would cost an average of £1843.20 / year (based on the British Compressed Air Society figures of between £0.01 – £0.03 to produce 1000 litres of compressed air). Switching to a LEAP unit would save the customer £652.64 each year, per pump! Furthermore, the LEAP Pump is able to start pumping at 0.1 bar with no stalling, in a test the LEAP was already achieving flow rates of 70% of its maximum open-end flow before other pumps had even started. In the case of this specific end-user, when swapping to numerous LEAP Pumps the affiliated energy costs for operating their lines was significantly reduced and kept to an absolute minimum.
Forming part of the innovative original Tapflo Diaphragm Pump, which has approx. 70% fewer parts than other diaphragm pumps on the market, means reduced a maintenance schedule, costs of spares and improved lifespan of its wear components. By having only 3 parts that need regular inspection and possible replacement (ball seats, balls and diaphragms) the Tapflo diaphragm pump is a very low-cost unit to maintain and also takes a fraction of the time to inspect and repair when compared to traditional diaphragm pumps. In the case of LEAP, this is taken even further. The Air Valve used within the LEAP Pump has a significantly longer life expectancy over traditional rubber seal technology. Tapflo has developed their own air valve for use within the LEAP Pump, using a lapped spool and sleeve construction. This method provides a life expectancy in excess of 200 million cycles! When the air valve finally needs replacing it can be removed without the need to remove the side plates and diaphragms. It is done by simply removing 2 retaining screws and pushing the valve spool out through the access hole within the pump housing. The pump can remain in the pipework whilst this is done.
In the case of this specific end-user. Due to the complexity of the exiting equipment they were tied into expensive maintenance contracts for each pump system (approx. £10'000 / year per pump) and the downtime associated with routine repairs and maintenance was length resulting in expensive lost production costs. Furthermore, the cost of spares was also expensive. When they swapped to LEAP they were able to maintain the pumps themselves, reduce the downtime and lost production costs significantly and halve the costs of spares. Win-Win!
Tapflo UK offered further assistance and support in conjunction with their distributor during the initial commissioning and installation of the LEAP Pump to ensure that the equipment was being used to best of its potential. On top of our extensive industrial and hygienic pump ranges, we are also capable of offering site visits, troubleshooting and system appraisal were requested to ensure that our customers and partners are getting the best out of their pumps and systems. For further information on the LEAP Pump technology please contact our sales staff who will be more than happy to help and/or visit our LEAP Pump section on our website.