Application Details
One of our customers in the Pharmaceutical Industry needed 3 off safe, simple, accurate and mobile solutions for dosing a reagent (98-100% H2SO4 & Toluene at Ambient Temp) onto their process across a flow range of 23-138 l/hr with a max rated pressure of 10 Bar.
The customer specified that the only approved wetted materials to be used were Hastelloy C-276 & PTFE, and that the pump also needed to be suitable for a Nitrogen Injection Clean Through (2 Bar through suction side of the pump) and fitted with Tri-Clamp Connections on the suction & discharge. The pump sets also needed to be fitted to hygienic trollies and suitable for use in an ATEX Zone 1 environment.
Following conversations about the pump, our team were able to provide the client with a complete turnkey trolley package that included a drip tray, custom suction & discharge adaptors, and pump risers.
Solution & Support Offered
We worked with the customer on designing a bespoke trolley size that fitted their requirements, as per the initial design example pictured. Once approved by the customer, we then put all 3 packages into production and mounted all the equipment at our facility in Southampton before final shipping onto the customer so they had ready to use systems straight out of the box.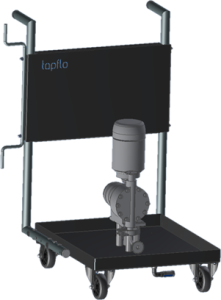 Equipment Supplied & Technical Details
3 x Motor Driven Mechanical Diaphragm Metering Pumps:
Fluid: 98-100% H2SO4 & Toluene
Flow Range: 23 – 138 l/hr (10-60 Hz)
Strokes / min, 50 / 60 Hz: 106 / 127
Displacement / Stroke: ~18 ml
Accuracy: +/- 2% of rated flow, 0-100%
Adjustment: 0-100% Manual Stroke Length Adjustment while running or steady, 1 mm / turn & VSD Controlled
Max Suction Lift: 2-3 m from Dry, more with NRV fitted to suction line
Max Discharge Pressure: 10 Bar
Pump Head: Hastelloy C-276
Diaphragm: PTFE
Seat: Hastelloy C-276
Cage: Hastelloy C-276
Valve: Hastelloy C-276
Valve Seal: PTFE
Motor: 37 kW / 4 Pole / 230-400V / 3 Ph / 50 Hz / IP55 / Class F / ATEX II 2G Ex-d II B T4 – Suitable for VSD control between 10-60 Hz @ Constant Torque
ATEX Classification:

Motor: II 2G Ex-d IIB T4
Pump: II 2 G T6

Ambient Temp: -10ºC to +40ºC
Max Fluid Temp: 40ºC
Noise Level: <70 dB(A)
Certification:

1 Material Certs (All Hastelloy Parts)
2 Material Certs (All Elastomer Parts)
ATEX Certification (Covering Pump & Motor)
EC Declaration of Conformity

6 x 3/8″ BSP M x ½" Tri-Clamp Adaptors in Hastelloy C-276 (1 per pump port)
3 x 90º Swept Bend (Hastelloy C-276) c/w ½"  Tri Clamps (C-276), PTFE Flange Gasket & Tri Clamp Band SS or Hastelloy (1 per pump suction)
12 x 100 mm x 20 mm Pump Spacers w/ M8 Female Threads, AISI 303
3 x Customised Tapflo Hygienic Trolley Model HM0X with Rounded Handle Bars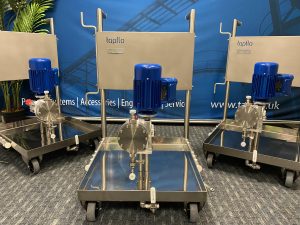 Fitted with above equipment
4 x Conductive Wheels, Swivel & Rear Locking w/ Earthing
Drain Valve at Front
Ra <1.6 Surface Finish
Industrial Mounting Brackets for Pump to provide 100 mm Clearance from Base
Materials of Construction:
Drip Tray: Stainless Steel AISI 304 (Inside Surface Electro-Polished, Outside Sandblasted)
Handles: Stainless Steel AISI 304 (Ground)
Support Plate between Handles: Stainless Steel AISI 304 (Sandblasted both sides)
Wheel Supports: Stainless Steel AISI 304
Drain Valve: Stainless Steel AISI 316
Misc. Supports & Plates: Stainless Steel AISI 304 (Sandblasted both sides)
Maximum Dimensions ( L x W x H ): 800 x 860 x 980 mm
Luke Barnes, Director of Tapflo UK, worked closely with the customer on this project and runs over some of the key details of the systems in the video below.
Contact Us
If you have any bespoke pumping requirements, no matter how big or small, please don't hesitate to get in touch with our Design & Development Department today on 02380 252 325 or [email protected]