Salvatore Robuschi Pumps are focused around a modular design to ensure their products suit your application. These modular options include the type of Centrifugal Pump Impeller required for your application so Tapflo UK have put together this Impeller Guide to help. If you have any further questions, please get in contact with the team.
Below is an overview and selection guide to enable you to better understand these types and where they are best employed to obtain the most efficient and trouble-free operation from your pumping process.
Impeller Types and General Use
RD: Closed Impeller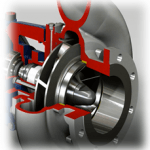 Impeller Vanes are totally enclosed by 2 supports/shrouds at the front and rear.
Applications:
Generally used for clean fluids with less than 1% non-abrasive solids in suspension with a max size of 5-10mm.
No entrained gases.
Abrasive solids will reduce efficiency.
RB: Multi-Channel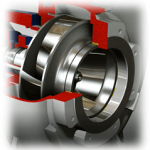 Similar to the Closed type impeller, but they feature fewer vanes with larger internal passages.
Generally used for clean to slightly dirty fluids with less than 3-4% non-abrasive solids in suspension with a max size of 40-50mm.
No entrained gases.
Abrasive solids will reduce efficiency.
RG: Semi-Open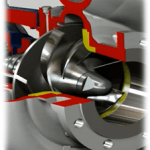 Exposed impeller vanes with a wearing plate fitted to the casing cover.
Generally used for dirty fluids containing non-abrasive solids such as sediments, short fibres and crystals with a max size of 5-10mm in concentrations up to 15%.
Can also be used for fluids with entrained gases up to 10-12%.
Abrasive solids will reduce efficiency.
RC: Recessed Vortex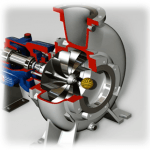 Exposed vanes where the impeller doesn't extend into the pump casing, essentially resulting in the casing becoming an open flow passage.
Generally used for heavily solids laden fluids or slurries where solids passage up to 150mm and concentration up to 30% are required.
Long fibrous and viscous slurries up to 1000 cPs can be transferred.
Abrasive particulates up to 5% concentration.
Entrained gases up to 20%.
Impeller Functionality Explained
RD: Closed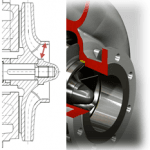 Closed impellers are meant for clean fluids because the impeller will become blocked between the vanes, as well as between the impeller wear ring and impeller nut if the fluid contains solids in a high concentration or solids that are larger than the internal passage between the vanes. This will very quickly stop the pump functioning and require constant cleaning and flushing.
RB: Multi-Channel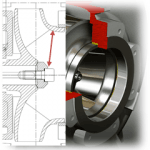 In comparison to the RD Closed Impeller model, Multi-Channel impellers can be used for dirtier fluids because the impeller nut is internally mounted into the impeller and the internal passage between fewer vanes. This enables small particulates to flow across and through the impeller without clogging.
RG: Semi-Open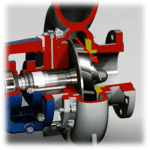 Semi-Open impellers are better suited to dirty fluids as their operation removes any entrained solids and gases from the impeller wear plate and impeller nut. The processes that remove these are the internal circulation of the fluid from discharge back to suction within the pump and the rotation of the impeller blades against the wear plate.
RC: Recessed Vortex

Recessed Vortex impellers are best suited to dirty/heavily solids laden fluids and slurries. They are capable of passing solids which are <90% of the discharge port ø. The impeller rotates in an area of the casing volute that is outside of the fluid pathway. This spinning action creates a vortex within the fluid, similar to that which can be seen when you flush the toilet.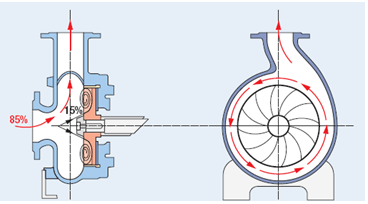 85% of the process fluid is transported from the suction port directly to the discharge port whilst only 15% comes into contact with the impeller. As a result, large solids can be easily passed through the pump by rotating action of the fluid without necessarily coming into contact with either the impeller or mechanical seal.
Efficiencies for Recessed Vortex Centrifugal Pumps are generally lower than their traditional counterparts due to the flow circulation around the impeller and the flow pattern seen during operation. The process fluid rotates numerous times within the casing before eventually discharging out of the pump.
Impeller Interchangeability
Thanks to the versatile design of Salvatore Robuschi Centrifugal Pumps, it can be straightforward to re-purpose your existing pump for a different application by changing the impeller type. Careful consideration needs to be made with regards to the installed power and speed of the motor. Please speak to a member of Tapflo UK's Sales Team to review the suitability and performance possibilities for your existing drive unit and your intended impeller choice.