What is a Peristaltic Pump?
A Peristaltic Pump is classified as a Rotary Positive Displacement Pump and is one of the most versatile types of pump available on the market today.
How does a Peristaltic Pump work?

A pulsating flow is generated by the pushing action of shoes or rollers on the wall of a rubber hose.
The two shoes or rollers are mounted at 180° on a rotating wheel & compress successively on a reinforced rubber hose that contains a fluid to be pumped.
The compression of the hose by the rotating shoes creates continuous suction at the inlet of the pump and pushes the fluid to the outlet of the pump.
Sealing under the shoe is performed by the compression of a local area of the hose.
Frictions between shoes and hose are reduced by using a lubricant which also acts as a coolant.
The pumped fluid is in contact only with the interior of the rubber hose, thus permitting the pumping of a wide variety of reactive fluids.
No particles are usually trapped between the walls of the inner hose when the shoe is squeezing the hose, a small wave is created in front of the shoe rejecting the particles.
What are the features & benefits of a Peristaltic Pump?
Peristaltic Pumps are self-priming up to 9.8 meters at sea level
Provide high levels of volumetric accuracy (up to 99.5%) for sampling and metering applications.
Will handle fragile & shear-sensitive fluids with little wear
As only the inside of the hose and hose inserts of a Peristaltic Pump are in contact with the fluid, aggressive and contaminated fluids can be processed without the damage experienced by other pumping technologies
Hoses are constructed from numerous materials, making them suitable for a wide variety of fluids
Ability to pass solids in the material being pumped, 20-25% of hose ID
The dry run capability of a Peristaltic Pump allows tank and line stripping
The sealless design eliminates leaks, contamination and wear problems associated with difficult to seal products
No Bearings
Reversible operation allows pumping in both directions
Low maintenance requirements of the hose and shoes
Low operating noise level <70 dB at 1 meter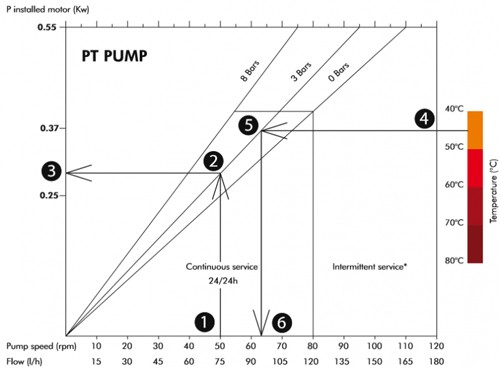 How to quote a Peristaltic Pump?
Below is a list of details you'll need to know in order to select the correct Peristaltic Pump for your requirements.
Fluid description
Viscosity (shear thinning or thickening)
% of solids and particle size
Temperature
PH level
The flow rate or range
Suction and discharge pressures
Precise Duty cycle (continuous or intermittent) real pump running time
Power Supply available
Pump Selection: Reading a Performance Curve
Unsure on how to read a performance curve for your pump? We've made it plain and simple for you! Just follow the instructions below:
Select the required flow. This gives you the required pump speed.
Move upwards to the calculated discharge pressure.
Move to the left for the installed motor power.
Determine the fluid's max. temperature.
Move to the left to the calculated discharge pressure.
Move downwards to determine your maximum allowed pump speed for the temperature of the fluid.
Peristaltic Pump Vs
Our Peristaltic Pumps compared to other pumps on the market
Peristaltic Pumps are commonly compared against Progressing Cavity and Lobe Pumps, which are commonly used for similar applications. Both have a lower initial purchase cost and both technologies work well when new, but as their efficiency relies upon very tight tolerances between an elastomer and a metal surface in the pumped media environment, wear of your pump is inevitable and has a major impact on the pumps efficient operation.
This is particularly true where the media is highly abrasive. Capable of high flows and discharge pressures, whilst removing the metal/elastomer interface in an abrasive media they offer substantially longer lifetimes between service, lower spares cost and lower lifetime cost whilst giving increased reliability and less downtime.
They are particularly cost-effective where high wear rates are an issue and regular servicing is required to keep existing installed pumps running efficiently. Pump footprint is often more compact with servicing easily possible in situ. The long stator withdrawal distance, need for pulling equipment, manpower and heavy lifting gear, synonymous with Progressing Cavity Pumps, is not required.
Peristaltic Pump
Progressing Cavity Pump
AODD Pump
Rubber Lined Centrifugal Pump
Tapflo PT Series
Seepex N Series
Wilden PV Series
Weir/Warman AH Series
Maintenance
Very Simple
Expensive
Not Easy
Expensive
Done in situ
Not easy & time-consuming
Generally not done in situ
Complicated
No special qualifications needed
Generally not done in situ
Usually done by the supplier
Priming Capacity, on water @ 20°C
9.5m @ sea level, from dry
8.5m @ sea level, when new & wetted
6.5m @ sea level, when wetted
Must be gravity fed
Average Maintenance Cost % of Pump Price
Approx 8%
Up to 50%
Up to 20%
From 60%
Mechanical Seal
Sealless
Expensive
Sealless
Expensive
Dry Running Capability
No limit
Up to 1 minute
Up to 30 minutes
Not Possible
Max Viscosity
Up to 150,000 cPs
Up to 300,000 cPs
Up to 10,000 cPs
Up to 5000 cPs
Max Density
No limit
No limit
No limit if fitted with metal balls
1.5 Max
pH Range (1-14)
Dependent on materials
Yes but expensive shaft & seal
Dependent on materials
Yes but expensive shaft & seal
Particle Size
Up to 30mm
Up to 10mm
Up to 34mm
Up to 50mm
Abrasion Resistance
Yes
Yes but expensive shaft & seal
Yes but a lot of maintenance
Yes
Dosing Ability
Perfect volumetric accuracy
No accuracy over time due to stator wear
No accuracy
No accuracy
Flow Range
Up to 200 m³/hr
30 l/hr up to 500 m³/hr
2 l/hr up to 62 m³/hr
Mini, 5 m³/hr
Suitability for Shear Sensitive Fluids
Very gentle
Gentle when operated slowly
Not good
Very bad
Hydraulic Efficiency 
Very good
Good
Very bad on high viscosities
Very bad on high viscosities & densities
Peristaltic Pump compared to a Diaphragm Pump
Air Operated Diaphragm Pumps require a compressed air supply to drive them. If this does not already exist it can be very expensive to install. Even the best-maintained air supply systems are inefficient with at least 30% air leakage. The energy costs of supplying air for a Diaphragm Pump are much higher than for a Peristaltic Pump.
Air pressure limits the discharge pressure – it just stops pumping beyond its limits.
Changing pumped fluid is complex as cleaning a Diaphragm Pump is difficult, often requiring a complete strip-down. Our Peristaltic Pump Series offers a quick maintenance schedule on their pumping elements. Simply change the tube and you've created a new pump!
The difficulty in accurately controlling air supply makes the Diaphragm Pump a poor choice for metering duties.
Even Double Diaphragm Pumps have a high level of pulsation.
As with all Diaphragm Pumps, AODDs generally rely on ball valves. These do not work well unless there is positive back pressure to close them between cycles. They are prone to abrasive wear and can clog with crystals, fibres or solidifying fluids such as inks and powders.
Whilst the initial purchase cost is lower, the cost of ownership can much higher due to energy and maintenance costs.
Peristaltic Pumps compared to Piston Pumps
Piston Pumps rely on ball valves, which must be protected with strainers and yet more valves: back-pressure valves, for example. Foot valves are needed to maintain prime. Valves are prone to clogging and breakdown.
Piston Pumps are expensive to maintain, requiring disassembly for cleaning, which can still be difficult to achieve properly; with the result that contamination is a common problem.
Our Peristaltic Pumps score on all counts.
No valves
No ancillary equipment
Low maintenance
Low cleaning
Peristaltic Pump Compared to a Lobe Pump
Lobe Pumps are not good for metering duties as the fluid slips between the lobes and the casing. Peristaltic Pumps have a true positive displacement action – fluid is pushed in front of a tube pinched closed & precise volumetric efficiency.
Lobe Pumps are known for low shear pumping, but a Peristaltic Pump produces an even lower shearing effect.
Lobe Pumps are generally not good with abrasive fluids or with hard solids. These wear the lobes and can get trapped in the space between the lobes and casing, causing scoring. Worn or damaged lobes reduce capacity through increased slip.
Lobe Pumps have two shafts and so two sets of mechanical seals. These are expensive to maintain and the timing gears need careful resetting after maintenance to ensure lobes do not clash. The fluid does not contact a Peristaltic Pump and vice versa, so abrasives are handled with ease.
For CIP applications, Lobe Pumps require by-pass pipework to divert some of the flow. Peristaltic Pumps have a full flow path through the tube for CIP duties. Installation costs are also lower.
Industrial Lobe pumps are difficult to clean because of dead spots in the casing. Mechanical seals need swabbing to verify cleaning procedures have been effective.
Lobe Pumps are not flexible and must be specifically designed for the application. Changing parameters can cause pumping problems. Temperature changes, for example, can result in "galling", where flakes of metal from the lobes are released into the fluid, causing contamination.
Our Peristaltic Pump scores on all counts:
Accurate metering
Low-shear pumping
Good abrasive and hard solids handling
No mechanical seals
Low cost and simple maintenance
Simple installation
Flexible operation
Peristaltic Pump compared to Progressing Cavity Pumps
Progressing Cavity Pumps cannot run dry for more than a few seconds. They can self-prime but if the fluid takes time to get to the pump then the rotor/stator must either be manually lubricated or the pump needs initially priming.
Progressing Cavity Pumps suffer from wear if particles drop out of the solution or if an abrasive suspended solid lodges within the cavity. Wear increases by the square of the speed.
Progressing Cavity Pumps have a large stator in alternating in with the rotor and the duty fluid. Stator particles easily become detached and entrained within the fluid flow.
Progressing Cavity Pump rotor replacement is a skilled task requiring a long downtime. Pump selection is also a skilled task and many pumps are badly specified which can lead to premature failures in rotors, stators and mechanical seals.
Once installed, a Progressing Cavity Pump requires a lot of floor space.
Our Peristaltic Pump score on all counts:
Unlimited dry running and fully self-priming
Excellent abrasive fluid handling
Low spares costs and simple maintenance
No Mechanical seals
Albin Pump's Peristaltic Pump Vs the competition
Peristaltic Pump vs Bredel SP Series: Most Tapflo Peristaltic Pump parts are compatible with the Bredel SP Series.
Larger Pump Range: Our Peristaltic Pump range offers a better Speed Ratio / Price or Hose Life/Price.
Shoe Replacement: Done via the front window without emptying the lubricant, not possible on Bredel Pumps.
SP Series: The window is too small, you must remove the cover.
SPX Series: The window is under the lubricant level.
Easy Wheel Dismantling: Our Peristaltic Series employs a Vecobloc system which is very easy to dismantle. Done by unscrewing an Expandable Hub whereas the SP & SPX series from Bredel have either a tight presses coupling assembly or a more complex assembly which normally means that maintenance cannot be done in situ or by the customer.
Casing and Wheel Casting Quality: Our Peristaltic Pump range is in Ductile Iron, which offers better resistance against shocks and low temperatures. Whereas, Bredel's ranges are in Cast Iron, which results in a lot of wheel breakages.
Pump Bearing: Tapflo Peristaltic Pumps = NO bearing! SP range: Difficult maintenance procedure to change the bearing at the back of the pump. SPX range: bearing inside the wheel in close proximity with the pumped product
Pump Cover: Our Peristaltic Pump range has 30% fewer bolts so quicker to remove and replace.
Albin Pump's Peristaltic Pump Vs Verder
Hose Connections:
If the VERDERFLEX hose connection system seems easy and user-friendly, by experience this system is a nightmare! When you need to replace the hose, the metallic ring should be heated or mechanically deformed in order to fit it correctly and fit a new hose in the pump.
The depth of the threaded holes (which are often too short or wrongly machined) to fit the flanges on the pump casing.
Limited thickness of the material (cast iron) around the threaded holes, which often generates cracks in the pumps casing, after two or three hose replacements. You will subsequently be forced to replace the metallic clamp rings.
Gearbox Connections:
Probably the weakest point because there is no sealing to protect the gearbox. Our Peristaltic Pump range offers an 'extra' sealing ring (Merkel O-Ring).
By the typical wearing of the lip seal (mainly due to the hose ruptures), the glycerine penetrates the casing of the gearbox through this 'special' lip seal. The mix of glycerine and gearbox oil creates a kind of 'bitumen' which destroys the gearbox. If the pumps are supplied with coaxial gearboxes which are slightly undersized (which is very often the case on VF10 to VF50 pumps), you easily imagine the consequences in terms of maintenance and repair costs.
The Tapflo Peristaltic Pump range is also fitted with a Leakage Channel which is useful first to protect the gearbox and finally to physically check if the Merkel O-Ring is leaking or worn. In both instances, the gearbox is protected against the presence of pumped liquid in the pump casing. In cases of overpressure, the double lip seal employed on the Verderflex units can only support 2,5 bar max overpressure and as there is no other path than the vent hole in the gearbox the air & lubricant penetrates the gearbox.
The connection of the gearbox on the pump casing itself: Our Peristaltic Pumps are supplied with 4 studs to fit the gearbox onto the pump casing. The VERDERFLEX pumps casings have four holes in which 4 bolts and nuts are used to fix the gearbox onto the pump casing. This construction is absolutely NOT leak-free (the oscillating movement of the geared motor increases this leakage effect). Furthermore, in order to avoid glycerine leakage, a thick layer of sealing paste is used.