Tapflo UK supplies a wide range of pumps, with one of them being the Flexible Impeller Pump. These can be supplied with a variety of different materials and are highly versatile. Keep reading to find out more!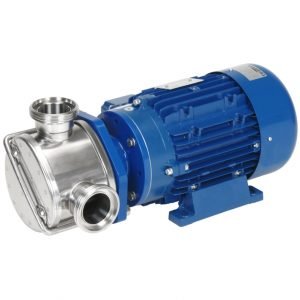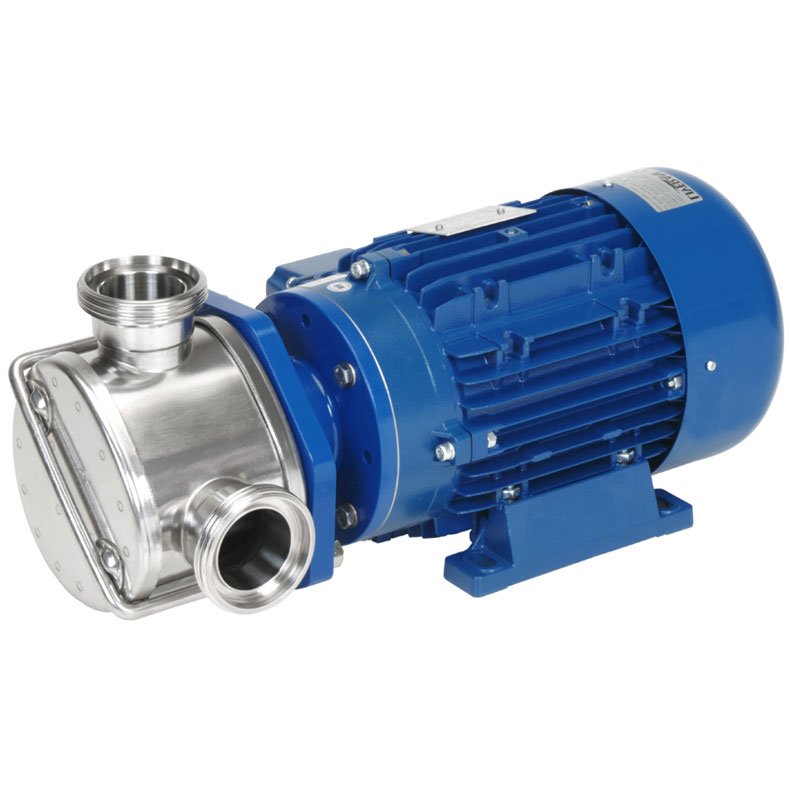 What is a Flexible Impeller Pump?
Flexible Impeller Pumps, also known as Flexible Vane Pumps, are a form of positive displacement pump. They move fluid from the suction port to the discharge port by trapping an amount of fluid between its impeller vanes and forcing it round towards the outlet. The vanes of the impeller deform slightly when rotating inside the pump casing, moving the fluid from the inlet to the outlet at a steady, pulse-less flow without pressure spikes.
This principle, combined with a gentle pumping action and a high self-priming capability, up to 6 m from dry, makes these units ideal for transfer, filling, dosing and filtration applications. Their design enables them to handle thin and viscous (up to 50, 000 cPs) fluids as well as solids in suspension (up to 25 mm). They are capable of discharge pressures of up to 4 bar and flow rates up to 1200 l/min & maximum fluid temperatures up to 120ºC.
How does a Flexible Impeller Pump work?
Flexible Impeller Pumps move media through the pump housing by trapping fluid between the vanes.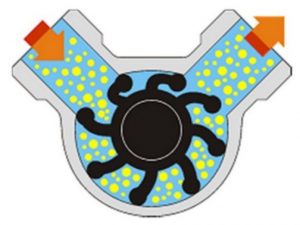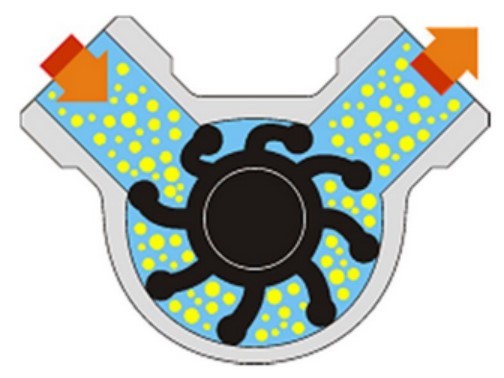 The vanes inside the pump are, you guessed it, flexible meaning they bend slightly when rotating. As the pump operates, the vanes trap a set amount of liquid at the inlet, the pump moves the fluid forward through the pump housing (positive displacement) until it gets to the discharge port where the vanes begin to change again, forcing the media out of the discharge.
Flexible Impeller Pumps have a steady, pulseless flow due to this operating principle.
What types of fluids would a Flexible Impeller Pump be used on?
The versatility and benefits of Flexible Impeller Pumps mean they are great in a number of applications! See some of the most common below.
Oenological: wines, musts and stemmed grapes
Food: beer, fruit pulp and juice, honey, liquid sugar, syrups, glucose, milk, melted butter, yoghurt, liquid eggs, oil, tomato pulp and juice, brine, etc.
Chemical: starch, water-based glues, emulsions, glycerine, wax, detergents, rubber latex, photographic processing liquids, polyelectrolyte, paints, ink, industrial discharges, etc.
Cosmetic & Pharmaceutical: liquid soap, cleaning lotion, cream, shampoo, etc.
What are the main benefits of a Flexible Impeller Pump?
There are many benefits of a Flexible Impeller Pump! To mention a few, they have effective self-priming abilities of 6m, the pumps can be operated bi-directionally and come as standard with a reverse switch, they can handle solids of up to 25mm and viscosities of up to 50,000 cPs, pulse-free pumping and finally, the pump head can be positioned in 5 different orientations!
View the full range of Self-Priming Flexible Impeller Pumps on offer at Tapflo UK to see which one meets your requirements.
What material of Impellers can be supplied with a Flexible Impeller Pump?
We can supply your Flexible Impeller Pump with 5 different material impellers. See all five listed below with some examples of where they would be used. NBR: Has excellent resistance to oils & fats and is FDA Approved CR: the Best balance between chemical & mechanical resistance EPDM: Best for hot fluids & CIP. Excellent with acids & alkalis. FDA Approved NR: Excellent with water-based fluids at room temperature. Highest mechanical resistance VMQ: Best for high temperature, low mechanical resistance
Can you dry run a Flexible Impeller Pump?
No, we wouldn't recommend dry running a Flexible Impeller Pump for anything over 60 seconds. If you're looking for a pump that has the ability to dry run, contact the team at Tapflo Pumps to discuss the options available.