Design
These Industrial Lobe Pumps are classified as Rotary Positive Displacement Pumps, this means the capacity remains independent from system pressure which means that they can deliver the same flow rate across their rated pressure. This ensures that the pumps are suited to mobile applications where discharge conditions are constantly changing or for fixed-in-place applications where process fluid viscosities and densities vary.
Pump bodies are constructed from GG 30 continuously cast spheroidal graphite Iron with wear plates in wear-resistant steel & triple seal design as standard.
Lobes can be supplied in several different elastomer coatings including NBR, SBR, XNBR, EPDM and FPM. Lobe replacement is facilitated by a front pull-out design.
Different drive options are available to suit a wide variety of site-specific requirements such as ATEX rated motor, hydraulic drives for truck mounting and diesel/petrol drives for portable systems.
Particular care has been taken in the design of these units to improve pump life and limit maintenance intervals in arduous and challenging applications. Each pump model has been through stringent and severe laboratory testing and field tests before being launched. Each pump is then individually tested before delivery.
Lobe Pump Construction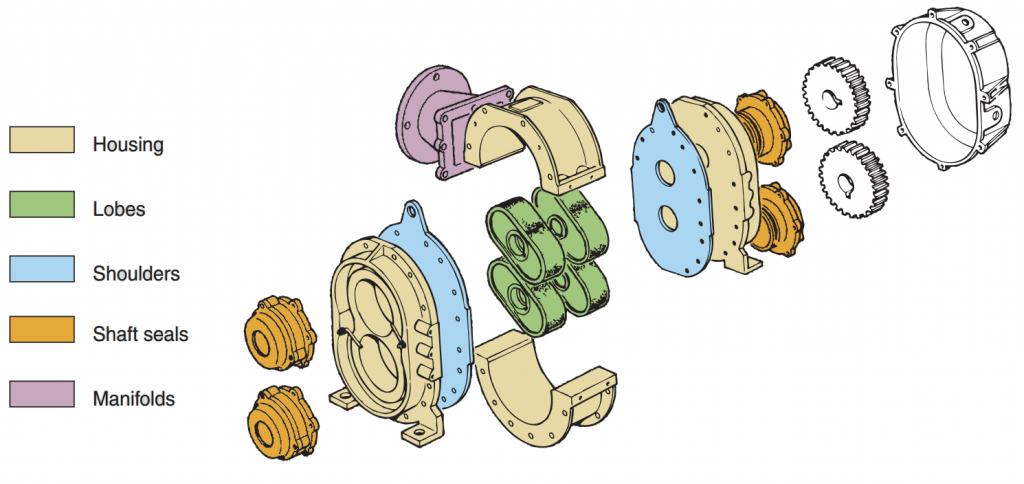 | | |
| --- | --- |
| Housing | GG30 Cast Iron |
| Lobes | Cast Iron Coated in NBR, SBR, XNBR, EPDM and FPM |
| Shoulders / Wear Plates | Wear Resistant Steel (400 HB) |
| Shaft Seals | Double Radial Seals, Grease Lubricated & sliding on Hardened Bushes. Standard Mech Seals or Reinforced Seals (prepared to withstand higher operating pressures; equipped with a flushing system) on request |
| Manifolds | Galvanised Steel |