Equipment Supplied
The Pomac Close Coupled Self-priming Centrifugal Pump was supplied to be fitted onto the custom-built skid system which has the following technical capabilities;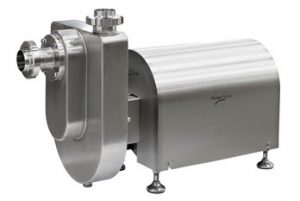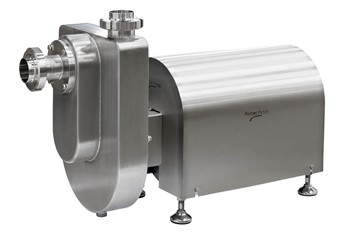 Pump Type: Horizontal, Close Coupled, Self-Priming, Hygienic Centrifugal Pump with Motor Shroud & Adjustable Feet
Fluid: CIP wash water
Rated Capacity: 15 m³/hr @ 20 m Head
Max Temperature: 60°C
Required Suction Lift: 2 m
Capable Suction Lift: 4.5 m
Inlet / Outlet Ports: 2″ Tri-Clamp DIN 32676, Including Counter Parts
Casing Drain & Vent Ports: Included & fitted with ½" AISI 316/PTFE Mini Ball Valves w/ Butterfly Handles
Motor: 2.2 kW / 2 Pole / 50 Hz
Body & Impeller Material: Electro-Polished AISI 316L (<0.8 Micron)
Seal Type: Double Mechanical Seal Carbon / SiC / EPDM w/ quench facility
Fitted Accessories
Thermosyphon for mechanical seal quench mounted 1m above pump seal.
Control Panel details: Stainless Steel Variable Speed Control Panel, Blind Cover
Acc. to customer specified requirements (2.2 kW Rated)
Enclosure Dimensions: 400 x 60 x 250 (H x W x D)
Construction: Stainless Steel AISI 304
Integrated ABB ACS355T Inverter
FENA-01 Module
PTC Thermistor Module CM-MSS
Terminals & Connections Inside of Cabinet
3 Phase Circuit Breaker with Aux. Contact
10 m Control Panel Power Supply Cable w/ 3 Phase / 5 Pole Plug
10 m Motor Supply Cable, connected to pump motor
PTC Thermistor Connection Cable
Functional Test Included along with IOM, Declaration of Conformity & Electrical Diagram
Custom Hygienic CIP Scavenge Pump Skid Assembly
Construction: Stainless Steel AISI 316
Dimensions: 450 x 980 x 1155 mm (W x D x H)
Consisting of:
6 x Adjustable AV Feet on SS Cylindrical Legs (Skid)
5 x Adjustable SS Cylindrical Legs (Pump)
1 x Integral Drip Pan w/ ½" Drain Valve (AISI 316 / PTFE Mini Ball Valve w/ Butterfly Handle)
1 x Reinforced Control Panel Mounting Frame
CIP Skid Solution & Support offered

We provided our customer with a custom-built CIP (Clean in place) skid system shown on the right. This incorporates a custom drip tray with a drain port and adjustable hygienic feet, hygienic risers for the pump and support for a control panel & the thermosyphon.
Overall Dimensions: 1000mm x 450mm x 2000mm (L x W x H)
The customer had 20m of 2 ½" pipework which is the drain pipework for a series of their wash systems. There are 4 separate machines that this will pump from. The pump needed to be self-priming because the liquid is from a drain, therefore we were able to provide a pump with a liquid tank on the front to ensure that the impeller is always covered with water, allowing the pump to self-prime up to 4m vertical.
Due to the temperatures involved and for the longevity of the system a thermosyphon was included to continually flush the mechanical seal with cold water, this helps to keep the seal temperature down as well as remove small fragments of dirt or grit that could get in and cause damage to the seal.
To enable draining of the pump head for maintenance we included some hygienic feet for the pump which mount directly to the skid and ensure that the pump is stable. The pump head reservoir has a drain point on the underside as well as an air vent port on the top to assist in priming the casing during installation and commissioning.
Our technical team went to the site once installed to ensure that the pump was installed correctly and to fix any minor issues that arrive from testing in situ.
Does your application require a bespoke solution to meet your requirements?
Tapflo UK is able to custom build almost any pump solution to meet demands. Our bespoke turnkey systems can range from a simple trolley with an on/off switch to a complex site installation package with multiple pumps, pipework, control systems and storage vessels.
Our in house design engineers can provide you with 3D renders so you can visualise what the finished pump system will look and operate like in real life.
Browse our other bespoke systems from our case study section to find out more about what we can do! Or get in touch by dropping us a message on our live chat system to speak directly with our pump specialists to discuss your requirements!