At Tapflo, we are the leading manufacturers of Diaphragm Pumps, with experts operating globally in over 75 countries so whatever your AOD Pump question is, we've got an expert with an answer.
What is a Diaphragm Pump and how does it work?
A Diaphragm Pump is a type of Positive Displacement Pump, which traps a set volume of fluid and then forces (displaces) the fluid into the discharge pipe in order to transfer the liquid. Tapflo manufacture Diaphragm Pumps that are driven by compressed air, also known as Air-Operated Diaphragm Pumps or AOD, but others are available such as electrically driven Diaphragm Pumps.
Diaphragm Pumps are comprised of two diaphragms that work simultaneously to prime and transfer liquid through the pump. One diaphragm causes suction whilst the other transfers the air pressure to the liquid in the housing, which drives the liquid to the discharge port and out of the pump. This is highlighted in the following diagram:

What are Diaphragm Pumps used for?
Diaphragm Pumps are the most versatile pumps on the market and can be used in a range of industries. Below are a few examples:
Chemical Industry – acids, alcohol, solvents and shear sensitive products e.g. latex and emulsions.
Surface Conditioning – handling waste products, transporting chemicals from storage tanks
Water Treatment – dosing acids and alkalis, transfer of sludges and suspensions.
Hygienic Applications – transferring of food products such as soup, cream, milk, toothpaste, chocolate and dough, to name a few.
Mechanical Industry – oil, fat, lubricant, solvents and waste products.
Paint, Print and Varnish Industry – water- and solvent-based paints, ink, glue, varnish.
Pulp and Paper Industry – glue, bleaching products, colour and titanium oxide.
You can find the specific applications for each type of Air Operated Diaphragm Pump on their individual product pages.
Diaphragm Pump Priming
As diaphragm pumps are a type of positive displacement pump they are able to self-prime up to 5m from a dry suction pipe or 8m from a wetted pipe.
Advantages
Diaphragm Pumps are extremely versatile as they can handle a range of different flows and pressures to handle almost any application
High chemical resistance, extremely robust
Can be run dry indefinitely without causing damage to the pump.
Simple operating principle
Each Diaphragm Pump also has its own list of benefits which can be found on the product pages, as well as in the downloadable Air Operated Diaphragm Pumps brochure.
Disadvantages
Compressed air is an expensive way to power a pump, which means that these pumps can be costly to run.
Solution: Low Energy Air Pump and compressed air
Air Operated Pumps can be noisy when running at high pressures.
Solution:

As LEAP technology can run at a lower flow, using less compressed air so reduces noise pollution.
The flow of air from air pumps can be uneven.
Solution: If your application requires a steady flow of air then ask the team about our Active Pulsation Dampener
Solution no#2: Not to repeat ourselves, but LEAP could help yet again! LEAP technology has reduced pulsations in the output, a Pulsation Dampener isn't necessary in many cases.
What types of Diaphragm Pumps are available?
Tapflo supply a large range of Diaphragm Pumps that are ready for a variety of applications.
Low Energy Air Pump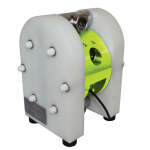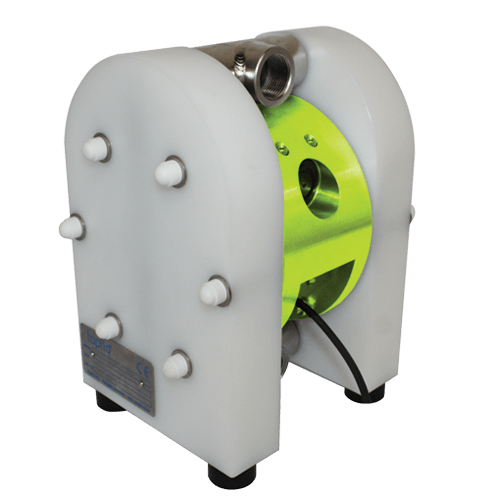 (LEAP) – LEAP Technology is leading the energy-saving revolution in the pumping industry. Designed in house, Tapflo UK are extremely proud of the LEAP technology used within the TC Pump range which allows the pump to be run on a reduced amount of compressed air, able to start operating at 0.2 Bar compared to the industry standard which starts at 1.2 Bar! The LEAP Pump can be manufactured in metal, sanitary or HDPE/PTFE.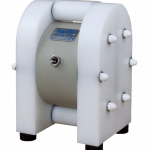 HDPE/PTFE – These Diaphragm Pumps are manufactured from solid block polyethene (PE) or PTFE. This design feature means that the pump has fewer weak spots and fewer areas for the pump to leak from. The solid block also increases the pump's corrosion resistance which allows the pump to be capable of handling almost any substance, including chemically aggressive and viscous fluids.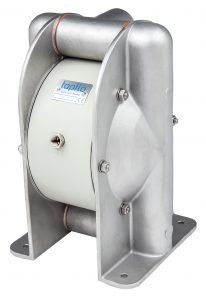 Metal – Tapflo's metal Diaphragm Pumps can be manufactured in Aluminium, Cast Iron, AISI 316 Stainless Steel or PTFE coated Aluminium. The materials allow our metal Diaphragm Pumps to handle almost any kind of liquid, including viscous or chemically aggressive liquids, as well as those containing harsh solids.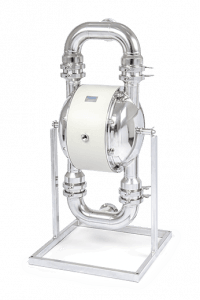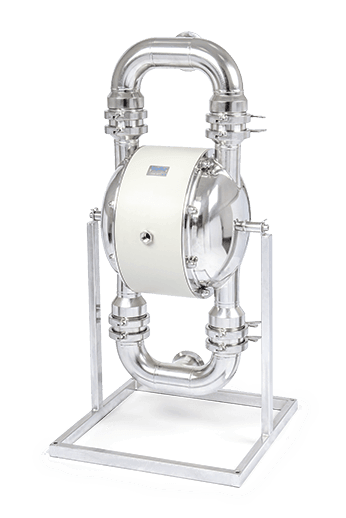 Sanitary – These Diaphragm Pumps are perfect for use within the food, beverage, pharmaceutical and cosmetic industries. They are necessary for preventing contamination within the pump. These pumps come with the following options: ATEX, FDA, EHEDG and USP VI approved.
Our Diaphragm Pump ranges are available with ATEX rating upon request, our Aseptic and Metal Diaphragm Pumps in Cast Iron and Aluminium are delivered ATEX as standard. Additionally, there are a number of Diaphragm Pump Accessories that can be added to your Diaphragm Pump to fit your application for additional support such as a Heating Jacket to maintain a constant temperature of your product or a Pulsation Dampener to remove pressure variations from the product as it leaves the pump outlet.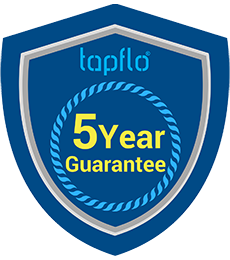 Tapflo is also proud to offer a 5-year guarantee across the whole range of Tapflo manufactured pump products. So you can stay rest assured your pump is looked after for the long run!