Here at Tapflo, we're strong believers in the superior design of our Air Operated Diaphragm Pumps compared to others on the market. We want you to have the best pump for the job so that's why we want to compare our Diaphragm Pumps to the standard pumps on the market. Here are our 7 signs that you should swap your current AOD Pump for a Tapflo Diaphragm Pump. 
An extensive and versatile range
Tapflo's Air Operated Diaphragm Pump range includes a wide range of pumps, that meet almost any application and installation requirement. A few things included in our range are:
Standard Diaphragm Pumps available in Metal, HDPE, PTFE or Sanitary
Low Energy options to reduce your business' energy consumption and reduce costs on compressed air
Complete Tank solutions, ideal for transferring, dosing and storing fluids
Mobile Decanting Units including AOD and pneumatic control and monitoring system
ATEX certified Diaphragm Pumps for potentially hazardous environments
…and that's just the tip of the iceberg, so it's more than likely that whatever you need, we've got it covered!
Up to 70% fewer parts than our competitors
A Diaphragm Pump will lots of tiny parts means more weak points that cause leakages, and if your pump is already leaking, we definitely recommend contacting Tapflo.
Tapflo's Air Operated Diaphragm Pump side housings are machined from solid block HDPE and PTFE or manufactured from Cast Iron, Aluminium or Stainless Steel. This design ensures that the frame is stronger to withstand aggressive fluids and increases the life of our pumps.
Diaphragms
If your diaphragms are causing leaks regularly in your pump, it might be time to talk to Tapflo.
As standard, every Tapflo Pump across the world is supplied with no-nut, clean face diaphragms. Our diaphragms are made from chemically bonded layers, this design means there is no need for a nut to hold them together so removes the likelihood of a leak. Of course, all diaphragms eventually rupture from general wear but by swapping your diaphragms, you can increase the life of the diaphragms and protect your pump from damage caused by leaks. Speak to Tapflo about our spares kits to find out more.
Reliable Materials
Tapflo uses high-grade, reliable materials to manufacture our pumps:
Plastic range: HDPE (Polyethylene) is 6-7 times more wear-resistant than Polypropylene and can withstand temperatures up to 70°C. We also manufacture our pumps from PTFE (polytetrafluorethylene) which has a superior chemical resistance due to it being a thermoplastic polymer, therefore, it can withstand temperatures up to 100°C.
Metal range: We also produce pumps in Stainless Steel AISI 316L which is a high-quality grade material used across our range. Also available in Aluminium and Cast Iron. Similarly, Tapflo's Sanitary Diaphragm Pumps are manufactured from Stainless Steel AISI 316L and supplied, as standard, with an extra-fine surface finish to Ra 0.8 or Ra 0.5 upon request, to meet the strictest of hygiene standards.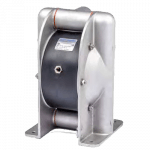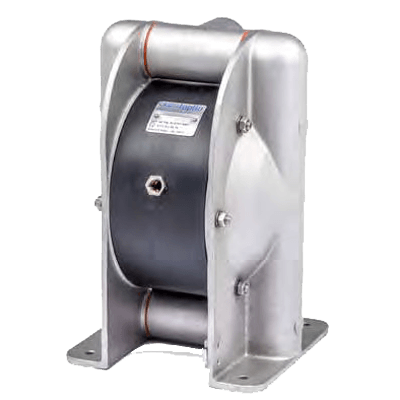 A wide selection of our Air Operated Diaphragm Pumps are also available as ATEX for hazardous environments. The pumps are manufactured with carbon filled, conductive plastic and our Metal AODs feature carbon centre sections like in the image here. This material safeguards the pump from electrostatic building inside the pump.
Simple Installation
Tapflo's Air Operated Diaphragm Pumps are easily installed on-site which helps businesses to keep service costs down to a minimum and allows quick and easy maintenance. On Tapflo's HDPE/PTFE series, the connection at the top of the pump can be rotated 180°, meaning our Diaphragm Pumps also allow flexible installation, as it turns easily to fit the piping system that you have in place.
Your standard Diaphragm Pump is costing too much
Tapflo UK is the home of LEAP Technology. LEAP standard for Low Energy Air Pump and has been designed to allow the pump to begin operating at a much lower pressure than standard AODs, therefore reducing the cost of compressed air for your business. The technology is available in all Tapflo Diaphragm Pumps and is sold globally through the Tapflo network. Head to our Low Energy Diaphragm Pump page on our website to find out more!
If you're worried about the costs associated with Air Pumps, then Tapflo has the solution in our article, 'Are your Diaphragm Pumps costing you too much?', where you can find out about the benefits of switching to LEAP.
If you have any questions about the Tapflo's Air Operated Diaphragm Pump range, contact our team of Pump experts.