A pint of beer, it's as easy as 1, 2, 3…or maybe there's a bit more work that goes into the brewing process than simply pouring it into a glass! So, we're taking a look at the joys of a pint of beer, from the brewing process to the moment it's poured, and how this journey from ingredients to glass can be made easier for everyone involved!
Things that make brewing your beer easier…

1. Our CTH Pump
A Tapflo Hygienic Centrifugal Pump (CTH) can make your brewing process extremely smooth.
Why does using a CTH Pump make brewing easier?
FDA approved pump with FDA approved seals for a hygienic transfer of product during or after the brewing process.
Find out why it's important to have an FDA approved Pump in our guest article from our Sales Executive Luke Simpson, 'Don't Use Standard Centrifugal Pumps for Brewing'; not only is Luke a beer enthusiast, he's a pump expert too!
Tapflo's CTH can handle high volumes at low pressures which is ideal for brewing applications such as hot wort or liquor transfer, CIP pumping and tank to tank transfer.
As previously mentioned, the CTH can handle CIP (Clean in Place), meaning that cleaning the pump to ensure the highest standards of hygiene is easily done. Similarly, the pump is manufactured from polished Stainless Steel AISI 316L, which ensures that the risk of bacteria growing within the small crevasses of the pump is reduced – the higher the grade of material, the lower the risk of bacteria growing.
The Hygienic Centrifugal Pump can handle up to 180°C (for long-coupled design), meaning our pump can handle the temperature you require. This means you'll have no problems trying to find a pump for your application, meaning you can get back to the important stuff – brewing beer!
2. Positive Displacement Pump
A Positive Displacement Pump such as a Rotary Lobe, Twin Screw, Flexible Impeller, Peristaltic or Diaphragm Pump. At Tapflo, we manufacture or supply all of these pumps in our hygienic range.
Why does using a Positive Displacement Pump make brewing easier?
These pumps produced accurate flow at low flow rates.
They can handle liquids containing a high number of solids. All of these pumps can handle liquids with solids without causing damage to the solids or themselves. Positive Displacement Pumps can handle solids up to 60mm but for the specific size of solids that each range can pump, head over to the product pages.
Positive Displacement Pumps can handle the following applications: mash in wort, liquid sugar transfer, syrup transfer, yeast slurry transfer, bottling, casking.
All of these pumps have been manufactured to the highest hygiene standards with either FDA or EHEDG certification. This includes not only the metal being finished to a high-grade polish to avoid bacteria growing inside the pump casing but also the seals, valves or hose being FDA approved.
Note: For pumping a consumable product such as beer, or an ingredient of a consumable product, you must ensure your pump is fully FDA approved.
What about after the beer has been through a pump? Well, there are plenty of ways to improve your beer drinking experience!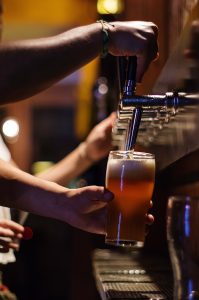 Things that make ordering your beer easier…
A quiet bar – yes atmosphere in a pub is important but no one wants to queue for a pint!
An app for table service – I can't be stood at the bar, missing out on quality banter back at the table!
A waiter or waitress that says, "the usual?" – the dream for everyone who goes to their local.
A free bar!
Bar staff that can pour a pint well – the head needs to be just right!
Contactless payment – faffing about with change at a busy bar is just a no.
Knowing what you want before you get served – do not hold up a busy bar trying to decide what to drink. You'll start to see the bar staff getting twitchy because they pulled the short straw with the person that doesn't know what they want to drink!
Things that make pouring beer easier…
Tilting the glass about 45 degrees, then slowly turn the glass to 90 degrees as the glass fills up, thereby achieving perfect head on every beer! Resulting in less sarcastic comments from enthusiastic beer drinkers!
When a customer asks for a bottled beer rather than one on tap – easy!
A room-temperature glass
Enough about drinking beer though, back to the pumps! The great thing about our vast range of sanitary pumps is that we'll have something for your budget, application and installation because at Tapflo UK we pride ourselves on being able to provide fluid management solutions for the easiest and the most difficult liquids! Quality pumps and first-rate customer service at a competitive price. Make the change to Tapflo today!
If you're interested in starting a conversation about a Beer Pump, for any stage of your brewing process, get in contact with our beer enthusiast and Pump expert, Luke Simpson, today on 023 8025 2325.