Tapflo Pumps are known across the globe for our range of Diaphragm Pumps. Our team are experts, trained at Tapflo HQ in Poland to supply reliable, quality to pumps to a variety of industries due to our range including Industrial and Hygienic AOD Pumps.
What is a Diaphragm Pump?
A Diaphragm Pump, otherwise known as a positive displacement pump, is a type of positive displacement pump which uses an alternating Polytetrafluoroethylene (PTFE), or rubber diaphragm to pump a fluid such as foodstuffs or chemical liquids under pressure.
How Do Diaphragm Pumps Work?
The Tapflo Diaphragm Pump is driven by compressed air. The two diaphragms, connected by a diaphragm shaft, are pushed back and forth by alternately pressurising the air chambers behind the diaphragms using an automatically cycling air valve system.
Benefits of a Tapflo Diaphragm Pump Thanks to the simple operating principle, with compact and reliable construction, our pumps meet the demands of heavy industrial duties. Below are some of the major benefits of Tapflo pumps:
Run dry without damage
Easy to use, no need for guarding device
Infinitely variable flow control
Flexible and easy to adjust
Few components
Low downtime and maintenance costs
Can Diaphragm Pumps Run Dry?
Yes. Diaphragm Pumps have the ability to run dry and against closed valves without damage. Other features of the diaphragm pump include easy cleaning and draining, gentle pumping with no damage of sensitive products, hygienic surfaces made from polished stainless steel, flexible installation, no leakage and environmentally friendly. If you would like to learn more about the technical specifications and diaphragm pump performance curves, please download our manual.
Long Life Diaphragms
With our experience of diaphragm manufacture since 1990, we are able to supply unique technology compression-molded diaphragms of outermost quality. Tapflo Diaphragms are of composite construction, superior for continuous heavy-duty service, with a completely smooth surface in contact with the liquid. This results in no leak through and a diaphragm which is easy to keep clean. The diaphragm is available in various materials and colours to suit any requirements, it is made from PTFE TFM, PTFE TFM modified for solvents, EPDM, NBR or FKM. An advanced process of preforming, curing, trimming and finishing result in a long life composite diaphragm that will last for many millions of stroke cycles. All compounds are specially developed and optimised for composite diaphragm technology and compression molding production. Components are chemically bonded by bonding agents and adhesives.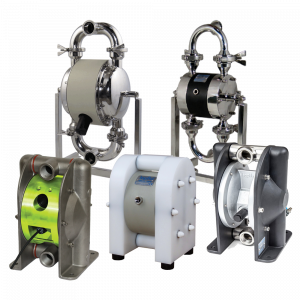 What is a Diaphragm Pump Used for?
Industries that use Diaphragm Pumps within their operations:
Food and beverage
Chemical and petrochemical
Energy
Water treatment and surface treatment
Nuclear Pulp
Paper
Hygienic applications
Paint, print and varnish
Slurry and mud