You'll be surprised how versatile Diaphragm Pumps can be!
Diaphragm Pumps can be found in many global industries due to being truly versatile and a multi-functional Process Pump. They can be used for a range of applications including the manufacturing of bin liners, concrete patio slabs, Dentistry suction tools and cosmetics! Below is a list of the top 6 uses of Tapflo's Air Operated Diaphragm Pumps (AOD)!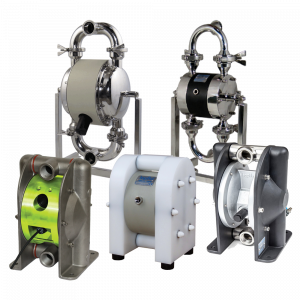 Diaphragm Pump Applications
1. Food & Beverage
The versatility of an AOD means that they are perfect for the Food & Beverage Industry. They can be used in the production of products ranging from dairy products to beer. Pumps are required to ensure the products are made in a sterile and hygienic manner, such as when the environment needs to be kept free from oil contamination. For this industry, Tapflo produces their Sanitary Diaphragm Pumps which are finished to high quality, from hygienic materials with a high grade of finish such as Stainless Steel AISI 316L.
2. Pulp & Paper
Believe it or not, Diaphragm Pumps can transport glue, adhesives and resin solutions, used in the Pulp & Paper Industry. An example of this is in the production of cigarette paper, where a pump is used to apply the resin to the paper.
3. Surface Coating
AOD Pumps are also excellent at transporting chemicals, including those used for Surface Coating, from storage tanks, containers and baths. For example, when galvanising and decreasing, such as in the production of linoleum. One example would be Tapflo Group providing a LEAP Pump to a company who were coating urinals. LEAP is a Low Energy Diaphragm Pump which has reduced pulsations, this was perfect for this application at the coating needed to be sprayed evenly.
4. Water Treatment
Diaphragm Pumps are perfect for handling a range of Waste Water Treatment applications, including transferring water, as well as, dosing acidic and alkali chemicals for treating water.
5. Print, Paint & Varnish
Tapflo Diaphragm Pumps can also be used for the transfer, recirculation and blending of ink, solvent-based liquids, resins and pigments. Some advantages of using an AOD Pump within this industry include competitive pricing, the ability to handle high viscosities and variable speeds. We have lots of options for this industry, including Mobile Decanting Trollies for large drums, you can check out the full range and a list of benefits in Tapflo's Guide to Paint Pumps.
6. Petrochemical
Diaphragm Pumps can be used for offshore Oil drilling in order to carry oil to the surface and to lubricate the drill. Diaphragm Pumps have a further application uses in the petrochemical industries such as in offshore mud drilling when rocks are brought to the surface for testing purposes.
For more information on Tapflo's range of Diaphragm Pumps and the applications for each range, check out our product pages. We also have an extensive range of Diaphragm Pump Accessories to support our pumps in a wide variety of industries, many of which have been designed in house at Tapflo UK by our Technical Team!