Which Chemical Pump should you choose?
Chemical pumps are manufactured from highly robust materials that can withstand hazardous fluids such as petrol, solvents, acids and alcohols. There is a variety of Chemical Pump options on the market that can be used for these types of applications with some of the most common being centrifugal pumps and diaphragm pumps. Tapflo UK manufactures and distributes a vast range of pumps suitable for the chemical industry using high-quality premium materials to ensure the long life of your pump. Take a look below at some of the chemical pump options we offer.
Types of Chemical Pumps
Centrifugal Pumps
Tapflo manufactures a range of Centrifugal Pumps that are ideal for transferring chemicals, this includes the CTI Industrial Centrifugal Pump and the CTM Magnetically Driven Centrifugal Pump. Both pumps are extremely robust, with the CTI being cast from glass blasted Stainless Steel AISI 316L and the CTM being manufactured from non-metallic injection moulded thermoplastics.
Tapflo also supplies the Industrial Self-Priming Centrifugal Pump (CTS-I) for installations where a suction lift is required. These pumps are ideal for applications such as transferring and offloading of mild chemicals and solvents.
In Tapflo's Centrifugal range, we also offer the CTX High Performance Centrifugal Pump, ideal to be used as a chemical transfer pump for distributing products between storage tanks and containers. Take a look at our video below explaining some of the features and benefits of the CTX range.
Included in our range are Magnetically Driven Centrifugal Pumps, including our own Tapflo CTM range, a CTM-IBC Unit and Mag Drive Centrifugal range from our partner Gemme Cotti.
You can compare the Tapflo and Gemme Cotti Mag Drive Centrifugal Pumps alongside each other in our Mag Drive Pump Comparison article, using the first 2 columns in the table. Mag Drive Pumps are excellent for transferring chemicals because they have a seamless design that reduces the risk of leakage and are a reliable pump technology for these types of applications.
Tapflo UK have also developed the CTM-IBC Portable Pump Unit, featuring the Tapflo Mag Drive Pump, this unit has been designed to ensure the pump is versatile and easily manoeuvrable. The unit features carry handles, a drip tray and on/off switch, as well as a range of other great features, the units can also be customised to each customer's requirements.
Want to know more about our Mag Drive Pump range? Speak to a Pump Specialist using our live chat or call the office Mon-Fri 8:30-5.
Peristaltic Pumps
Peristaltic Pumps are an excellent option when in the market for a Chemical Pump due to the design of the pump, meaning only the hose within the pump comes into contact with the product. All hoses are manufactured from high-quality rubber that has been compressed together to ensure a long life, especially for products such as aggressive chemicals. The hose can be supplied in a range of materials to suit the product being pumped and the Peristaltic Pump supplied will depend on the variables of your installation. For example, the PT Pump is a High-Pressure Peristaltic Pump and the PTL is a Low-Pressure Peristaltic Pump. Click here to view the Peristaltic Pump Hose Assemblies and Fittings.
Diaphragm Pumps
The PTFE Diaphragm Pump is an ideal Chemical Pump as it is machined from solid block PTFE, which gives the pump a higher chemical resistance and is, therefore, able to pump aggressive fluids. Our PTFE Diaphragm Pumps can be supplied on its own or as a Drum Pump with Stainless Steel handles to move the pump easily between drums, or can be fitted to one of our Mobile Decanting Units (MDU).
Our Mobile Decanting Units can hold either 20L, 25L or 205L chemical containers, for safe and easy handling of chemicals. Tapflo Diaphragm Pumps can also be cast in metal which ensures that there are no weak spots for chemicals to leak out into the environment surrounding the pump. Click here to view our range of Metal Diaphragm Pumps. If you are worried about chemical leakages damaging your Chemical Pump or the surrounding environment, we have a range of Diaphragm Pump Accessories that can help, such as the Guardian System, which has been designed and manufactured by Tapflo UK's Technical Director. Additionally, Tapflo supply a Barrier Diaphragm Pump (available in HDPE and Metal) that protects the pump from chemical leaking into the pump housing.
For more information about our Diaphragm pumps for chemical applications, take a look at our case study where we provided a number of ATEX PTFE and Stainless Steel AODD Pumps supplied with Active Pulsation Dampeners and Air Control Units.
Gear Pumps
Yildiz Gear pumps are another suitable option for a range of chemical applications including:
 Fuel Oils, Gas Oils & Diesel Fuels & Bio-Diesels
Dye, Paint & Pigment Production & Transfer
Tar, Bitumen & Asphalt Production & Transfer
Resin & Polymer Transfer
The "gear within a gear working principle of these pumps means there are just two moving components during operation which is achieved by the filling of the cavities between the teeth of both the rotary and idler gears located in the pump head.
Suitable for Safe Area & ATEX Rated/Hazardous applications
For those applications that require it, Tapflo manufactures Vertical Immersion Centrifugal Pumps that are suited for handling highly corrosive chemicals at high temperatures. These pumps are available in both Stainless Steel and PVDF.
If you have any questions, check out our Chemical Pump FAQ.
"I need more from a pump"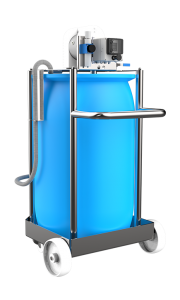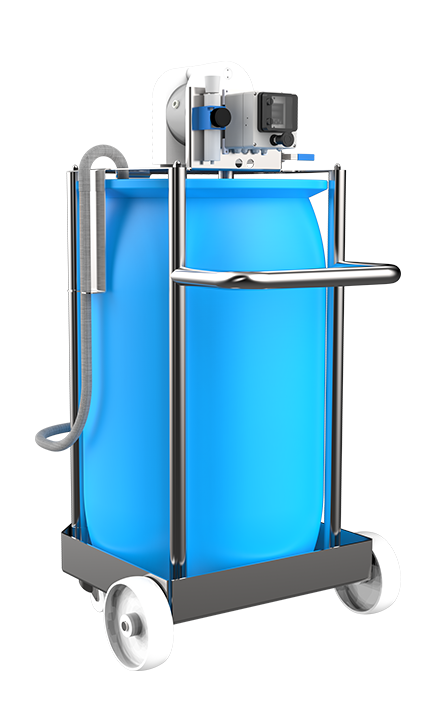 If you're looking for more than just a pump, we have a team of Engineering Specialists available to work with you to design and manufacture a bespoke solution that meets your exact requirements. This includes solutions like our Mobile and Stationary Decanting Units to offer safety and maximum efficiency on-site for Chemical companies.
Solutions like the MDU are very popular among Tapflo customers because they allow a customer to dispense chemicals easily and safely through their process line. Although these solutions can be tailored to your requirements, they typically come with a reliable Tapflo Diaphragm Pump, Pneumatic Batcher (programmed to register pump strokes to automatically stop the pump once the predetermined volume of the product has been dispensed), discharge lance with adjustable swan neck and trolley that can hold either 20L, 25L or 205L chemical containers. The solution has been designed to remove the risk for operators of carrying buckets of hazardous chemicals around size, that are often heavier than is safe to carry. If your site needs an MDU, contact Tapflo UK today.
Additional Chemical Pump solutions include our Tapflo Tank Units and SLES Mixing and Dilution Unit.
Tapflo's SLES Mixing and Dilution Unit allows users to dilute 70% concentration SLES to the required amount as part of their process line, enabling customers to save money in the long term on pre-diluted SLES, as well as reducing the need to store the pre-diluted fluid. These are delivered as a complete solution with accurate and easy to use control, competitively priced and delivered in up to 10 weeks.
Tapflo's Tank Units come as an all-in-one, complete solution. Tanks are available in 100L, 300L or 500L sizes, fitted with an appropriately sized pump based on the customer's specifications. Storing and transferring chemicals has never been easier than it is with this complete unit.